Melissa and Andrew Kidd were roughly 16,000 kilometres apart when something life-changing popped into their respective inboxes. "Melissa and I emailed the same land to each other," Andrew explains. "She'd returned to Australia a few months before me, while I finished an assignment in Frankfurt. While apart, we'd share property ideas. I was excited to see it as soon as I got off the plane."
An unbelievable coincidence or a sign from somewhere beyond, no matter how you look at it, it seemed it was meant to be. "We loved the area and had lived around here in our teenage years," Melissa says. "So we couldn't believe it when this block of land came up for sale." It seemed to tick all their boxes — rural, close to the beaches of nearby Noosa and Peregian, and not too far from the Bruce Highway for Andrew's commute to a new role in Brisbane. But the fairy-tale start to their search for a place to call home didn't last. "My excitement turned at first sight," Andrew says. "The block was being sold by a couple based in South Africa and had been left untouched for nearly 10 years. It was covered in lantana, wild tobacco and other noxious weeds and resembled a jungle in parts. Fences were in disrepair and there was no obvious place for a house because of the elevation. I think others had seen too many problems and walked away. We nearly did the same."
A bulldozer and a little imagination helped change everything. "I saw an opportunity to level a 1500-square-metre pad that would gently flow into other parts of the land, toning down its steepness," Andrew says. They followed their instincts and bought the block and, after five days of bulldozing, their fairy-tale storyline was resurrected. "The results and views blew us away and we realised we had something special."
Andrew and Melissa met as kids in Victoria, then reconnected as teenagers. After a stint in Sydney as newlyweds, the couple moved to Munich where Andrew, who works for a bond broker, had been offered a transfer.
"I worked in a bilingual kindergarten and absolutely loved it," Melissa says. "I tried to learn the language from the kids because they were open to repeating the same word again and again and giggled at you instead of making you feel intimidated." Eventually, she learned enough German to get by, but it was giving birth to her first child that made a foreign country feel like home for the first time. "It was when I had Harrison that I felt like I belonged, and wasn't just passing through," she says. "Munich is such a beautiful city and it's so easy to get around. We rode our bikes everywhere and would meet up for lunches at the biergartens, which, like everything else there, were not far from our unit."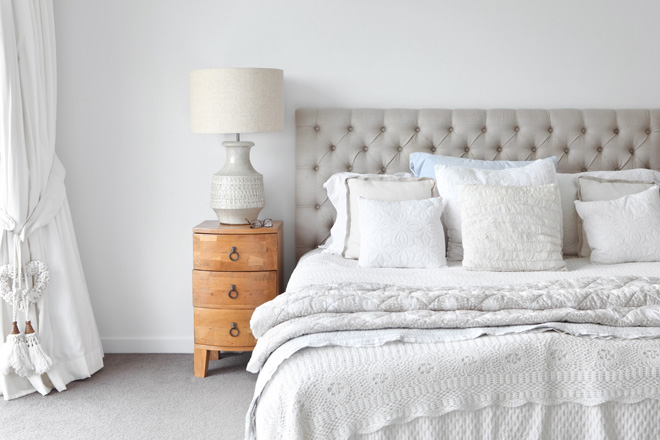 After six wonderful years in Munich, the young family was on the move again, this time to London. "We lived in Clapham and had our second son, Lachlan, there in 2009," Melissa says. But it wasn't long before Andrew was transferred to Frankfurt and the call of home began to outweigh the excitement of their nomadic European existence. "We'd be stuck inside and freezing on grey, dreary days and seeing our friends back home post pictures on Facebook at the beach and camping and having fun in the sun," Andrew says. "We wanted our kids to be raised in Australia," Melissa adds. "We're really close to our families and we wanted them growing up knowing their family."
But their years overseas left a big impression and Andrew was keen to draw on European architecture in building their new home on the spectacular piece of land they'd so fortuitously come to own. "When travelling to Mediterranean islands, I loved the square, white, parapet-roofed houses and terraces," he explains. "I needed to compromise a little on design because south-east Queensland's weather means you need shade and to be prepared for big rainfalls." A builder helped him nut out the design and, after 15 months, their new home was complete.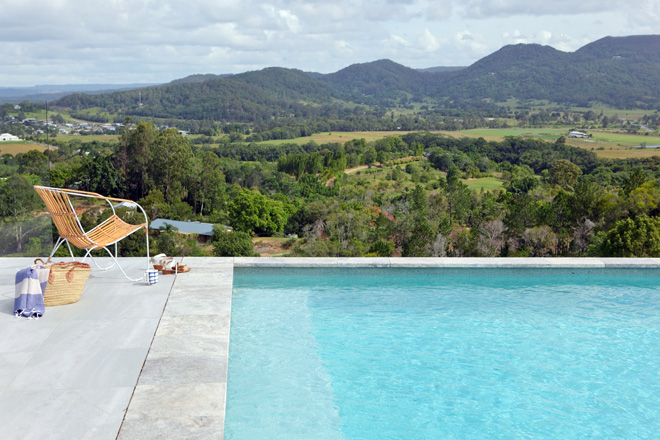 It's perched on a rise surrounded by verdant valleys with dramatic mountain outcrops. A sparkling infinity pool boasting enviable 180-degree views is the perfect place to soak it all in during Queensland's generous summer. Inside, Melissa has created a country-luxe vibe with subtle nods to the nearby coast. "I love lots of layers and textures, lots of neutral tones and the rawness of natural timbers and the feeling of calm it invokes," she says.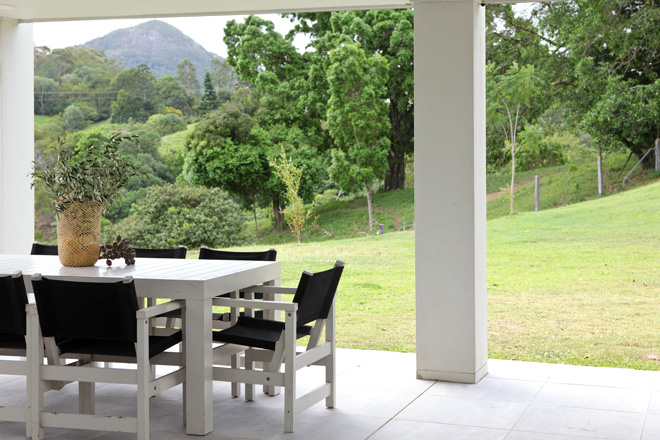 With homemade cushions and paintings and lots of upcycled treasures and inherited pieces, Melissa can take credit for the special blend of ambience and warmth that attracts plenty of visitors to their home.
"I love how our house can handle a lot of people at once," she says. "It's light and open, so the kids can flow in and out very easily. A great day at home for us is having friends or family over and letting the kids roam the property and explore while the adults sit around a fire and enjoy a lovely glass of wine."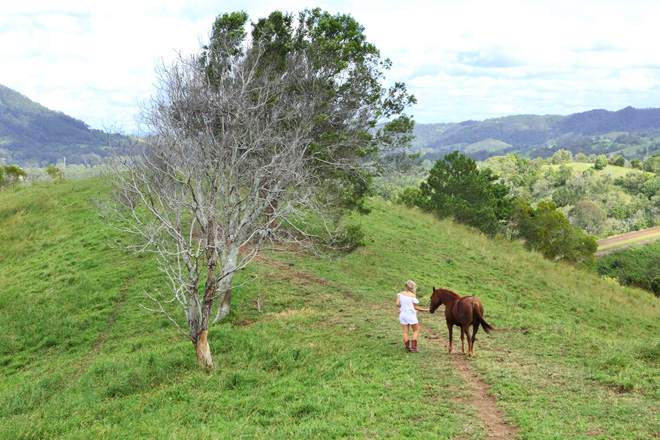 On the day Australian Country visited, horses Chilly and Possum were happily grazing near the houseyard, as Harrison and Lachie whizzed down the long hall on their hoverboards to the patio for a game of foosball with Andrew. With 14 acres (5.6 hectares) around them, it never matters how rowdy it gets. "Mount Cooroy and Mount Eerwah are directly in front and behind the house," Andrew says. "To the south-east, we see Mount Coolum and Mount Ninderry. There is also a little water glimpse where we can see ships travelling over the horizon." All this is a world away from their tiny abodes in some of Europe's most bustling cities, but Andrew and Melissa couldn't imagine living anywhere else. "I love looking out to the cows and horses in the paddocks," Melissa says. "The boys have a lot of space around them to be able to roam safely — whether they're making cubbies, playing in trees, making mudslides or riding their motorbikes." Andrew sums it up simply: "Home is a retreat. There's always something to do."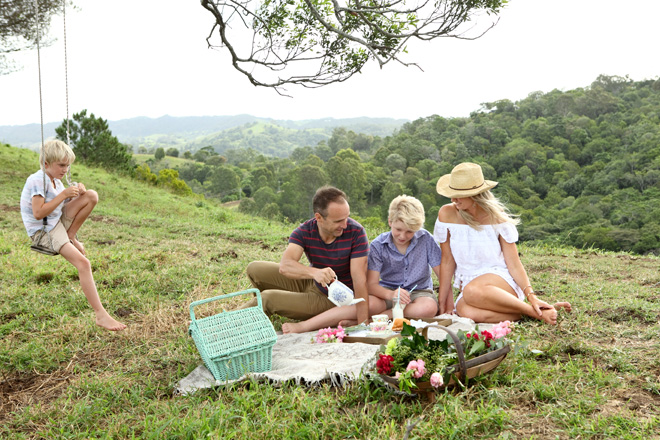 The complete story was originally published in Australian Country issue 21.3. Click here to subscribe to our magazine
Words Tamara Simoneau
Photography Anastasia Kariofylldis