It's a little piece of Denmark on the flat volcanic plains of Victoria. Kathrine Andersen calls it her Nordic hut, and the small-scale garden room certainly conjours up romantic images of mulled wines in front of a cosy fire — just on a patch of sun-warmed grass rather than the snowy hills of her native country. Kat, as she prefers to be called, grew up in Skagen, which is in Denmark, at the northernmost point between Norway and Sweden.
"Skagen is an old fishing village that becomes a tourist spot for Scandinavian people during summer,'' she says. ''It's not unusual for homes in the town to date back hundreds of years."
Kat was living in China and working in the engineering industry when she met Eddie while holidaying in Melbourne with friends. Coincidentally, Eddie came from the small town of Lara, just outside Geelong, where Kat had spent a year as an exchange student at Matthew Flinders Girls' Secondary College when she was a teenager.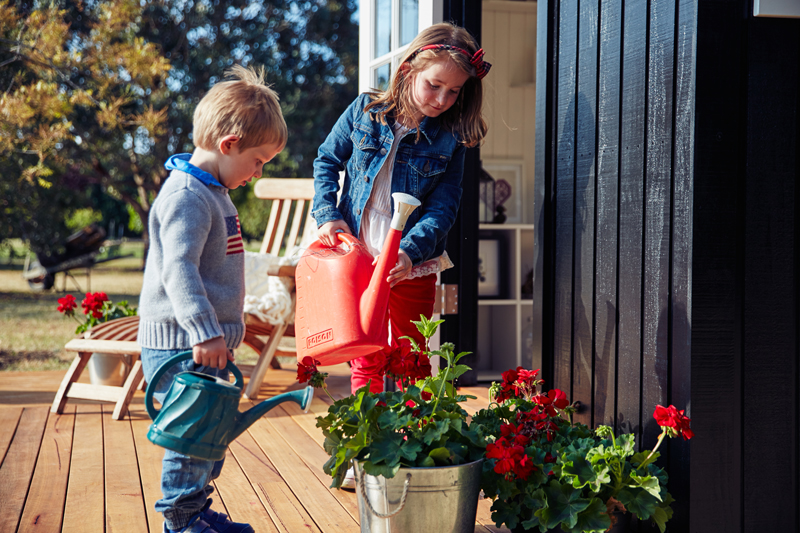 "They were happy years," Kat says. "I lived with  a host family and spent my time trying to understand their Australian accents!" Kat and Eddie built a home close to the You Yangs Regional Park, an area known for it's amazing rock formations and wildlife conservation sanctuary. "We love to pack a picnic and take the kids to the You Yangs to relax," Kat says. "On a typical day, we'll see kangaroos and rock wallabies, often spot an echidna and we always try to find koala Clancy, who is a local celebrity with his own Facebook page!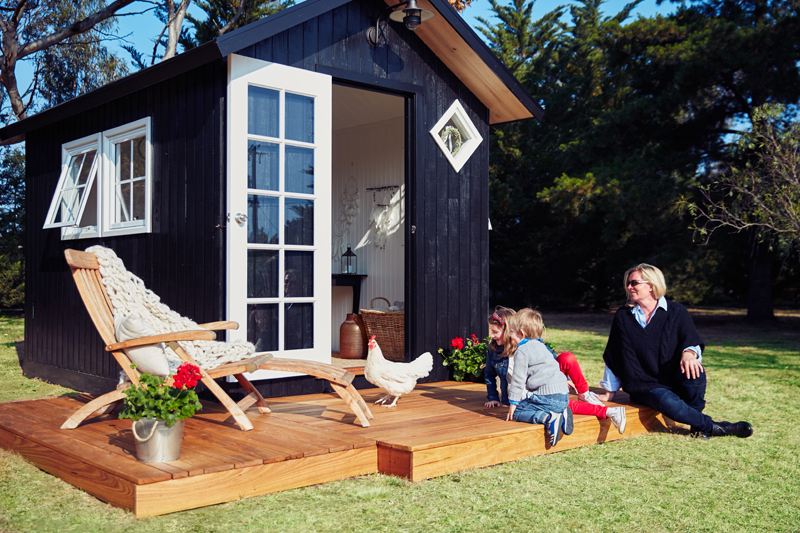 Australia is my second home and I love the untouched wildness of the surrounding areas." But, even in the midst of these magnificent surroundings, Kat occasionally finds herself reminiscing about her Scandinavian home. "My brother had built what we call a skur at his home and sent me some photos," Kat explains. "It was quintessential Danish design, very simple and clean, with deep-matte-black walls, stuffed with insulation to keep the long winter at bay.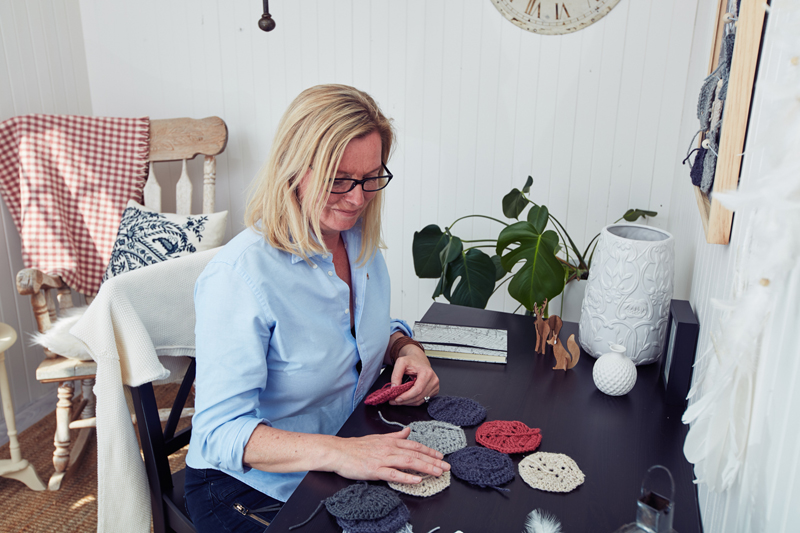 "This one little picture gave me the sense of hygge I grew up with — long dinners with family and friends, glowing candles and mulled wines. I fell in love with it!"
From the enthusiasm with which Kat spoke about the shed, Eddie decided to recreate this piece of Denmark ("I wouldn't say I was nagging," Kat claims) on their property. While the design is faithful to tradition, the diamond window next to the door was a thoughtful detail of Eddie's.
"I love the little window. Of all the light entering the hut it always seems the softest," Kat says. "The north-facing position of the door and deck means I get lovely dappled golden light through the trees in the evenings — I have to admit there have been a few glasses of red wine enjoyed from that position!"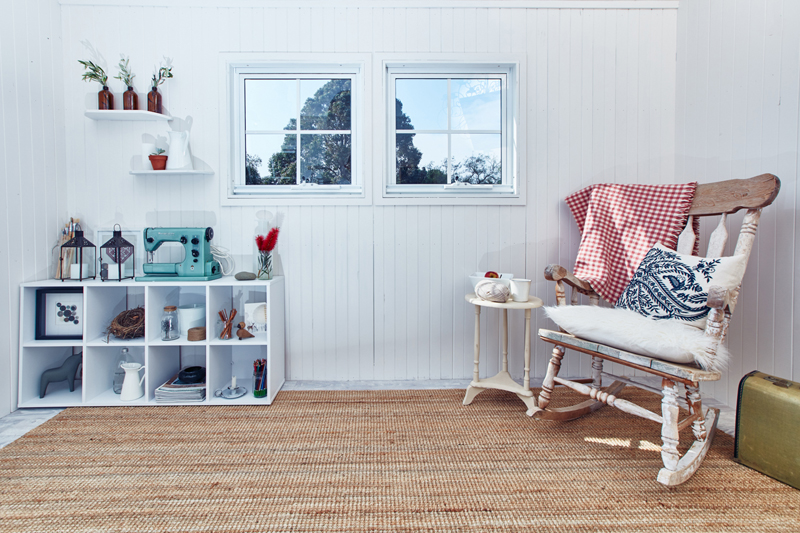 While the hut is simply a retreat from the pace of life, Kat also uses it as a craft room and a place to display her favourite pieces of furniture and whimsy. "The old chandelier I picked up from a shop in Prahran years ago; I couldn't find a place for it in our house but it fits perfectly here," Kat says. "The rocking chair is made from Australian hardwood that I rescued when a neighbour was throwing it out, as is the side table which I remodelled with chalk paint. The clock face is an old one from Flinders Street Station in Melbourne and I particularly love the vintage Husqvarna sewing machine which was given to me by a friend having a clear out — it weights a ton but still works perfectly."
As for the hut, it seems to have spawned a business, with a number of requests for Eddie to build more for use as outdoor offices, extra bedrooms or even as tiny homes or perhaps granny flats in the backyard. But for Kat, it's all about relaxing and enjoying her Scandi-Aussie surrounds and the peaceful childhood memories her little hut brings back.
The complete story was originally published in Australian Country issue 22.1. Click here to subscribe to our magazine
Words Emma Sutcliffe
Photography Andre Elhay
Styling Fiona Newman