Retired school teachers John and Lois Willing are probably way too pragmatic to believe in destiny, but it would be hard to imagine there could be better owners for their historic property, Vermont, in the Millthorpe district of central-western NSW.
John and Lois met at teachers' college in Bathurst in the early 1970s and forged their careers as teachers and principals in country schools all over western NSW. John's particular passion is for history, so it's little wonder they've always had an eye for an old house, have restored several and even ran a weekend antiques business in the late '70s when they were teaching in Gulgong.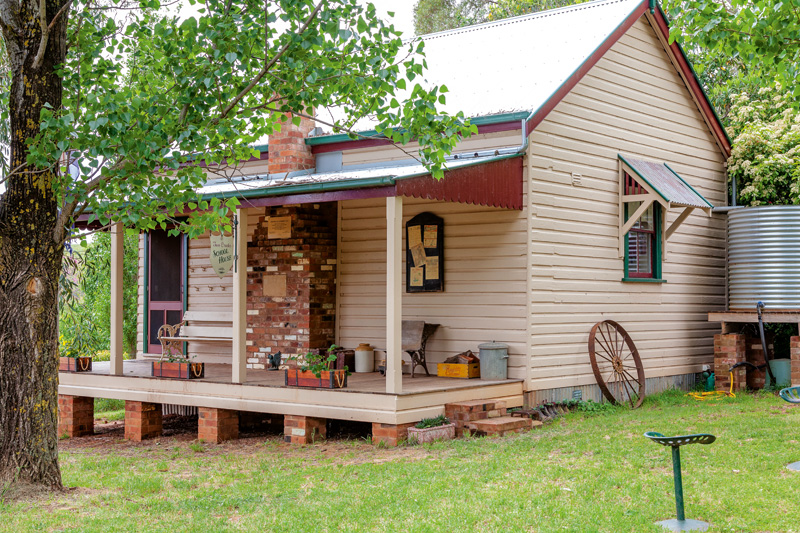 They moved to Millthorpe in 1980 and purchased a run-down old bank building, which they gradually restored. These days, that house is a landmark bed and breakfast called Rosebank Cottage. But that was just a warm-up for Vermont, a grand old dame of a homestead built in 1922 in the locality of Beneree, which the Willings bought in 1987.
The property was originally taken up in 1885 by Joseph and Lucinda McCooey and their 10 children. A currency lad born of a convict father who was deported to the colony in 1822, Joseph married free settler Lucinda Fury in 1856. They named Vermont for the Fury family home in Penrith on Sydney's outskirts. The only evidence of the first homestead on what was then a 300-acre (121-hectare) farm is a group of trees and assorted rubble. A second home on the site of the present homestead was later demolished and only the pisé milk-separating shed remains of that dwelling. The third, and present, homestead was built in 1922 for Joseph and Lucinda's son, Joe, his wife, Mary, and their four children. Of that generation, sons Joseph and Bede and his wife, Camilla, and their daughter, Kaye, took over the farm. When they sold in 1980, the McCooey family's 95 years of farming wheat, oats and potatoes and grazing sheep, cattle and horses came to an end.
The homestead was built to reflect the comparative wealth of the district at that time and is believed to be the last building made of bluestone, as the locally quarried basalt is known in the Orange area. The technique proved far too labour intensive and, therefore, costly for the tradition to continue.
The external cut basalt walls are lined with internal brick walls and there are two marble fireplaces, one black and one grey. Another four fireplaces — yes, it does snow in this part of the world — have cast-iron grates and tiled hearths. Other decorative elements include late-Victorian detailed skirtings, picture rails, fanlights, plaster ceilings, French doors and stained glass. A verandah wraps around two sides of the original section of the house with stone pilasters and timber supporting pillars. Later additions include a billiard room, kitchen extension, guest rooms and a family room.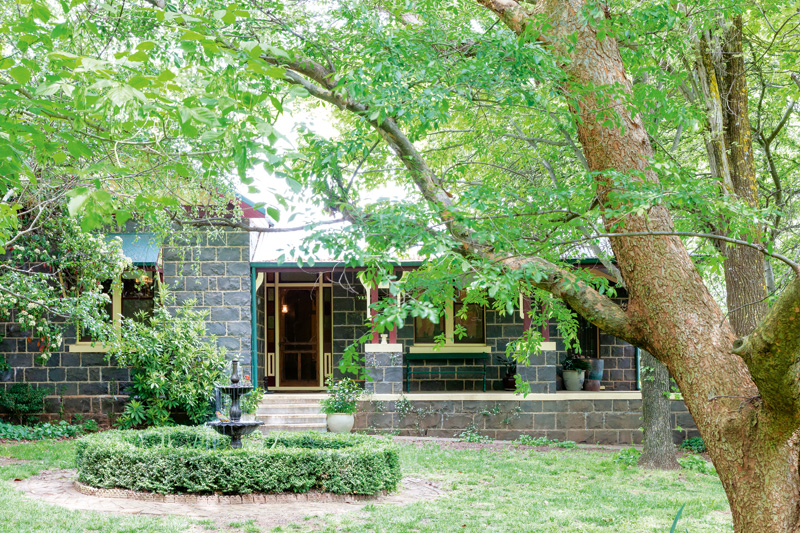 Vermont has other treasures in the rambling gardens that wouldn't look out of place in the parklands of its namesake state in the New England region of the United States. The Willings work tirelessly on the grounds and open every year in spring for the Millthorpe Garden Ramble, which attracts thousands of visitors and raises money for community amenities. There's also a shearing shed, which they believe was built as a horse stable on a farm near Cowra and relocated to the site in the late 1800s.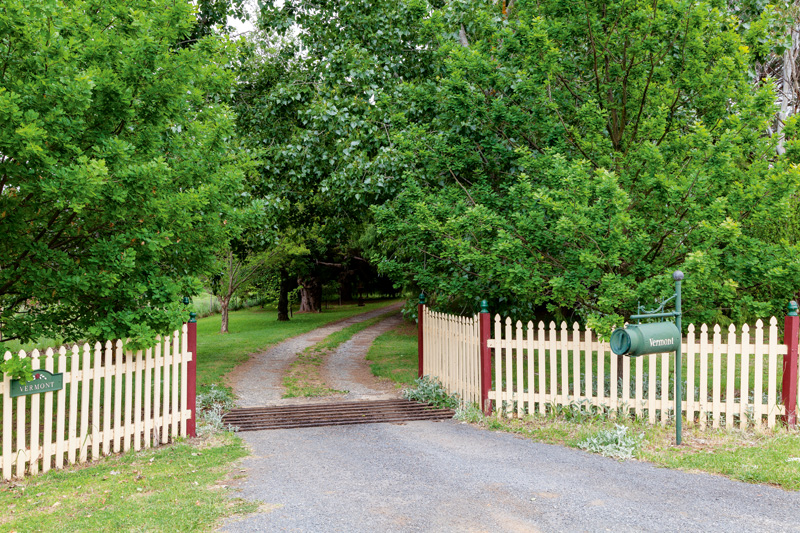 Another jewel in Vermont's crown is the Two Creeks Schoolhouse, which the Willings bought and moved to the property shortly after John retired in 2011. In a stroke of serendipity, it is the very schoolhouse John and Lois taught in when they were first married. "We were appointed in 1973 to the school at Spicers Creek, which is midway between Mudgee and Gulgong," John explains. "It had been built for the community of Drill Creek in 1901 and moved to Spicers Creek in 1930. It was a one-room school with abut 12 students and we taught there until 1980. Then the school was closed and it wasn't until years later that I was passing and saw that the land on which it stood was for sale. I spoke to the farmer and he said I could take the school building away if I wanted it. Fortunately, my brother-in-law is a builder, so we were able to take the roof and verandah off and put it on a truck and move it to our place. Gradually, we restored it and now we run it as a self-catering  bed and breakfast. We were also lucky that at the time of the refurbishment, many schools were upgrading and they were getting rid of maps and blackboards and other classroom fittings such as desks and shelves, so I was able to pick them up for a song. It really resonates with our guests, some of whom actually went to little country schools like this and we encourage them to leave us messages on the blackboard."
The main house is listed on the National Estate and with the National Trust because it's one of the last, if not the last, bluestone homesteads to be built in the region. "But it's also significant because it reflects the way of life of wealthy landholders in the area in the early 20th century," John says. "This has always been a prosperous area thanks to mining and the good volcanic soil, but now Millthorpe has become almost a suburb of Orange and land is in such demand that it's becoming too expensive to farm on it."
The Willings, however, have 30 acres (12 hectares) on their lifestyle block and have planted 350 mixed-variety olive trees in a grove, in addition to running a small flock of black-faced Suffolk sheep. "This is actually marginal country for olives," John says. "But with climate change, the grove is doing well as olives don't like wet feet, so they appreciate the drier conditions. We hand-pick and invite friends up to help out and then the fruit is pressed at Cowra. We end up giving away about half of our oil and selling the rest."
Inside the homestead, John and Lois have filled the rooms with all manner of treasures, including family heirlooms, Lois's hand-pieced quilts and antiques they have collected on their travels. John is a where-there's-a-will-there's-a-way shopper, and Lois says once he's set his mind on a purchase, he will buy it and work out later how he's going to get it home. He has a soft spot for boxes ranging from travelling cases to tea caddies, and confesses that he once left all his shoes in England so he could bring his latest find home.
"It has been a privilege to bring the homestead back to life and share it with family and friends with lots of special events and celebrations," John says. "I just love old houses and the way they tell a story. The ways in which people live change so the uses of rooms alter to meet family demands. It's not just the fabric of the building or the contents, it's the stories they tell. There's a lot of stuff in this property that's significant historically and I see it as our responsibility to hand it on to the next generation."
The complete story was originally published in Australian Country issue 22.2. Click here to subscribe to our magazine
Words Kirsty McKenzie
Photography Ken Brass