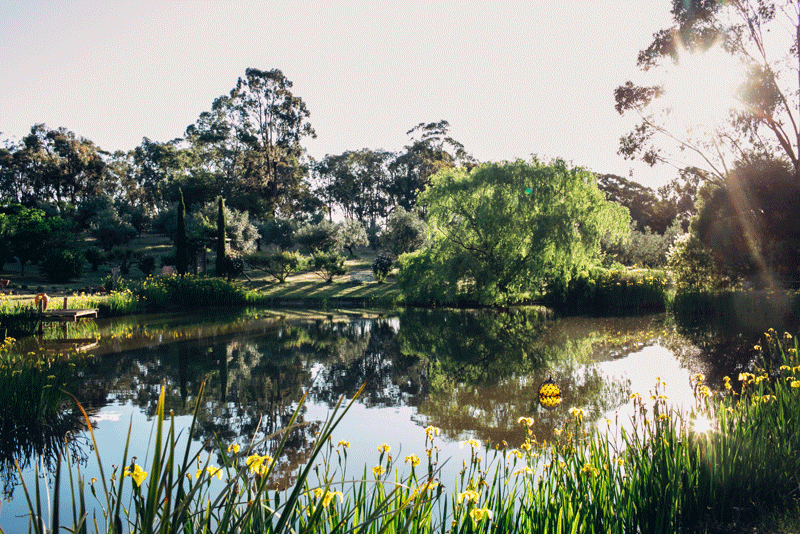 Unfortunately, you can't live permanently on holiday, so Margaret and Max Beyer decided to do the next best thing and recreate the landscapes enjoyed on their Mediterranean travels in their home garden in Victoria. The couple met in the late '50s and bonded over their mutual passion for travel, MG cars, road trips, the creative arts and countless other cultural and adventure activities. In 1964, they headed off on what was supposed to be a six-month trip to Europe, but ended up lasting five years. They based themselves in London, where their two daughters were born. They bought an old Bedford van and every summer took extended holidays all over Europe … Scandinavia one year, Eastern Europe the next and, of course, the Mediterranean whenever the whim and finances allowed. They eventually took six months to travel home to Melbourne via Turkey, Iran, Afghanistan, Pakistan, India and a boat from Singapore.
The travel bug had well and truly taken hold, however, and the Beyers have continued to enjoy amazing holidays and bring inspiration home with them ever since. In the late '70s, they returned to one of their absolute favourite destinations, Greece, and spent seven months in the village of Lixouri on the Ionian island of Kefalonia. "We'd always loved the area around Castlemaine — the sense of history, the windy roads, the stone walls separating the paddocks — so we started looking for land soon after we returned," Margaret recalls. "Shortly after we returned from Greece, we bought a 20-acre [eight-hectare] block in the Barkers Creek hills and we used it as a weekender until Max retired in 1997. From then until I retired in 2005, I divided my time between Lixouri and Melbourne. Max and our friend Ian Blunck spent the best part of two decades building our two-storey mud-brick house." Daunted by the prospect of a $38,000 bill to connect the property to mains power, the Beyers were determined to be as self-sufficient as possible. The bulk of their energy requirements are met by solar panels. "We have a generator for backup in winter," Margaret says. "We use a slow combustion stove for cooking and hot water and a hydronic panel system, which, in conjunction with the open fires, keeps the house warm through winter. About half of the property is bush so we harvest our own wood from the fallen trees." Of course, good siting on the hillside and excellent passive solar design helps with the climate control.
A garden inspired by their Mediterranean travels was an early priority. One of the first things they did was plant a grove of about 230 olive trees on either side of the gravel driveway. "We became addicted to the thick, green olive oil we had in Greece," Margaret explains. "So our own supply at home was a priority. Unfortunately, the years 1981 and '82 were two of the driest years on record. However, with the help of child labour, we watered the trees by bucket to keep them alive. I think the best crop we've ever had was about 1.3 tonnes, or about 150 litres, of oil. We were unable to pick from a large number of trees last year as they were infected by black scale from the gum trees. We use an amino acid and seaweed extract to fight off the scale and we are hopeful of a good crop this year." Margaret adds that gardening is challenging in central Victoria. The soil is sparse and rain is unpredictable. However, after the early '80s drought, they were blessed with short, defined seasons that allowed the plants and trees to put their roots down deep. With memories of their Greek garden dressed to impress for a spring fling, boasting anemones, bluebells and spurts of blood red Flanders poppies against a white backdrop of camomile, the Beyers planted mainly Mediterranean plants. A large arbour of wisteria and Cherokee rose at the front of the house keeps it cool in summer and huge Cretan terracotta pots throughout the garden reinforce the Greek accent.
The trees and shrubs are a mix of deciduous European and Australian natives — pencil pines, oaks, white-flowering Judas tree, green-flowering albizia, Chinese pistachio, Japanese  pagoda tree, Manchurian pear, medlar, dogwood, a large variety of banksias, clipped cistus, euphorbias, artemesias and echiums. A tall, curved wall topped with a belfry separates the front and back gardens and entry between the two is a wrought-iron gate made by local sculptor Trefor Prest. Sandstone terraces, gravel paths and old brick and sandstone steps lead through the garden beds and terraces to the dam, which is surrounded by paperbarks, almond and blue gums as well as yellow water iris in spring. A wooden jetty juts over the water and is a welcome spot for respite on summer evenings.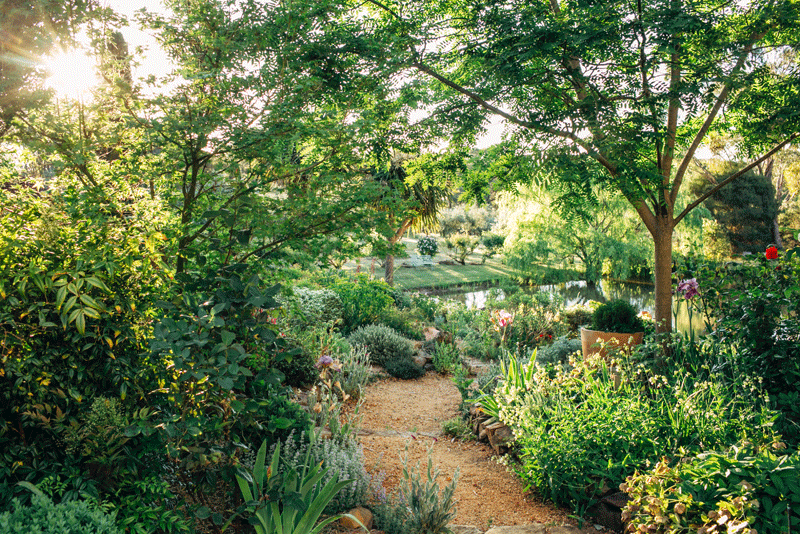 Find out more about Lixori garden in our May issue, available for order and online now!
Words: Kirsty McKenzie
Photography: Kim Selby