A serial renovator finds her nest in New South Wales' stunning Northern Rivers, reviving an architect-designed home with her bold signature style and bucketloads of black paint.
Jane Rennie-Hynes is fearless in her approach to life and renovating. Many wince at the thought of splashing a bit of colour on the walls, intimidated by any hue that ventures beyond the safe confines of myriad shades of white. Most wouldn't dare paint them black, but Jane is emboldened by her innate sense of style, nurtured in her childhood home rearranging her mother's furniture.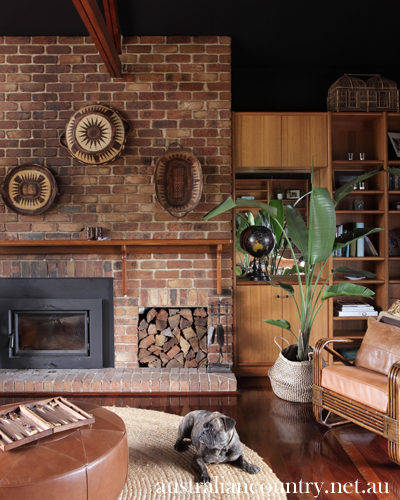 Coating her home in lashings of inky black inside and out certainly raised eyebrows along the way, until the end result voided any need for explanation. "Most people seem to have to compute that the house is painted black inside and out, then allow themselves to admit that it looks great," Jane says.
Jane's Black Shack, as she calls it, is perched gloriously atop a rise in the verdant Tweed Range near the picturesque town of Murwillumbah, on the banks of the Tweed River. From her kitchen and front patio Mount Warning looms, a rocky lone wolf against a stark blue sky most days, and a dramatic backdrop to passing storms on others.
Her driveway is hard to find off a winding rural road, creeping through lush tropical gardens before the Black Shack comes into view at the top. Jane counterbalanced all that black with bright white trims and a pair of aged stone lions lie in greeting either side of sandstone stairs that lead up to the house. It's her little slice of heaven, and it's striking and subtle all at once.
"This house is a bit unique with the timber double-hung windows and the architectural cross-beams all framing the views on either side," she says. "My vision was to highlight those features without losing lightness. I wanted the house to pop but still complement the surrounds."
She purchased the property after one inspection less than two years ago. "I saw it, saw the great features, felt the amazing vibe of the house and property, and wanted to bring it back to something glorious," she says.
"It all happened fairly quickly, and I'm a big believer in things that are meant to be falling into place easily." Just as quickly she pulled on her work boots and set about giving it a new lease on life with help from trusted tradies within her family who have learnt to have faith in Jane's instincts and enjoy the no-holds-barred renovation ride. "It's almost like you want the house to be proud of itself again, to sit up here sticking out its chest saying 'look at me, don't I look gorgeous, come and enjoy me'. That's what drives me and the sharing of the home with family and friends when it is completed."
The complete story was originally published in Australian Country issue 20.5. Click here to subscribe to our magazine.
Click here for more homes & interiors stories.
Words Tamara Simoneau
Photography Anastasia Kariofylldis