Driving through the picturesque hinterland village of Maleny in south-east Queensland more than 20 years ago, Betty and Terry Stokes fell in love with a beautiful block of land, which looks out towards the Glasshouse Mountains. "We practically bought it on the spot," Betty says. "We thought it could be our little piece of paradise."
While work and family commitments kept them in Brisbane for the next few years, in 1998 they finally made the move to Maleny. "Our youngest daughter was getting married and wanted to have the wedding here," Betty recalls. "So we had a cottage built on the property and moved up to start on the wedding preparations." By all accounts, the gala wedding was a spectacular affair. Guests arrived in evening wear, the groom and his fellow RAAF pilots in their formal kit, and all were treated to Scottish pipes, a light westerly breeze and clear pink skies.
The cottage that Betty and Terry moved into is really much larger than the name suggests. The living areas are downstairs and the two king rooms upstairs each have their own luxury ensuite and access to the wide verandas. The main house was built four years later. It was designed as the couple's dream house and features a large country kitchen, informal and formal eating areas and of course plenty of outdoor seating to better  enjoy the magnificent views of the distant mountains. The main house was built right next to the cottage so that the cottage would remain easily accessible when used as a guesthouse for friends or as a bed and breakfast for paying guests. "We ran it as a B&B for a few years and it was particularly popular for weddings," Betty recalls. "Everyone wanted their photos taken in the garden."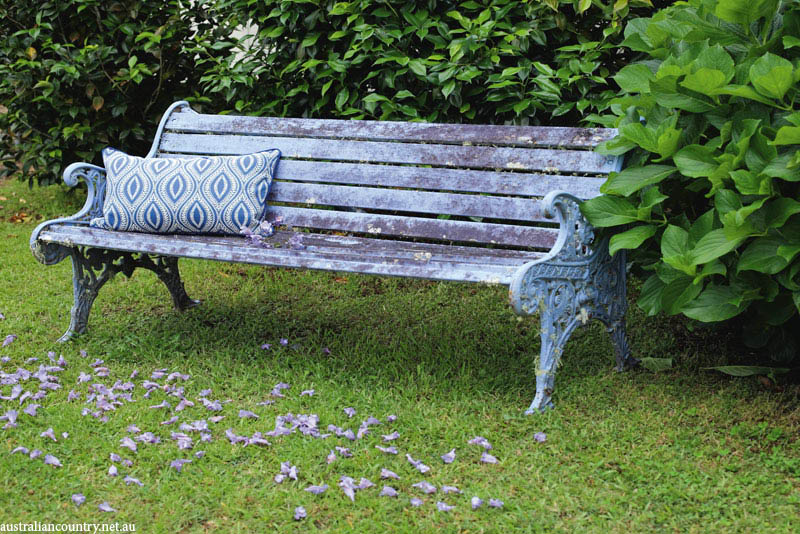 The grounds were not much when Betty and Terry first arrived. "There wasn't a single thing on the property except grass and one tree, which had been struck by lightning," Betty recalls. "When the cottage was first built it looked like the little house on the prairie." The couple saved the tree and planted many more.
This story was originally published in Australian Country issue 15.3. Click here to subscribe to the magazine.
For more homes and interior stories, click here.
Words Tahn Scoon
Photography Anastasia Kariofyllidis