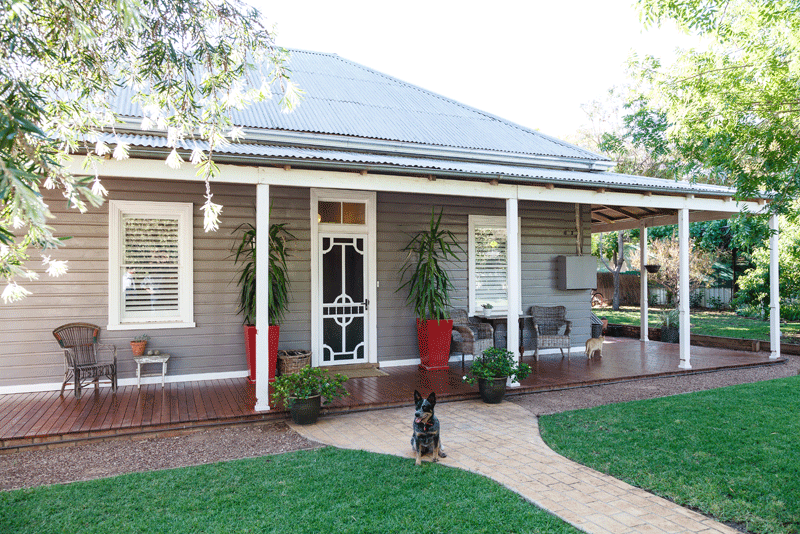 The old adage that you never know what's around the corner became a reality when newly graduated nurse Annabelle Toohey took a job at Condobolin Hospital in central-western NSW. "It was only ever going to be for a year and then I was headed for the bright lights of Sydney," she explains. "But then I met Paul Riley, a local electrician at the local B&S ball, and here I am nine years later with a rock on my finger." Annabelle is no stranger to country life having grown up a few hours to the east at Eugowra on her parents' sheep and cropping farm. Paul is a Condo local, and has lived there since he was a youngster, so the couple settled easily into life in a country town, with what Annabelle describes as a strong, close-knit community of  approximately 3000.
She continued to nurse and completed a master's degree in exercise physiology, adding supervising exercise programs to her job description at the hospital. As both she and Paul are creatives at heart, they jumped at the opportunity when Cromarty came on the market.
Named after the Scottish hometown of the original owners who moved to Australia in the 1850s, the house was originally part of a farm, possibly a dairy. Although it's now in the centre of town, in the19th century, it was some distance from what was then a village servicing the fledgling grazing community. "As far as we know, we were the fifth owners in its history," Annabelle says. "The third owner bought the property in 1990 for $20,000 and he had to fight the council not to bulldoze it. We are lucky to know most of the previous owners, or at least their descendants, so we have a fairly clear picture of the changes Cromarty has been through. We were also lucky that the previous two owners were artists, so any changes that were made were sympathetic to the original."
By the time Annabelle and Paul moved in five years ago, Cromarty was "very liveable" but in need of some TLC. They threw themselves into the project, with Paul replacing all the wiring and revamping the lighting. "We tried to keep everything sympathetic to the original so when we replaced the kitchen floor, we used the traditional wide floorboards," Annabelle recalls. "We added a verandah, but again made sure it was in keeping with the house's era. We replaced windows and added shutters and, of course, painted throughout. Basically, we gave it a bit of a shake-up and opened things up to make a more contemporary living space. It is a beautiful home to live in so it's little wonder all the previous owners have a strong attachment to the place."
Find out more about this country house restoration in the May issue of Australian Country magazine, available for order and online now!
Words Kirsty McKenzie
Photography Ken Brass