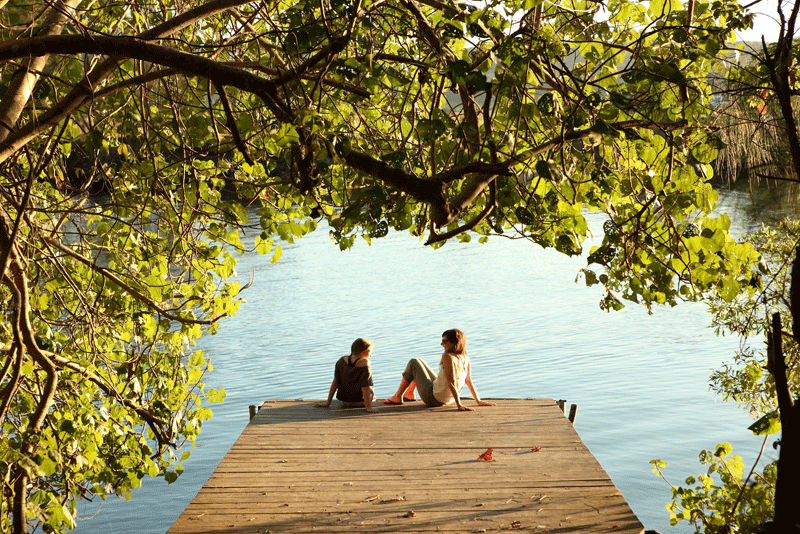 "I was going to paint a wall today but it's already three o'clock. Where does the time go?" Jo Graham asks in her faint Devonshire accent. Arriving in Australia as a backpacker more than 20 years ago, her surfboard doubled as a compass needle and guided her to the Sunshine Coast after a slight detour through Darwin.
A rural upbringing in an old house in Exeter, England prefaced Jo's romance with a Maroochydore timber cottage, which she bought privately from friends at the first opportunity. Built more than 150 years ago as a cane-cutters residence, its allure to Jo was beyond belief. On acreage, the former cane fields were now lush paddocks and permitted glimpses of the river. the original dwelling had been mirrored to create a second cottage constructed largely from recycled elements.
Jo explains, "We fell in love with the leadlight windows, the French doors and the pot-bellied stove," Jo says. "I admired the way it was impossible to tell that the top section of the house was new." Nicknamed the Maroochy River Shack, Jo's daughter, Issy, was a baby when they first moved in. "It needed lots of work as it was literally two open spaces," she recalls. "So we repurposed the rooms by moving the kitchen and the bedrooms around. Now the original cottage is where we sleep and the top cottage is our living and kitchen area."
However, with paradise came the demand of incessant upkeep, and they moved into a rental property for a temporary breather. The natural and organic ethos, with which Jo approached her working life as owner of an Aveda hair salon and spa, was not reflected in her personal life. It was time for a chill pill. Living right on Peregian Beach for five years was the ideal remedy. Its relatively deserted, endless stretch of sand rejuvenated her vigour for a return to the shack.
One of her favourite features is the way the decking linking the two cottages facilitates flow between indoors and out. For Jo, interaction with the sprawling acreage is vital. "We've got incredibly old mango and macadamia trees, orange and lemon trees, banana palms and a vegie garden," she says. "The chicken hut will be up and running as soon as we can trim the tree that's pressing down on the roof."
Her décor stems from her self-confessed role as a recycling queen and her respect for heritage. She is clearly a whiz with a paintbrush and does most of the decorating and renovating herself, describing her style as "eclectic, traditional and country". Others would say humble, soulful and welcoming, a rural retreat of sorts with unintentional Feng Shui at every turn. "We always have lots of girlfriends staying," she says. "We get the sofa beds and mattresses out, enjoy a home-cooked meal together, sit on the deck and have a beer at sunset. People love coming to our country cottage to visit." I suspect they also want her contentment and karma to rub off.
Read more about the Jo Graham's beach shack in the Dec/Jan issue of Australian Country magazine, available for order and online now!
Words Meryl Hancock
Photography Anastasia Kariofyllidis