The old adage about truth being stranger than fiction could well be applied to Ararat real estate agents Kim and Greg Kerr. As Kim takes up their story, she "won" Greg in a scavenger hunt.
"I grew up in Horsham in the Wimmera region and Greg was originally from Ararat, although he has lived all over," she explains. "We dated briefly as youngsters, but went our separate ways and married other partners."
Roll forward 20-something years and Kim was on a bus-tour hen's party outing to Ararat, when she spotted Greg's office as they drove past. When she announced to her fellow travellers that she used to go out with a guy from the agency, her friends offered 20 bonus points in the game they were playing if she went in and said hello.
"The rest is history," she recalls. "We've hardly stopped talking since." The romantic fairy tale continued when Greg proposed with a surprise Christmas present of an engagement ring. "He'd gone to such trouble to arrange it all," Kim adds. "I'm never speechless, but on this occasion we were both blubbering messes." The couple married at an event that masqueraded as Kim's birthday party. "It was a beautiful day at Sault restaurant in Daylesford," she says. "We announced that we were getting married when all the guests arrived."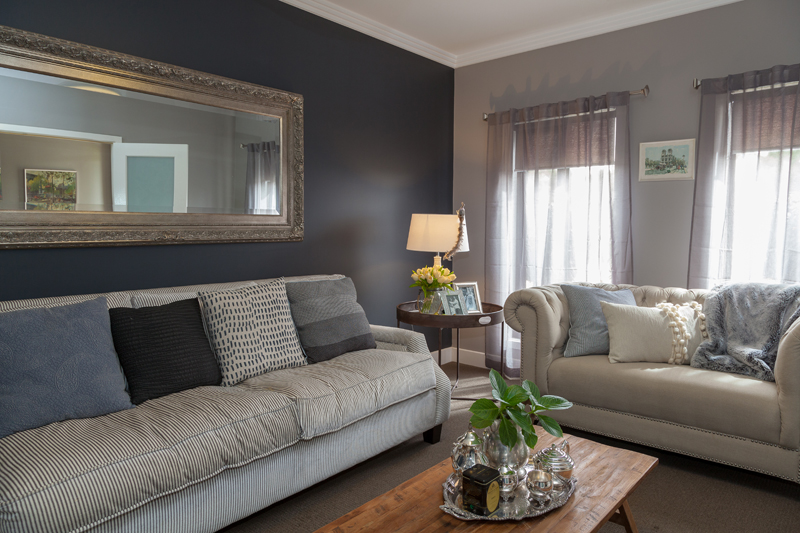 Shortly after, they moved into their spacious home on the outskirts of Ararat, a thriving regional centre of around 9000. She and Greg share the residence with Dottie the dog, Rosie the cat and their three adult sons, who are regular visitors. "We're midway between Victoria's Western District and the Wimmera," Kim says. "The town is the only one in Australia to be settled by Chinese, as they arrived there as they were on their way from South Australia to the central goldfields. They found gold and set up a tent city, which gradually became more permanent buildings. So there's lots of Chinese history here, which is commemorated in the Gum San Chinese Heritage Centre. There's also a bit of notoriety in the former J Ward and Aradale lunatic asylums, which now attract visitors for ghost tours. We're the eastern gateway to the Grampians, which is famous as a bush-walking and rock-climbing destination, and the region completes the total package by being close to lots of wineries including Montara, Grampians Estate, Seppelt Great Western, Best's and Mount Langi Ghiran. So there's lots happening here and we're only one hour from Ballarat and two hours from Melbourne."
Kim grew up in a family of foodies and was strongly influenced by her grandparents, who kept chickens and a vegie garden and taught her to make everything from butter to cakes from scratch. She followed a food-oriented career and had coffee shops and cooking jobs until she took a detour into administration at the local hospital. More recently, she has joined Greg in the real estate business, which means their home is more of a sanctuary than ever. "The phone never goes away, but we do try to close the big black door on the business and switch off from time to time," she says. "We still entertain, but in a very relaxed way as we don't have a lot of down time. When we do, we tend to have drinks in the summer house and then a barbecue or grazing plates."
The summer house, or Champagne hut, as Kim calls it, is a feature of their spacious backyard that looks out to the towering gum trees of their semi-bushland setting. "I'm a huge fan of [landscape designer] Paul Bangay, so I wanted a fairly formal setting. We don't have a lot of time for gardening, so it had to be low-maintenance and we seem to have achieved that. My son, Jack, who is a carpenter, built the hut from cypress that had fallen nearby and was milled by a local lumberjack."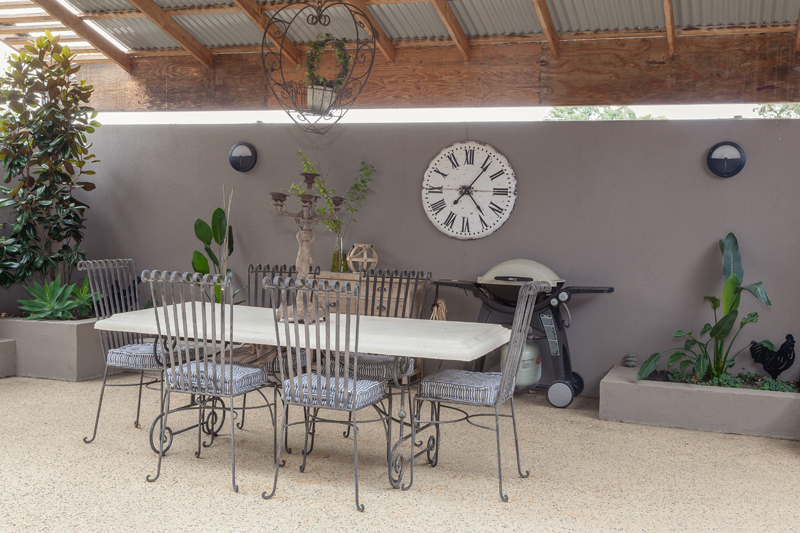 Internally, the Kerrs have divided the house between public and guest rooms. "I've always been interested in interior design," Kim adds. "I'm a right-brain person, hence the art, food and creative aspects of my personality. So decorating the house is a hobby for me. I love curating a space and finding the right pieces to go in it. We're know we are very lucky to have arrived in this beautiful place that we can share with family and friends. It's amazing to think that it might never have happened if I hadn't been on the bus trip. It really is true that you never know what's around the corner."
The complete story was originally published in Australian Country issue 22.1. Click here to subscribe to our magazine
Words Kirsty McKenzie
Photography Ken Brass