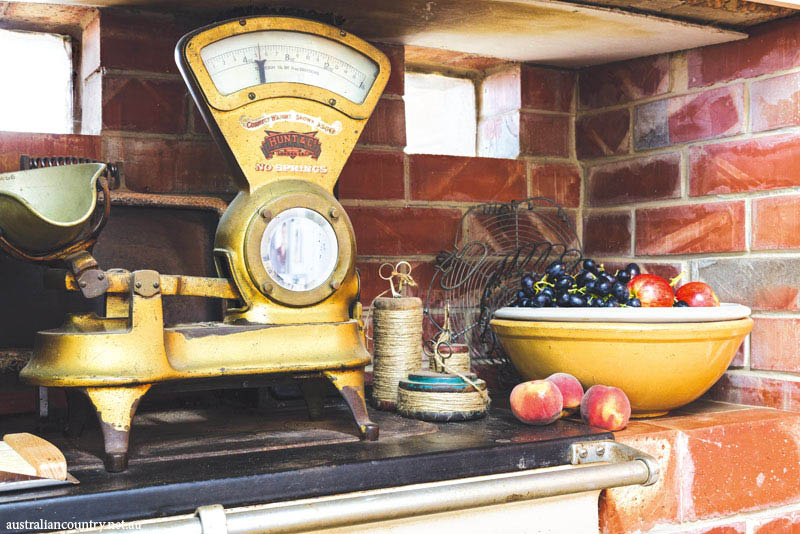 Sue Clohesy says she inherited her bowerbird gene from her mother's side of the family. For as long as she can remember, she has loved the thrill of the chase, heading out to estate auctions and garage sales in search of the perfect, quirky piece of furniture or artefact to decorate her home .
"I grew up on a farm at Nichols Point, just out of Mildura," she recalls. "Dad grew grapes for dried fruit and Mum was a nurse from Wilcannia, so I have pretty deep country roots. I've always loved the character of old things, even as a teenager when I would take my friends on  treasure hunts. We went to Adelaide sometimes and I remember another treasure hunting expedition to Ballarat, Bendigo and Castlemaine."
At the age of 18, Sue was able to take her design and decorating skills to new levels when she married John, an electrician from Red Cliffs, and they had their own home to work on. In 1991, she realised her dream of doing up an old house when she and John moved into a 1930s farmhouse on acreage at Irymple about 10 minutes' drive from the centre of Mildura. In 1995, Sue extended herself a step further by opening an antiques and old wares shop called Rose Harvest in the garage at home. Locals immediately responded to her eye for detail and artful vignettes, not to mention the bunches of roses and other cottage flowers she displayed in every conceivable receptacle for sale and the simple pleasure of having something for the eye to feast on.
Along the way, Sue and John renovated the house, and Sue turned it into an object lesson in how to combine garage sale finds, antiques and old wares into pleasing interiors. "We inherited good bones," she says. "Of course, we kept the beautiful cornices, lead light windows, verandahs and high ceilings, but refurbished where necessary."
As their children, Rhiannon, Siobhan and Connor, came along, the house began to feel more crowded, and the somewhat dark and gloomy interior gradually evolved into a lighter and brighter living space. Carpets were replaced by polished floorboards and countless applications of white paint have given the interiors a new lease on life. Sue still displays treasured old wares but, these days, they are more likely to sit alongside a contemporary artwork or a boldly coloured piece of glass.
This story was originally published in the June 2016 issue of Australian Country. Subscribe to the magazine here.
For more home and interior stories, click here.
Words Kirsty McKenzie
Photography Ken Brass