A Toowoomba couple have brought the expertise of a lifetime's collecting and dealing antiques to their Federation home, the Burfield House.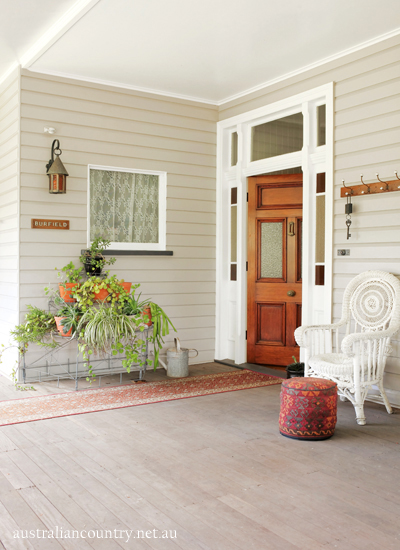 Brenton and Sharon Kinnear happened upon a life of treasure hunting by chance. More than three decades ago, as newlyweds, they set about furnishing their first home together and soon discovered a shared love of things old and worn, rather than shiny and new."We started buying pieces that needed work," Sharon says. "We found we enjoyed the whole restoring/conservation process." "As Sharon was busy going about buying and collecting things in the early days, someone had to then pick them up and do the restoration work," Brenton adds."That's when I became involved and loved the transformation from junk to a useful and beautiful piece of furniture."
As time went by, their hobby took a firmer grip on their hearts and minds, and they decided to take a leap of faith. "An existing antiques shop became available in Coffs Harbour, so we jumped in," Sharon recalls. "Brenton then went off to do his French polishing trade … we had the Coffs shop for 14 years, then one in Grafton for six years." But as the children grew, the couple realised they needed to be closer to amenities such as high schools and universities and decided to pack up the farm and move to Toowoomba, on Queensland's Darling Downs, about two hours from Brisbane. The physical move turned out to be a lot tougher than the decision to make it, given their now vast collection of antiques.
They finally found a place to set up shop near Toowoomba's historic railway station in the CBD, and they found their forever home just a stroll away in Burfield House. The home is believed to have been built by a couple who were partners in the Cramond and Stark department store which opened in Toowoomba in 1905. Through renovation and repair many original features remain, including the intricate cast iron balustrade on the front verandah, now painted a crisp white, and pressed metal ceilings in several rooms. The Kinnears have plans to extend Burfield, but without altering its style.
The complete story was originally published in Australian Country issue 20.1. Click here to subscribe to our magazine.
Click here for more home and interior stories.
Words Tamara Simoneau
Photography Anastasia Kariofylldis