A road trip through the NSW Central West reveals lots to see and do and some luxe surprises for travellers prepared to venture a little off the beaten track.
By Kirsty McKenzie, photography Ken Brass
John Sarkissian picks a blade of grass from the lawn and lets it drop gently. The CSIRO Parkes Radio Observatory scientist with an OAM (Order of Australia Medal) for his services to astronomy explains that the energy expended by that tiny leaf when it strikes the ground is more than all the energy ever collected by every radio telescope ever built, in terms of the astronomical data received. "That's why radio telescopes have to be so big," he says. "The large surface area of the dish allows us to collect enough weak signals so we have a strong enough signal to detect and analyse.
In the case of this radio telescope, that means The Dish, as it was immortalised in the 2000 movie of the same name, has a diameter of 55 metres and weighs the equivalent of three fully laden jumbo jets. As John explains, although The Dish was only intended to have a 20-year lifespan when it was commissioned in 1961, it has been continuously upgraded ever since and is now more than 10,000 times more sensitive than it was when it was built. "Since 2012 astronomers from all over the world have been able to schedule times to operate the telescope remotely," he says. "Anyone with a project can apply for access and it's free, but it also gives Australian astronomers reciprocal rights to facilities overseas. Only a tiny proportion of the work is related to space missions, but it did play a critical role in the Apollo 11 landing and relaying the pictures of Neil Armstrong's moon walk to more than 600 million people around the world."
The Dish attracts 100,000-plus visitors annually and is a major drawcard for visitors to the Central West. Parkes and Cowra, with around 12,000 residents each, and Forbes, population 8000-odd are the major centres for the region and, while their primary function is as service centres for the surrounding agricultural communities, tourism is booming, particularly since Australians have had their overseas travel plans hijacked by the Coronavirus pandemic.
Australian Country's road trip began with a pit stop in the village of Eugowra, with caffeine levels taken care of by The Fat Parcel food van and a quick stroll around town to take in the murals that adorn many buildings and provide an overview of the district's European history. The escapades of "gentleman" bushranger Ben Hall loom large over the region as, during the gold rush days, he and his allies held up homesteads, mail coaches and pubs across the goldfields. As they were often mounted on stolen racehorses, for several years they managed to avoid police capture. It's a short detour north of Eugowra to Escort Rock, a big boulder during our spring visit surrounded by a sea of Paterson's curse, where in 1862 Frank Gardiner and Ben Hall held up a coach carrying £14,000 worth of gold and money. The pillaging came to an abrupt halt in 1865, when Ben Hall was betrayed by an informer and he was ambushed and killed by police. His was buried in the Forbes cemetery where, according to local lore, there are always flowers on his grave.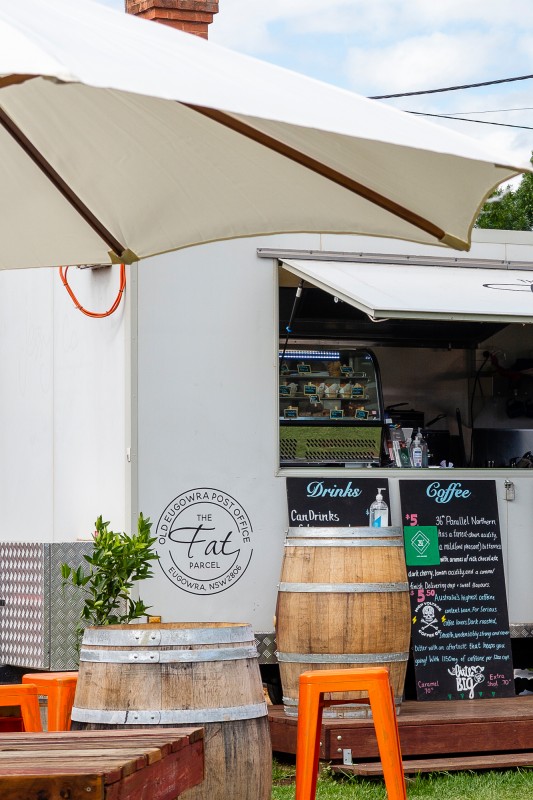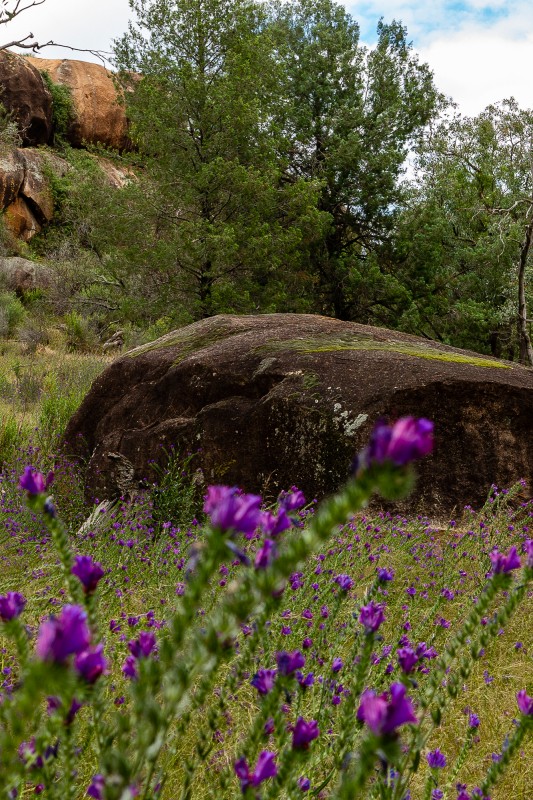 There are reminders of the golden days of Forbes on a heritage trail that takes in many of the colonial buildings and includes the 1881 post office and 1891 town hall. At the tourist office in the 1893 railway station, visitors can pick up map showing sculptures around town and Lake Forbes. However,  it's a case of watch this space at the moment, as an energetic group of locals has big plans for a gallery and cafe in the former ambulance station. By the end of this year, their vision for a monumental sculpture trail along the stock route beside the road from Forbes to Condobolin will also be complete. An installation spelling out AMAZING was the first of this community-driven initiative, which also includes a 22-metre-long metal goanna by Glen Star as a tribute to its significance to the local Wiradjuri people and huge water tower by Stephen King.
The trail is the brainchild of local artist Rosie Johnston, who had her "why-not?" moment on the way back from visiting Sydney's Sculpture by the Sea outdoor exhibition. Numerous creatives including Wendy and Kim Muffet, who run Girragirra Eco Retreat on the outskirts of Forbes (see their story starting on page 44) jumped on board and, in 2017, they organised the first Grazing Down the Lachlan lunch as a legacy event. The 2020 degustation lunch with stations along a 2.5-kilometre trail had to be cancelled due to COVID-19, but the event will be back bigger than ever this year, with the long lunch planned for September 18. So far, Grazing has contributed $80,000 to the sculpture trail and the organisers' efforts were recently bolstered by $2.5 million in government funding, part of which will also go to improving the Gum Swamp bird hide, which provides a window to the district's recognition as an internationally recognised bird-breeding centre.
At Girragirra, the Muffets welcome guests to their environmentally sustainable self-catering retreat, which overlooks a dam and is located on a splendid stretch of the Lachlan River. Guests are welcome to help themselves to the organically grown kitchen garden, which provides a larder of fresh produce throughout the year. On the other side of town, Wayne and Denise Richards also provide self-contained, wheelchair-accessible accommodation at their Appleyard Bed and Breakfast. The kitchen is well equipped, generous breakfast makings are in the fridge and pantry and guests can enjoy meals or a barbecue on the deck overlooking a small pond that also attracts a variety of water birds.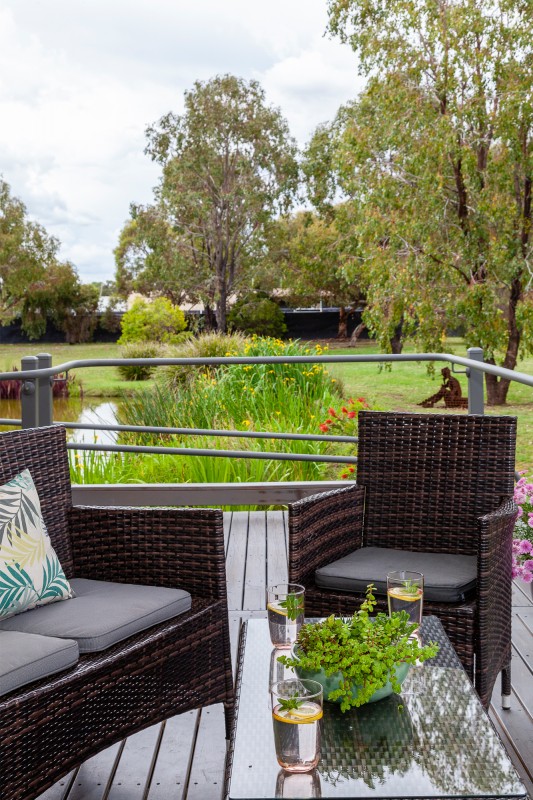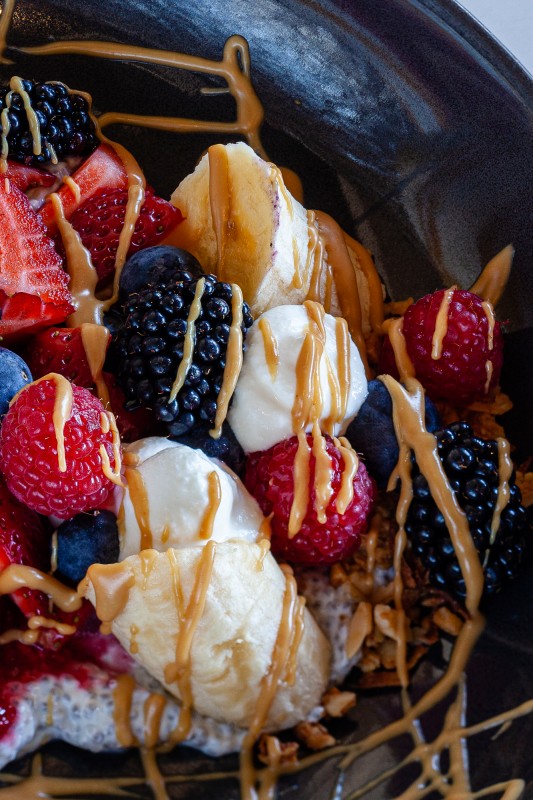 Visitors who prefer to dine out might head to the charmingly retro Isabel's Place for lunch or The Brew Coffee and Juice Bar for breakfast. Locals who know a great wood-fired pizza when they taste one will point you in the direction of Aglio & Olio, which is run by former Sydney restaurateurs Cathy and Vic Murda. Their diner is in what must rate as one of this country's least likely locations for a fine Italian feast, tucked between Bunnings and Spotlight stores on the northern side of town. The pizza menu is supplemented by old-school pasta and secondi and contorni offerings, prepared with by hosts whose long experience in hospitality shines in their every gesture.
Parkes is just 33km further north on the Newell Highway. The population pretty much trebles every year during January, when up to 25,000 fans of Elvis Presley gather to celebrate the star's birthday. There are Elvis impersonators aplenty, a street parade, busking and art competitions as well as lots of good, old-fashioned rocking and rolling fun. If you can't make to town for this celebration, head to the tourist information centre in the Henry Parkes Centre where the Parkes Motor Museum, the Henry Parkes Museum and antique machinery collection and the King's Castle Elvis Museum are located in the one precinct. Greg Page, aka the Yellow Wiggle, is a big Elvis fan and has family connections to the district, so has loaned his extensive collection of Elvis memorabilia to the museum. Although the town is well served with hotel and motel accommodation, book early if you want to be part of the Elvis Festival. Keen foodies will also make a reservation for Bella's Cafe in the centre of town, while coffee, breakfast and lunch venues include Roasted Kombi café and Wholesome Blend.
Our trip took us further north up the Newell to Peak Hill, where visitors can bushwalk around five now-closed, open-cut gold mines. From there, it's a short drive to The Fleece on Cora Lynn station, where Steve Lindsay has created a superbly appointed retreat in the shearing shed his grandfather built 70 years ago. The kitchen is waiting for keen cooks to move in and there's a barbecue on the deck, with views of a landscape made all the more Insta-worthy by Clydesdales Rubie and Wilson grazing in the foreground. Steve's former life in hotel management shows in the quality of the fit out, but there are plenty of nods to the building's origins with historic photos and stencils on the walls, old wool scales in the bedroom and the shearing chutes and overhead gear preserved between the kitchen and the living areas. There's no wifi or TV, so guests are encouraged to enjoy some digital detox, birdwatch around the lagoon, take early morning strolls through the bush and become reaquainted with their travelling companions and the sounds of silence.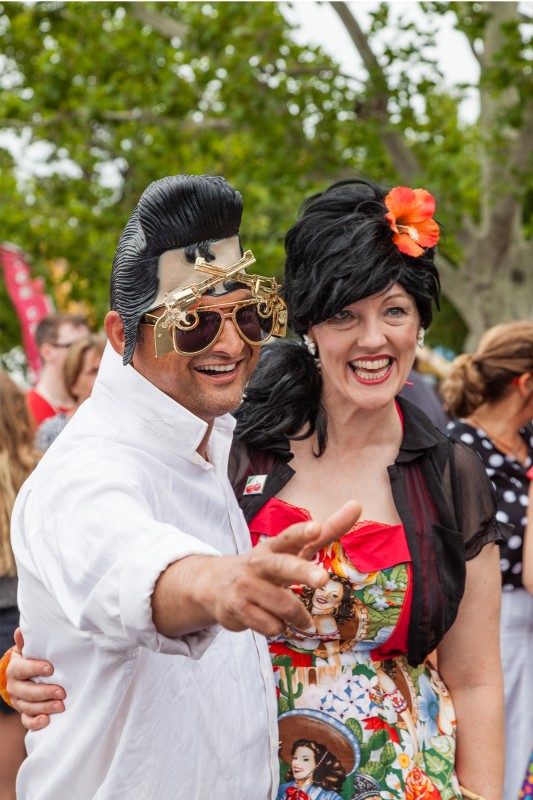 Heading south on the way home and back at The Dish, John Sarkissian shares the low-down on the movie version of the moon-landing. In 1969, he says future career was inspired when, like youngsters all over the world, he crowded around a black and white TV to watch the scratchy images as they were beamed to earth in real-time. His expertise and childhood memories came in handy when he acted as a consultant to producers Working Dog Productions. He operated the telescope during filming and provided script advice on technical matters. "I even provided the calculations that flash up on a blackboard in one scene," he says. "I made sure they were real, because I didn't want to have dodgy figures like there were in one of the maths problems in Good Will Hunting."
Among various clarifications, John explains that the "power failure" scene in the movie was fiction, albeit based on a previous incident when a bushfire caused an outage at the facility at Tidbinbilla near Canberra. In fact, they not only had a back-up generator, they'd also practised hand-cranking it to ensure the vital links weren't lost. "The storyline was based in truth but it was an amalgam of events at Honeysuckle Tracking Station, the Tidbinbilla Complex and the Goldstone Observatory in California," he says. "Of course there were more than four astronomers at Parkes during the landing, but the movie kept it simple so the characters didn't get lost. And the storm scene was real, but the wind was actually worse than what was depicted."
However, spoiler alert, if there can be such a thing 20 years after a movie is released, John's sorry to report there was no cricket game on The Dish. "It was made of mesh similar to chicken wire all the way to the centre," he says. "You couldn't have played on it. The scene was included so the actors could give the structure scale and people would understand how big it is. The cricket ball was made of soft foam because there was no way they were going to be allowed to throw the real thing around up there. Replicas still sell like hot cakes in our gift store."
PLACES TO STAY
Appleyard Bed and Breakfast, Forbes
WHERE TO EAT
The Brew Coffee & Juice Bar, Forbes

Bella's Cafe & Licensed Italian Restaurant, Parkes
FOR MORE INFORMATION
CSIRO Parkes Radio Telescope Visitor's Centre
Parkes Vistor Information Centre 
For more, read Australian Country #24.1