Artist Kate Owen has developed her rosy take on the world from her home and studio on a northern NSW farm.
By Kirsty McKenzie, photography Ken Brass 
By her own admission, Kate Owen has lost count of how many different careers she's had. However, their common denominator has always been creative. The artist lives with her husband, Michael, and their teenaged sons, Ben and Sam, on Minnamurra, the HQ of their mixed cropping and beef cattle farming operation near the tiny town of North Star, close to the NSW/Queensland border. Although she grew up near Moree on the farm her parents, Robert and Jennie Reardon, made the epicentre of their extensive Reardon Farms operation, which includes farms in the Goondiwindi, Mungindi and Moree districts becoming a farmer never entered her mind.
"I told Mick as much on one of our first dates," Kate recalls. "I'm very happy to live in the bush and the amazing landscape in which we live informs much of my work, but you're never going to see me on a tractor."
Kate studied art at school then went to Sydney to study fashion design. Upon graduation, she landed a job with Table Eight, and from there she travelled overseas, working at Harrods and Harvey Nichols and soaking up all she could learn about retail. She added a stint working for a bridal designer in Sydney and a period in Grafton as the manager of ladies wear for Big W to her CV, before returning to Moree to open a formal and bridal business.
"I actually met my mother-in-law before I met Mick when I made her an outfit for a wedding," she recalls. "When I was introduced to Mick at a picnic race meeting, I was on my way to give Sydney another try. So I left shortly after, but Mick was persistent. He rang me everyday until I came back. We got engaged at the beginning of 2000 and married in September and I was pregnant with Ben three months later."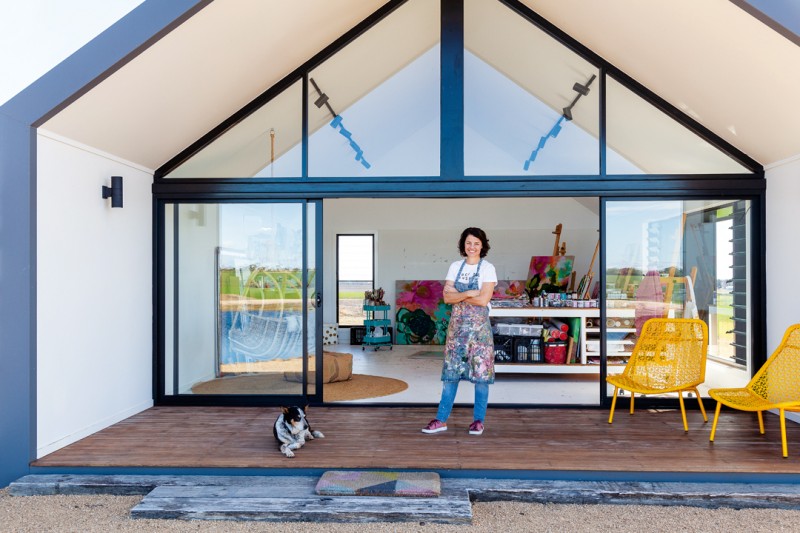 Meanwhile Kate and a friend had started a party plan business, which involved travelling all over the bush and she only gave that up when she was so pregnant with Sam that she could no longer pack the merchandise in the trailer. Then the children started school at the little two-teacher North Star primary school and somewhere along the line she "volunteered" to help out in the canteen.
"I can't believe how much I bit off when the kids were little," she says. "I was on a bit of a health journey so I decided serving fast food like party pies was not an option and I determined that we would serve only healthy food. Then I started a cake-making business, which morphed into a healthier baking business."
Somewhere in the midst of all this, one of Kate's friends was diagnosed with an autoimmune disease, so she and three other friends produced a cookbook called Friendship Food, with recipes that were free of gluten, yeast, dairy, eggs and refined sugar. In her "spare" time she volunteered to help with the organisation of Goondiwindi's annual Aspects Art Show, which displays more than 600 works from all over NSW, Victoria and Queensland and offers nearly $30,000 in prize money. Oh, and then there was Nutmeg Home, the homewares and gift shop she ran in Goondiwindi.
"I've just taken up opportunities as they presented themselves," Kate says. "We started out serving coffee and cake in store. Then that became lunch one day a week, and before I knew it, I was doing it seven days a week and coming home every night to cook for the next day. I finally realised it was all too much and I stepped away. But I'm pleased to say the shop is still going strong."
Kate says her love of painting, in particular working with acrylics was always bubbling away in the background. But it wasn't until the boys were away at boarding school that she decided to "give it a red hot go."
"In 2018 I was able to build my own studio," she says. "My sister, Margo Sparks, is an architect, so she worked with me to make what I wanted. The building looks simple, but in fact it was quite tricky. I'm just lucky that we did it then, because then the drought took hold and it wouldn't have happened."
Most mornings these days, Kate takes the several hundred metre trek from the homestead to her studio, where she is able to immerse herself in her work. With her red cattle dog-kelpie cross shadow Bella by her side, she creates large abstracts often with pink as the central colour. She produces big bold canvases, often working on the floor, with a brush gaffer-taped to a stick, a technique she learned from Sydney artist Catherine Cassidy.
"I like to be able to walk around my work and paint from all angles," she explains. "It gives me freedom to interpret the landscape. I never waste paint. If I have some leftover paint, I spread it onto paper and then use it in collage. There's collage in most of my work, though sometimes even I forget where I've hidden them. I also enjoy scribbling with graphite and oil sticks and scraping back through layers of paint to satisfy my need for freedom in my work."
As well as one-off works, Kate produces limited-edition prints. She confesses that she prefers not to accept commissions as she doesn't want anyone dictating what she should paint.
"My studio is my sanctuary and I know I'm lucky to have such an oasis of peace and positivity," she says. "I love starting each piece, but inevitably I get to a point where I think it looks like crap and I don't know where I'm going with it. But I persevere and when someone actually buys the painting, I can fall in love with it all over again."
She adds that COVID-19 has been good for farmers, as primary produce is essential, and creatives, due to a spike in online shopping. "I'm selling as fast as I can paint," she says. "Luckily I'm a fast worker. I'm grateful to have the space and support to do what I love. I also know I'm fortunate that people like what I do."
Kate is represented by Art Lovers Australia and she also sells online. For more information visit kateowenartwork.com.au.