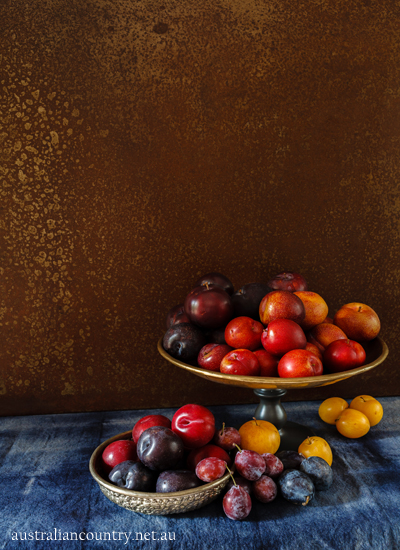 PLUM RECIPES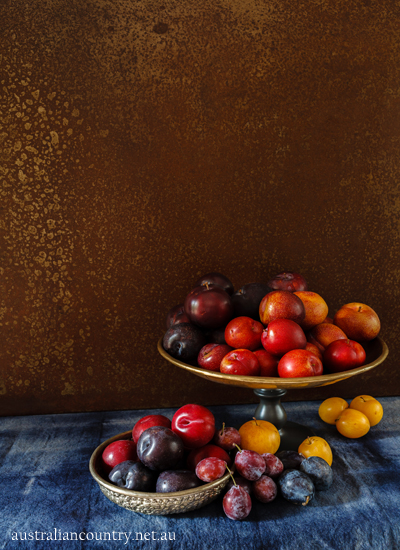 Plums are such neat packages of good things; wrapped in an array of wonderfully rich colours, juicy, tangy yet sweet, and all this carrying antioxidants, vitamins C and K, copper and potassium and valuable fibre.
In countries such as Australia where crop seasons often blur, the plum season seems to have retained its integrity, the appearance of the first fruit still affords the delight of anticipating that first taste.
An increasing number of varieties with creative names appears each year — Purple Majesty, Amber Jewell, Black Poly, Rose Plums, Vanette, along with the favourite sugar plums and blood plums. Recently however, the limelight has been stolen by Queen Garnet, dubbed a super fruit.
These recipes were originally published in Australian Country issue 20.2. Click here to subscribe to our magazine.
For more recipes, click here.
Recipes and styling Kay Francis
Photography Ken Brass
 
Red Salad
Serves 6-8
2 blood plums
6 medium beetroot plus smaller leaves
2 small red onion
2 tablespoons walnut oil
1 tablespoon crushed pink peppercorns
3 tablespoons fig balsamic
1 red chilli, seeded and chopped
1 cup finely shredded red cabbage
½ cup pomegranate seeds (arils)
½ cup chopped roasted walnuts
Preheat oven to 200°C. Halve plums and remove stones. Place cut side up onto an oven tray lined with baking paper. Trim and peel beetroot (reserve smaller leaves) and cut beets into wedges. Add to oven tray. Peel and quarter onions and add to oven tray. Sprinkle with walnut oil, roast in preheated oven for 40 minutes, turn vegetables and roast a further 40 minutes. Sprinkle with crushed pink peppercorns and roast a further 10 minutes.
Transfer vegetables to a large bowl and add fig balsamic, stirring to coat. Add remaining ingredients and reserved beetroot leaves. Serve warm or at room temperature.
 
Plum Chutney
Makes about 4 cups
12 black plums, flesh chopped
roughly off stones
1 tablespoon yellow mustard seeds
3 star anise
1 tablespoon pink peppercorns
3cm green ginger, grated
3 shallots, peeled and chopped
1 large red chilli, chopped
500g dark muscovado (or dark
brown) sugar (see note)
500ml cider vinegar
1 cup unsweetened dried cranberries
Place all ingredient is a large pot, bring to a boil, stirring occasionally. Simmer, uncovered for 80 minutes, or until very thick. Cool a little, then spoon into sterilised jars and seal.
Note: Muscovado is an unrefined cane sugar.
 
Prune Gingerbread Cake with Plum Sorbet
Serves 8-10
SORBET
1.5kg Queen Garnet plums
100g caster sugar
1 cup rosé wine
3 egg whites
PRUNE GINGERBREAD
150g unsalted butter
150ml golden syrup
150ml molasses or treacle
125g dark muscovado (or dark
brown) sugar (see note in the
previous recipe)
3 teaspoons ground ginger
1 teaspoon cinnamon
¼ teaspoon ground cloves
1 teaspoon bicarbonate soda
300g plain flour
1 cup plain yoghurt
2 eggs
1 cup (150g) stoned, chopped prunes
To make the sorbet: Preheat oven to 190°C. Halve plums and remove stones using a small serrated grapefruit knife or other sharp knife. Place cut side up on an oven tray lined with baking paper. Roast 60 minutes, remove from oven and cool. Transfer plums and juices to a blender and puree.
Heat sugar and wine over a low heat, stirring until sugar dissolves. Add to plums in blender and puree. Whisk egg whites in a large bowl, until soft peaks form. Pour in plum mixture and using a large metal spoon slowly fold in to combine evenly. Pour mixture into an ice-cream maker and churn according to manufacturer's instructions. Alternatively, pour mixture into a large shallow freezer proof container and freeze until beginning to set. Stir with a fork to break up ice crystals and freeze again. Repeat this process three times until sorbet is frozen.
To make the gingerbread: Preheat oven to 170°C. Grease and base line a square 23cm cake tin. Combine butter, golden syrup, molasses or treacle and muscovado sugar in a saucepan. Heat gently, stirring until sugar dissolves. Cool.
Sift together spices, bicarbonate soda and flour into this mixture. Whisk yoghurt and eggs together and stir into cake mixture. Stir in prunes. Pour into prepared tin and bake 60 minutes, or until a skewer inserted in the centre comes out clean. Cool in tin 15 minutes before turning out. Serve warm, with the sorbet, which will melt a little to form a sauce. The remainder of the rosé opened to make the sorbet is a good accompaniment.
 
Honey Plum Tart
Serves 8
Store-bought sweet shortcrust pastry
Filling
16 honey-preserved plums
8 slices honey-preserved lemon
1 cup syrup, from plums
2 eggs
1 cup ground almonds
Icing sugar and cream to serve, if desired
Preheat oven to 180°C. Line a 20 x 28cm (or similar size) tart tin with removable base, with pastry. Trim to fit and refrigerate 20 minutes. Using a small fork, prick base all over. Line pastry with baking paper, allowing it to overlap the edges and protect them during baking. Pour baking weights or beans into the shell, place in preheated oven and bake 15 minutes. Remove paper and weights and bake a further 10 minutes, or until the base of the shell is crisp and dry.
Meanwhile, whisk syrup, eggs and almond meal together until thick and pale. Arrange plums and lemons in base of cooked pastry shell. Pour in syrup mixture and return tart to oven for 40 minutes, until filling is puffed and firm. Remove from oven, cool in tin before removing and serve at room temperature. Dust with icing sugar and serve with cream, if desired.