Seasonal Progress
A grand historic property thrives in the hands of scientists who embraced its past and introduced a modern-day twist.
Every metre of the towering bunya pines that stand stoic at the edge of this beautiful property has seen a story. Saplings might tell of the flurry of activity back in 1888 as a four-bedroom cottage rose from the red soil. Young trees reaching skyward in an avenue of fellow pines might recall the ones that didn't survive the decades of frost and thaw. Those that have matured as the thick-trunked guardians of this old street have silently stood witness to it all — the countless families come and gone, and the home that has grown and changed along the way.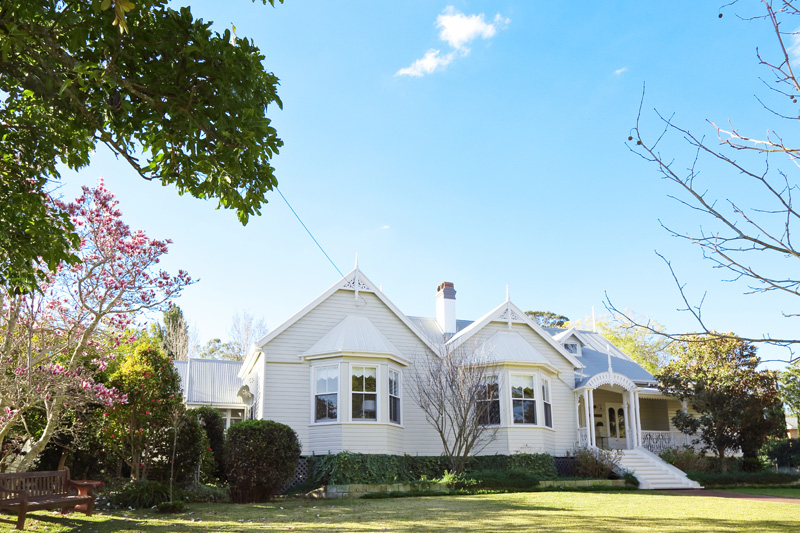 The trees were planted by Bunya Park's original owner, prominent local timber milling pioneer, Duncan Munro, who built the house as a second home for his family of 12 in the developing regional centre of Toowoomba, on the Darling Downs. Today, the giant conifers are rooted history in the midst of an ever-evolving landscape. The home's current custodians are Lucy and Jeremy Osborn, and their visiting children from far and wide. Lucy fell in love with the stunning property at first sight, even though they weren't considering a move at the time. "As strange as it sounds, it was the garden that I was drawn to," Lucy says. "After living on the side of a hill in our last two houses, I wanted a beautiful flat garden. As much as I could appreciate the beauty and history of the house, it is not what drew me to it." The garden is where they're often found, pruning, planting and raking, or just enjoying any one of the many perfectly shaded spots on the lush green lawn.
"Bunya Park changes with the seasons," Jeremy, who is the resident green thumb, adds. "The camellias are spectacular in autumn and winter while the wisterias and azaleas are superb in spring. The roses come into their own in summer. I enjoy just wandering around the garden and have various plans for creating more flower beds for spring and summer colour."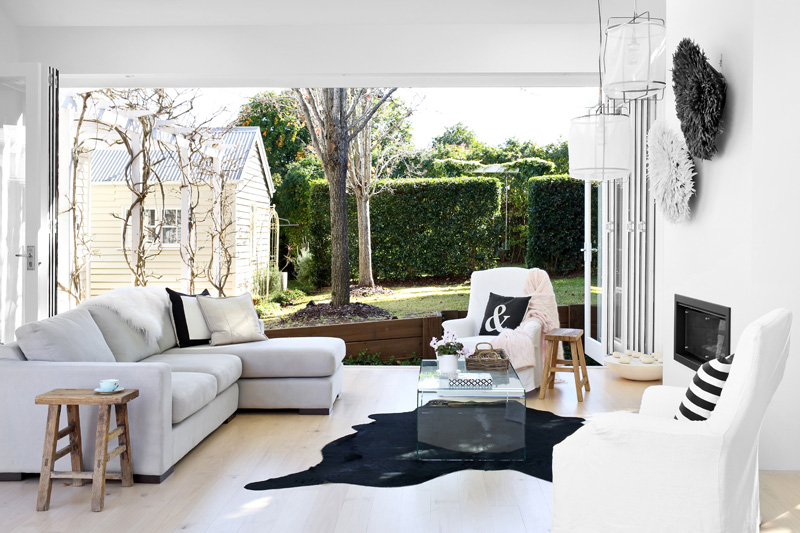 Lucy and Jeremy transformed the rear of the old home in 2015, adding an expansive new kitchen and light-drenched atrium with oversized stacker doors on both sides showcasing the garden beyond. It opens gloriously from the original hallway with its pressed tin ceilings and old pine floor, crisp white paint tying old and new together seamlessly. "The renovations that we did have changed that area of the house beyond all recognition," Jeremy says. "They have made a world of difference to us and the house." It's where family gathers around the fire in winter, and where summer soirées spill out onto the brickwork patio whenever friends pop by. Theirs is a life of savouring the moments after years of quite literally putting other families first.

The couple met in Melbourne working in the science and research labs at Monash University at the dawn of the in vitro fertilisation (IVF) era in Australia. "The IVF lab was located in the theatre complex, which meant we used to wear theatre gear, paper shower caps and masks," Lucy says. "Jeremy says he fell in love with my eyes because that's pretty much all he could see." Soon, they decided to branch out on their own. "In 1993, Jeremy and I decided to be entrepreneurial and start up an IVF scientist consultation service thinking that our services would be required overseas," Lucy adds. "They were to begin with, and our travels extended from Malaysia and Rome to Qatar. But it turned out that where we were needed was in our own backyard. Couples who lived in rural areas were travelling long distances to have IVF. So we set up clinics in rural Victoria, NSW, Far North Queensland and Toowoomba." As they were busy helping couples become parents, their own family was growing. "One of us had to stay at home," Lucy says. "My role changed from being at the bench and travelling to organising Jeremy. He travelled for more than 45 weeks of the year and I ran the business and looked after our five children. In fact, I would arrange his schedules so he could be at home around the time our babies were due to be born."

But it all became too much, and a move out of Melbourne to one of the areas where they had a laboratory seemed more conducive to a healthier home life. Toowoomba, with its changing seasons, big country town feel and relaxed lifestyle was the perfect fit. The location change sparked a career change for Lucy after she saw an opportunity to start a children's wear boutique. "I would have preferred going into homewares," she says. "But there already was a really lovely gift shop in Toowoomba."
Lucy settled for indulging and experimenting with her natural inclination for decorating and decor in her own homes. "She certainly has a talent for visualising the layout of a room and seeing its potential," Jeremy says. Recently, Lucy bravely set off on another career adventure — property styling — and Jeremy has again supported her all the way. She just happened to have the perfect business partner living right next door, as her savvy neighbour, Tonita, was also toying with a change. "My heart always led me towards interiors and decorating," Lucy explains.

"So when Tonita was talking about selling her hairdressing business, I asked her if she would like to get into property flipping and she said 'yes'." And so, Outside the Square Projects was born, and the pair has been busy taking diamonds-in-the-rough and putting their stylish stamp on them for resale. "I wish I had known that I could have done that as a career," Lucy says. "Having said that, I have enjoyed being involved in IVF since the very early days in the 1980s." The vital work of helping to make babies aside, taking care of business these days is bliss fulfilled. "Meetings are held at the kitchen bench, where Jeremy usually makes a cup of tea for Tonita and coffee for me," Lucy says. "The atrium is for Saturday afternoon glasses of wine. Tonita's husband joins us for those meetings!"
The complete story was originally published in Australian Country issue 21.3. Click here to subscribe to our magazine
Words & Styling  Tamara Simoneau
Photography Anastasia Kariofyllidis