Discover VIC cooking schools
Pickled Sisters
Husband and wife team Stewart Gilchrist and Marion Hansford have been running their celbrated cafe at Cofield Wines at Wahgunyah in the Rutherglen wine region of north-eastern Victoria for more than a decade. They share their paddock-to-plate ethos with monthly cooking classes followed by lunch in the vineyard with wines introduced by winemaker Damien Cofield. Classes are seasonally focused and may concentrate on topics such as oranges and lemons or something fishy. Participants wanting to extend the experience can opt to glamp in permanently erected bell tents overlooking the vines.
pickledsisters.com.au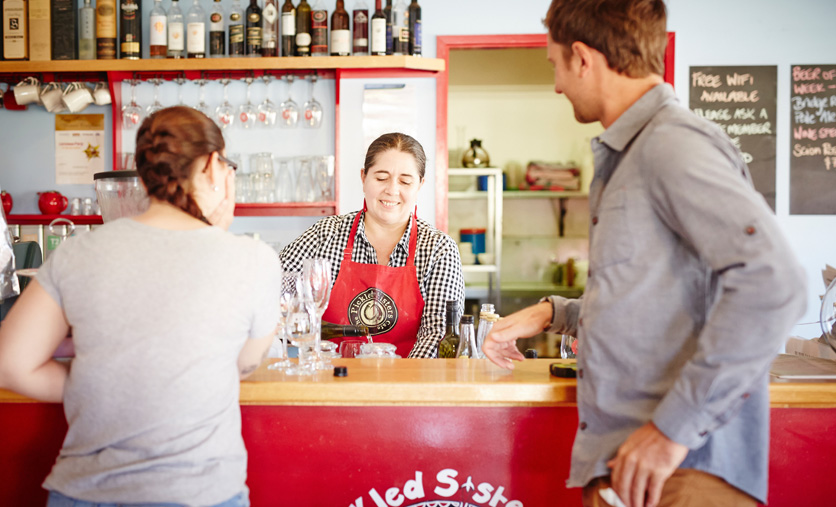 Brewer for a day
Brew a batch of Bright Brewery's award-winning beer under the supervision of head brewer Richard Chamberlin. This hands-on experience for a maximum of four people includes milling the grain, mashing in, pumping water, handling hot liquor and wort and lots of heating, cooling, measuring, timing, stirring, wielding the spurtle, as well as removing the spent grain, cleaning out the fermenters and brewhouse and lots of talk about beer. Most of the brewery's beers take about a month to ferment and condition, so when it's ready the team will send participants a complimentary six pack of your very own brew.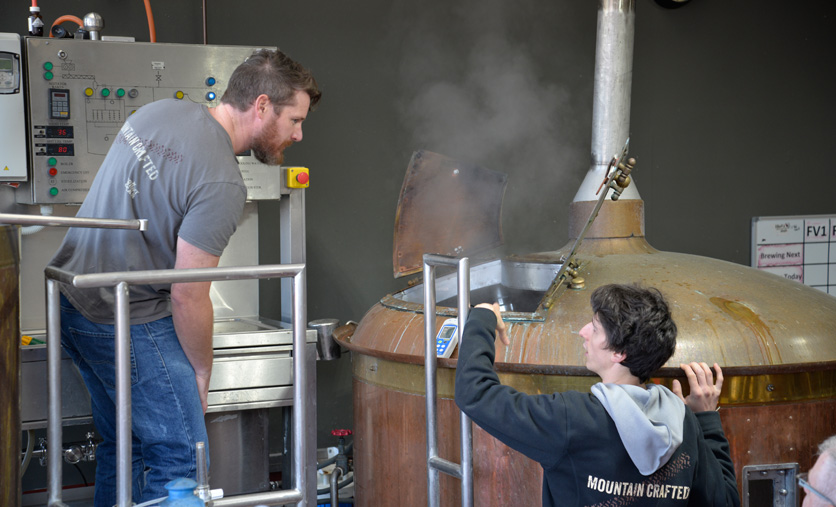 Beechworth Lost Arts Series
Honey has a big presence in the remarkably well-preserved goldrush town of Beechworth in north-eastern Victoria. Visitors can taste more than 30 varieties of honey and buy all manner of bee-related products at the Beechworth Honey Experience then stroll down Ford Street to the Bee School to learn all about bee keeping, pollination, biosecurity and just how important these little critters are to the future of our food supply. On weekends the Bee School also hosts the Lost Arts Series, which focuses on all the skills your gran took for granted. So if you have a hankering to learn how to make beeswax candles, whip up a macramé plant hanger or make old-school crumpets (perfect with honey) check out the website and make a booking.
lostartsseries.com.au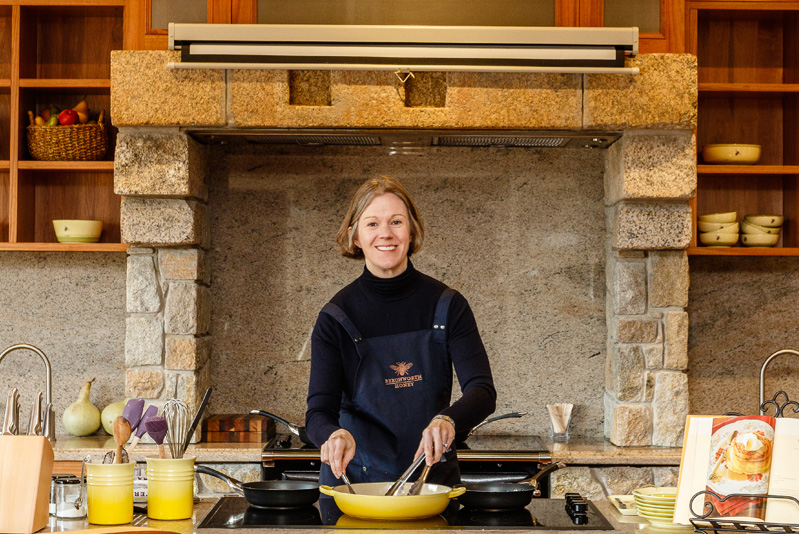 Alpine Nature Experience
Learning how to make cheese fondue and gluhwein in a tipi in the middle of the wilderness at Hotham Heights may sound like some kind of crazy cross-cultural fusion but that's precisely the experience expat Frenchman Jean-Francois Rupp offers visitors to Victoria's High Country. Guests who book into the evening's cooking class with three-course dinner meet at the Wire Plain carpark and are escorted through the snow gums to Jean-Francois' tipi. Snow shoes are provided during winter and there's an add-on option of arriving by husky-drawn sled (howlinghuskies.com.au). Visitors are welcomed with a glass of gluhwein around the campfire and then move into the tipi for a hands-on tutorial in making fondue. Along the way Jean-Francois provides loads of information on the Australian and European Alps
alpinenatureexperience.com.au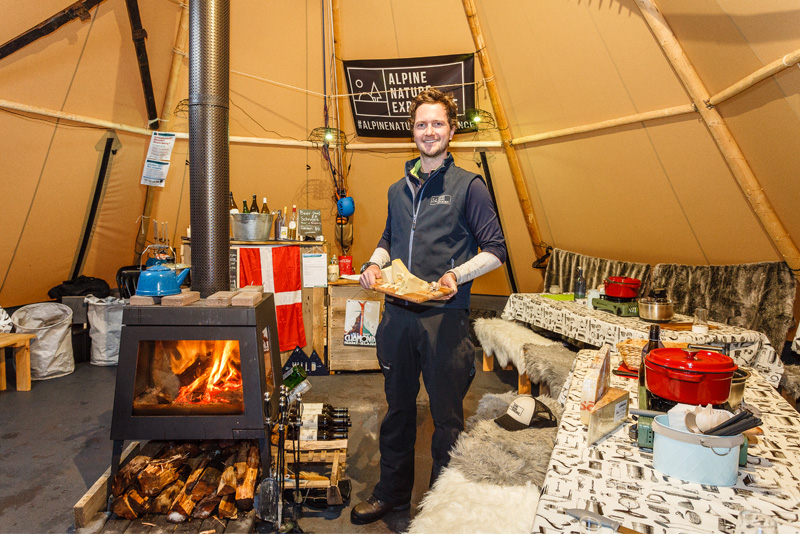 Free to feed
Free to Feed is a cooking school with a difference — or rather, their mission is to make a difference. As Melbourne's first pop-up cooking school, all classes are run by refugees and asylum seekers. All instructors have exceptional cooking skills and, before leaving their countries, played important roles serving traditional dishes as professionals to their families and communities. Now, as asylum seekers without jobs in Australia, starting over can be challenging, and that is where Free to Feed comes in. Through the cooking classes the instructors receive training, support and a wage. Plus it's a fun story-telling gathering. From Hamed's Iranian masterclass and Niro's curry class to Norisa's Persian kids' session and Mahsids' Middle Eastern favourites, the food created is just as interesting as the chefs themselves.
freetomelbourne.org
Fareshare
Since 2001, Fareshare has established itself as one of Melbourne's standout community organisations and innovative food destinations. The charitable organisation reclaims unused food destined for dumpsters and uses it to fight hunger by cooking up to 25,000 free meals for Victorian charities every week. Last year, almost 7000 people volunteered to work in Fareshare's industrial kitchen to make wholesome meals for the needy. The community kitchen operates around five daily shifts and no formal training or professional experience is required.
fareshare.net.au
Green Olive
Along the hillsides of Victoria's Main Ridge region is an award-winning winery, restaurant and cooking school. Spanning 27 acres, Green Olive is home to livestock and grows olives, grapes, herbs and veggies. A class at Green Olive offers a taste of life on the land with the owners' fresh is best mantra injected into each class. We recommend the Preserving the Harvest class, where you will be jamming, pickling and fermenting like a professional in no time.
greenolive.com.au
Gewürzhaus 
Embark on a journey of culinary delights through Europe, the Middle East and beyond. Established in the winter of 2010, Gewürzhaus specialises in herbs and spices and stocks a comprehensive A to Z of spices, herbs, salts, peppers and sugars. With their expertise of seasoning, flavour and zest, learn to create your own feast in their Keeping It In Season class or discover what makes the perfect schnitzel. Classes are available mainly on weekends and run for approximately two and a half hours. From hot cross buns, pastry and chocolate classes to paleo and Middle Eastern cooking, Gewürzhaus offers three terms a year; January to May, June to September and October to December (which mostly focuses on Christmas recipes). All classes are a perfect combination of demonstration and interaction, with something for all comers.
gewurzhaus.com.au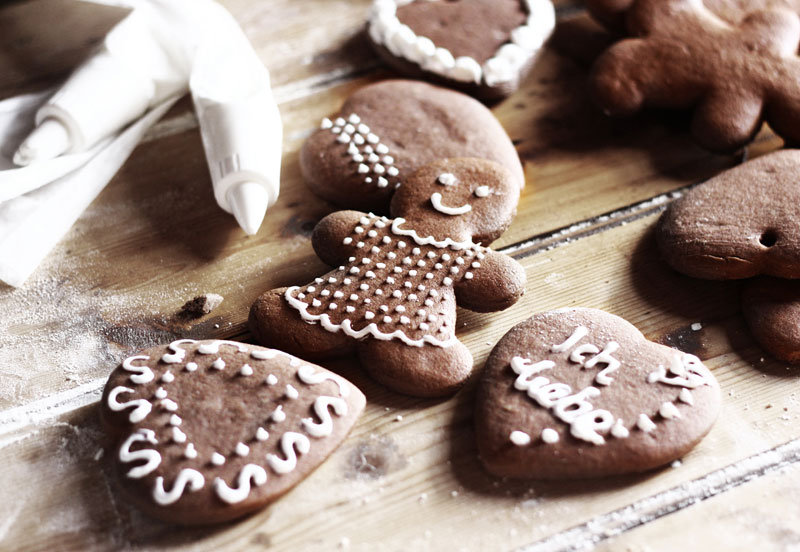 Melbourne Food Experiences 
Brighten up birthdays, hen's nights, and teamwork activities with Melbourne Food Experiences, a passionate events company dedicated to introducing the city's most vivid and delicious foodie moments to the masses. Private group classes ranging from cupcake decorating, Champagne masterclasses and culinary challenges accompany fascinating food and laneway tours in Melbourne's inner city. Cocktail and bar showings also ensure this diverse program has something to suit all groups.
melbournefoodexperiences.com.au
All Press Espresso
Calling all coffee aficionados! The All Press Espresso is hosting the Perfect Cup Class for Home where enthusiasts will learn the fundamentals of espresso preparation at home. The relaxed and informative class is open to a capacity of four students, to allow full participation. In one and a half hours you will cover coffee selection, dosing and tamping techniques, grind adjustment, milk steaming and more. The Perfect Cup Class for Home is a great experience or a gift idea for coffee-loving friends.
au.allpressespresso.com
Fare Cooking School
Taking culinary cues from time spent abroad in Italy, the founder of Fare Cooking School, Deborah Burke, opened up shop with the intention to share truly authentic Italian cooking with the masses. Fresh pasta making, dinner party essentials and '30 minute meal' classes are taught alongside a striking backdrop of seaside and mountain surrounds.
fareitaliancookeryschool.com.au
Diana Marsland 
In June 1997, Diana Marsland relocated to The Gables, an 1860 Victorian country house in Woodend in the beautiful Macedon Ranges. From there she runs a cooking school that provides a warm, friendly atmosphere for learning to cook magnificent cuisine. Following class, everyone sits down to eat and drink in the dining room. Classes are both hands-on and demonstration. These courses are not residential, but a list of local accommodation is available.
dianamarslandcooking.com.au
Essential Ingredient, Prahran 
As a wholesale provider to Melbourne's finest restaurants and elite chefs for more than 20 years, the Essential Ingredient has earned its reputation as an expert on all things culinary. This year, they are shaking things up, with their popular cooking school providing a more diverse program than ever before. Look out for the New Tricks classes where participants master the latest trends and techniques hitting Melbourne's coolest kitchens. Truly dedicated food buffs can't go past the Be Inspired classes, which give participants the inside scoop on food styling, photography and writing.
essentialingredient.com.au
Bella Vedere
After two and a half years making a name for itself as one of the finest dining experiences in the Yarra Valley, Bella Vedere has now opened its doors to let guests behind the scenes in a cooking school scenario.
With a focus on exploring organic seasonal flavours, Gary and the Bella Vedere team will show you what it takes to create a new menu from scratch, enjoying complete spontaneity and the challenge and thrill that comes from working with local produce.
bellavedere.com.au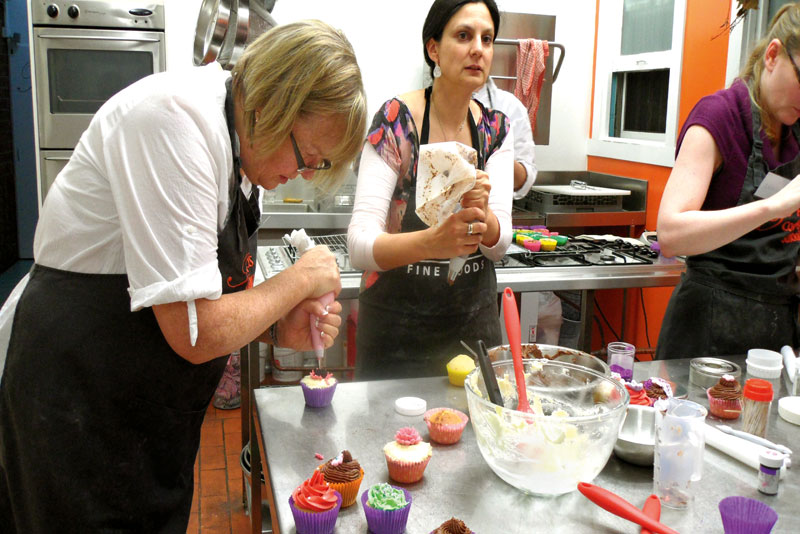 Olivigna
Savour a truly authentic Italian cooking experience at Olivgna, a premier winery, olive grove and restaurant set on 20 acres (eight hectares)of leafy Victorian country near Warrandyte. For owners Anna Gallo and husband John Di Pietro, introducing cooking classes seemed a natural progression for Olivigna, with their fresh handmade pasta, delightful desserts and passion for sharing their little piece of Italia, an infectious combination for visiting foodies. Our tip off? The Italian dessert masterclass, where participants learn to perfect delicious sweet pastries, including bombolone and cannoli.
olivigna.com.au
Relish Mama
A lifelong dream to bring simple, social and diverse cooking classes to the masses became a reality for Nellie Kerrison when Melbourne's Relish Mama opened its doors to the public in 2009. Countless hands-on classes, shining media reviews and one published cookbook later, Relish Mama continues to hold its own as one of Melbourne's best cooking schools. Indeed a passion for sharing her cooking prowess with participants big and small — the kid's classes are a program highlight — has led to life-changing success for Kerrison.
relishmama.com.au
Pip's Cooking School
When it comes to cooking, Pip's is a school that focuses on the fact that food should be fresh, healthy and stress free – all of which sounds pretty good to us! Pip is gluten, wheat, dairy and peanut intolerant, so her classes are particularly great for those of us who have allergies or intolerances, and there certainly are a few out there.
That's not to say you can't use some of these ingredients in her classes. Pip offers courses for beginners, lessons in Spanish cooking, Thai, pastry and high tea preparation, as well as cupcake baking and decorating. This school truly is all about variety and with the enthusiastic Pip at the helm, you know you're in safe hands. If you're in the Moonee Ponds area, make sure you check out Pip's Cooking School.
Visit pipscookingschool.com.au
Savour Chocolate & Patisserie School
Go on a journey of sweet-toothed delight with the Savour Chocolate and Patisserie School. The first of its kind in the Australia, Savour calls all eager foodies to its benches in Melbourne's hip inner-city suburb of Brunswick to discover the art of creating exquisite chocolate and pastries. Using only the finest ingredients, Savour offers a wide range of classes that are bound to leave you craving for more. From gateaux and tarts to macarons and even chocolate lollipops, a visit to Savour Chocolate & Patisserie School is a must-do for dessert enthusiasts everywhere.
savourschool.com.au/
Foodie Trails
Foodie Trails was created by two passionate sisters who were driven by the desire to share the history and flavours of Indian cuisine with Melbourne locals. A walking-tour-meets-cooking-class, Foodie Trails offers participants the opportunity to wander Melbourne's streets and uncover the city's hidden gems of Indian culture and cuisine. Recently introducing Moroccan and African cuisine tours to its program, Foodie Trails continues to pick up steam as a cultural alternative for foodies seeking more than the average cooking class.
foodietrails.com.au
Cooking on the Bay 
Although a relatively new establishment, don't let Cooking on the Bay's infancy fool you as its affluent and sophisticated classes deliver in more ways than one. Founder and head chef, Tonya Jennings is a seasoned professional in the world of culinary arts with her last cooking school in Queensland's Sunshine Coast hinterland, On the Ridge, enjoying great success for more than 10 years. Attributing her success to a whole lot of hard work and good fortune, it is also Tonya's passion for people and glorious foods from the world over that marks Cooking on the Bay above the rest. The breathtaking views across St Kilda's Port Phillip Bay, don't hurt either.
cookingonthebay.com.au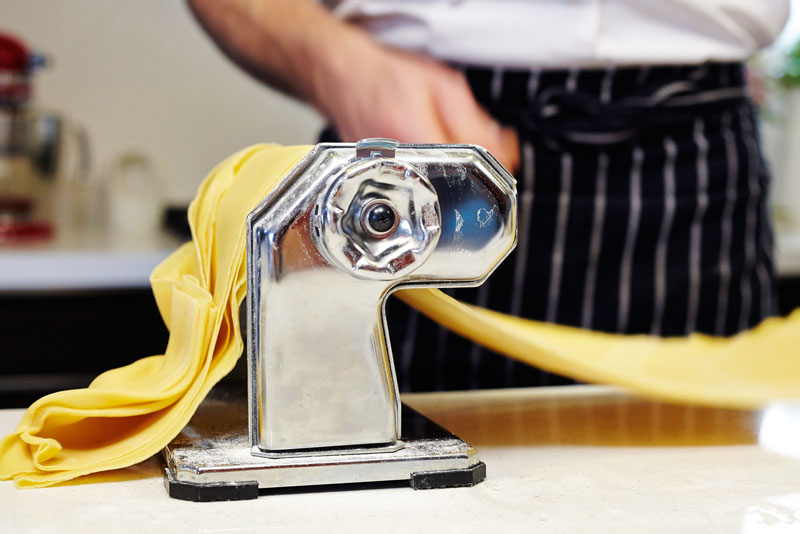 De Bortoli 
Nestled in the rolling hills of the Yarra Valley where gourmet is championed and wine is always at the ready, De Bortoli's On the Vine cooking classes were always a likely prospect. But under the watchful eye of executive chef Adam Mead and following the fresh produce philosophy that many generations of the De Bortoli family swear by, this restaurant and widely popular winery has become a Yarra Valley hotspot. Discover the wonders of winter cooking or undertake a delectable dessert workshop in the latest classes from the winery school.
debortoli.com.au
Taste Cook Travel 
Pauline Leonard runs fun, seasonal, hands-on cooking classes in Melbourne at the Queen Victoria Market Cooking School and in cafés and restaurants around the city. At her practical cooking classes you'll get to prep, taste, mix, simmer, knead, stir and create your own delicious masterpieces. Each cooking class is themed and could include a three-course Italian meal, whipping up a series of desserts, cooking seafood five ways or making fresh pasta and bread. After class you'll enjoy lunch together. Cooking classes in Melbourne are held in the city centre on Saturdays from 9.30am to 1.30pm, (see individual classes for variations) and can be run on demand for groups.
tastecooktravel.com or phone 03 5968 3963.
Al Dente Cooking School 
Located at the Oaks Winery in the picturesque Yarra Valley, Al Dente Cooking runs traditional, hands-on Italian cooking classes. Using fresh ingredients, the first-generation Italian teachers at the school will inspire with wonderful secrets of authentic home-style Italian cooking. As it is in traditional Italian families, the best knowledge, tips and tricks are passed down from person to person in hands-on training, rather than through books, and offer the pleasure of sharing rituals.
aldentecooking.com.au
Brasserie Bread (NSW & Vic)
Baking the perfect loaf can be difficult but there's no need to put it in the too-hard basket just yet. If you can't resist the smell of freshly baked bread, why not get a breaducation in artisan bread-making. Brasserie Bread offers hands-on baking classes at its Sydney and Melbourne baking schools. Designed to introduce bread fans to the joys of artisan bread-making, courses include kids' baking classes, school excursions and artisan bread-baking workshops.
brasseriebread.com.au
George's Culinary Retreat 
This contemporary B&B is located in the beautiful Mornington Peninsula and is famous for its captivating Mediterranean feel. Offering full cooking retreats and short cooking courses, the retreat is sure to dazzle your taste buds with its local produce and fine wine. Modelled on the famous live-in cooking schools of France and Italy, George's Culinary Retreat offers a unique European experience without the lengthy flight. After a hard day's cooking, you can take a dip in the naturally-heated mineral springs or peruse the local galleries. Enhance your cooking skills and expand your recipe repertoire while enjoying all that this stunning corner of the world has to offer.
georgesonarthurs.com.au or phone 03 5981 8700
BBQ School (National)
Warm weather is on its way and that means more BBQs and sausage sizzles. The BBQ School offers classes in Sydney, Melbourne, Brisbane and the Hunter Valley and will help you sharpen your grill skills. With an enthusiastic and experienced team, all classes offer demonstrations, hands-on activities and are all-inclusive, meaning the only thing you have to bring is yourself and your appetite. The school offers introductory sessions, BBQ for Blokes, BBQ Meat, BBQ Seafood, BBQ Tapas and other BBQ-focused classes. Famous for their beer and food matching sessions, these workshops guarantee a day of great food, drink and company.
bbqschool.com.au
Regional Cooking Schools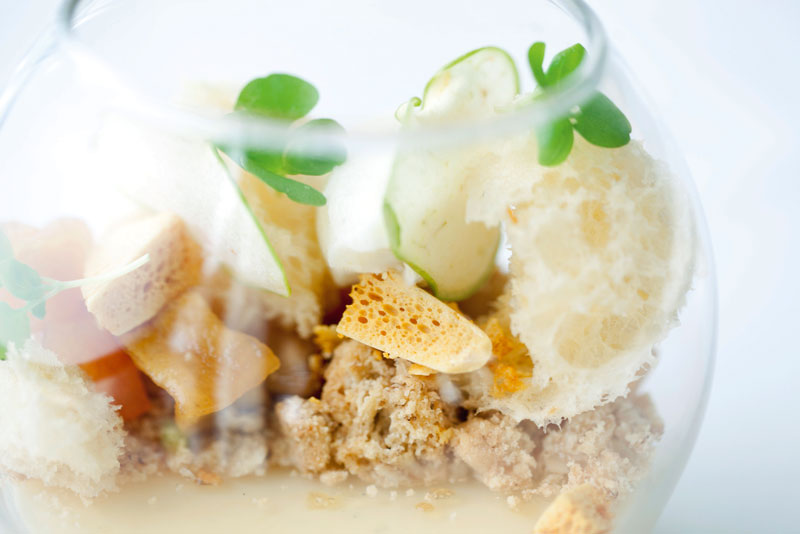 Lake House 
You can expect a full day of inspiration and indulgence at a Masterclass at Lake House, Daylesford. With its restaurant receiving two Chef's Hats in The Age Good Food Guide, you know you're in capable hands. You can learn anything from butchery and truffle-making through to the art of charcuterie, with a focus on local and seasonal produce. Classes are often run by Melbourne's it-chefs so you will learn all the cutting edge tricks of the trade in a region long known as a destination for true foodies.
Visit lakehouse.com.au/whats-on or phone 03 5348 3329.
Patrizia Simone's Country Cooking School
After leading culinary tours through Italy, resident chef Patriza returns home to the the picturesque plains and sub-alpine valleys of her hometown, Bright, to deliver her beloved classes once again. A diverse cooking program, fresh produce and ingredients, and an unwavering philosophy that simple is best, ensures a cooking school with bite. From seasonal cooking to dough kneading, exotic Umbrian roasting and salami making, memorable meals are guaranteed in a class at Patrizia Simone's Country Cooking School.
simonesbright.com.au
A Tavola! Cooking School 
Located in the cool climate wine region of the King Valley is an all-in-one winery, B&B and cooking school with rich Italian roots. Welcome to Pizzini wines, where fine Italian-style wines, a passion for food, and a love of family all meet seamlessly with a stunning countryside backdrop. Hosted by Pizzini owner, cookbook author, and avid foodie Katrina Pizzini, A Tavola! Cooking School uses family recipes passed down from generation to generation to set their classes above the rest.
pizzini.com.au
Culinaire 
Come away with a greater understanding of the fundamentals of cookery from Culinaire cooking school. With its hands-on approach, this school offers much more than a demonstration. Learn how to cook with herbs and embrace the aromatic world of spices. Beginners can partake in the basics two-day class that covers the arts of poaching, grilling and baking and how to make stocks, soups and sauces. For budding chefs there's an array of fun and informative classes from fabulous finger foods to paella and risotto workshops.
culinairecookingschool.com.au
Ellender Estate Glenlyon
Nestled among 40 acres (16 hectares) of vineyards and farmland in Victoria's spectacular Daylesford region, Ellender Estate is a destination for food and wine lovers alike. When it's not busy satiating the appetites of visitors, Glenlyon's restaurant, L'Osteria, provides regular workshops designed to teach amateurs the delicate art of wood-fired pizza cooking. Over a four-hour course, pizza enthusiasts can learn how to make their own dough, blend flavours and match their creations with a selection of boutique wines from the Estate.
ellenderwines.com.au
Wild Sourdough (Nationwide)
Get back to basics and feel inspired as chef and author Yoke Mardewi shares her knowledge and passion of food and demonstrates how to make delicious and wholesome sourdough bread. Yoke's one-of-a-kind cooking classes run for approximately four hours and all students are encouraged to get involved with the touch, feel and smell of making their own dough from scratch. Yoke also runs lacto fermentation and culturing classes, which teach how to make sauerkraut, kimchi and more. She also offers gluten-free sourdough classes. Based in Perth, Yoke teaches across Australia, and has been for almost 10 years.
wildsourdough.com.au
String and Salt 
String and Salt cooking school is set against rolling green hills and abundant dairy farms in the rural town of Warragul. With a variety of delicious, fun and informative workshops, the team loves to embrace an array of cultures, cuisines and cooking styles. Led by passionate chefs and cooking instructors, the sessions are small and intimate ensuring that all students get to experience the cooking process hands-on and up close. Season four starts September 24 and some highlights include Celebrating Spring Lamb, My Big Fat Greek Feast, The Coastal Foragers Tour, My Italian Heart, Introduction to Sourdough, All Fired Up and My Turkish Table. At the end of each class students gather together to savour the foods they have created and socalise with other passionate foodies. stringandsalt.com.au