Outdoors on Parade 
Watch world-class chefs in action and have the chance to ask all your food-related questions at one of Outdoors on Parade's demonstration cooking classes. At these classes you'll be able to chat to the chef while they make to-die-for meals for which you'll learn the fundamental skills and processes. It is a great opportunity to recreate amazing meals from the best restaurants and your favourite chefs and match them with the appropriate wines. All classes are $85 each and run for between two and two-and-a-half hours.
outdoorsonparade.com.au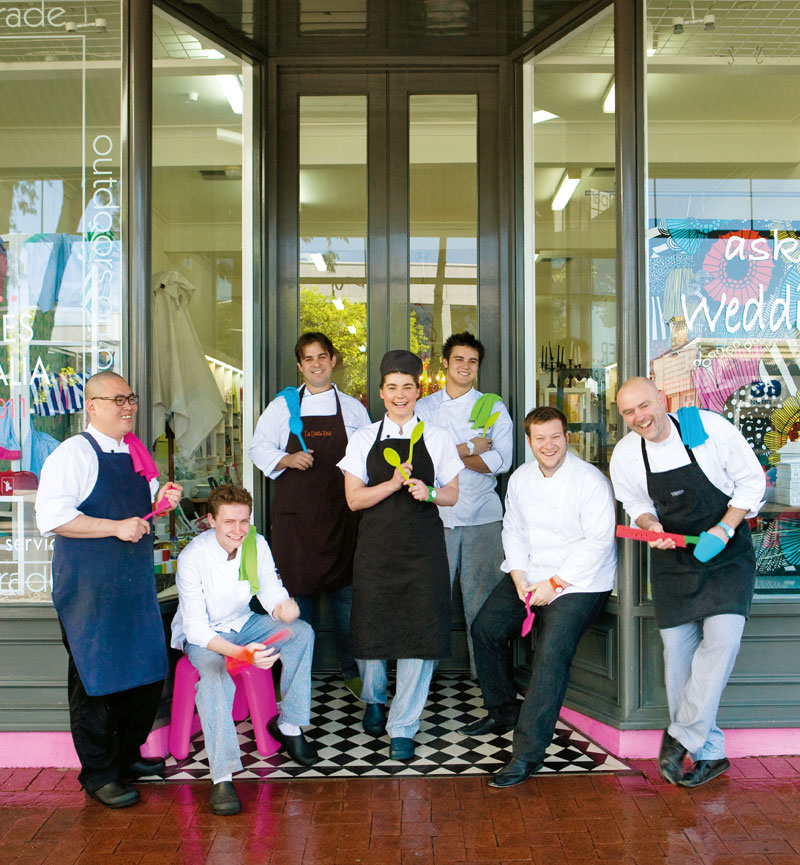 Rosa Matto
If you live in the Adelaide area and want to brush up on your Italian cooking skills, make sure you go to Rosa Matto, a passionate Italian chef who loves to share her culinary secrets.
Rosa will come to your kitchen and teach you and seven of your friends some of her fabulous recipes. Since Rosa also appears on SA Life TV, it's just like having a real celebrity chef in your own home.
rosamatto.com
The Cook's Pantry
Whether you'd like to chat to the chef, learn about local produce or simply head out for an entertaining night of tasting fabulous food, The Cook's Pantry cooking classes are for you. Classes run for two to three hours and include detailed recipe notes, delicious food matched with a tasting of wine and fun conversation. Small groups of only six people allow you to really enjoy the experience. Book the class with a group of friends or book for one and get a chance to meet others with a similar passion for good food.
www.thecookspantry.com.au/classes
Woodside Cheese 
For more than 16 years the Adelaide Hills have been home to premier gourmet cheese producers, Woodside Cheese. Now, avid cheese lovers can learn the tricks of the trade, as head cheesemaker Kris Lloyd opens the factory doors and shares her words of wisdom in fun, interactive and oh-so-cheesy cooking classes. Learn the process of producing fresh and flavourful goat and cow's milk cheeses, and uncover the art of cheese and wine matching in an all-inclusive cheese making masterclass.
woodsidecheese.com.au
Sticky Rice Cooking School 
The Sticky Rice Cooking School in Adelaide is definitely a place aspiring chefs should visit. Here, amateur chefs can learn the ins and outs of the delicate flavour balances involved in Asian cooking from some of the country's best Asian cuisine chefs.
Classes book out well in advance so participants are encouraged to apply early to avoid missing out.
stickyricecookingschool.com.au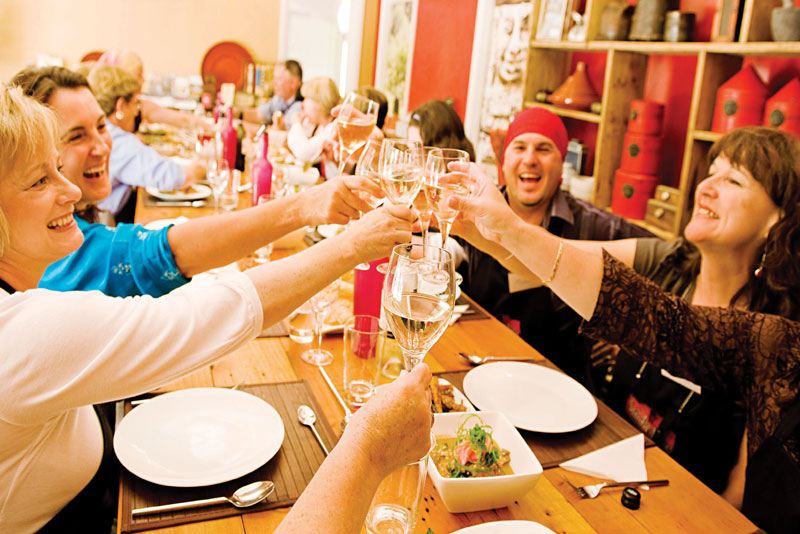 Sprout Cooking 
Are you worried about going to a cooking class where the stainless-steel appliances look warmer than your host? Fear not, Sprout Cooking's classes are set in a fun and non-intimidating environment. Not only are your hosts personable and friendly, you'll be cooking with you in mind. The Sprout team is passionate about tailoring classes to suit your needs: your budget, your cooking ability and your dietary requirements.
Run by Themis Chryssidis, an accredited dietician, and celebrity cook Callum Hann, this is a cooking class that will leave you feeling good about yourself. Not only will you learn how to cook something new, you'll also be empowered with more knowledge about the relationship between what you eat and how you feel, something we all could use a little more of.
Visit sproutcooking.com.au
Baker's Treat Cooking School 
Love the smell of freshly baked bread? Get down to Baker's Treat, an award-winning baking school with a mission to revive the age-old tradition of home-baking. Just outside of Adelaide's city centre, Baker's Treat's workshops equip participants to bake breads, buns and pastries to puffy perfection. Recognising the often hectic lifestyle of his guests, Bakers Treat's founder, baker and teacher Matthew Thorpe, demonstrates the easy and quick nature of home baking. Supporting locally grown produce and harvests, Baker's Treat promises only the best for all its willing, dough-punching students.
bakerstreat.com.au/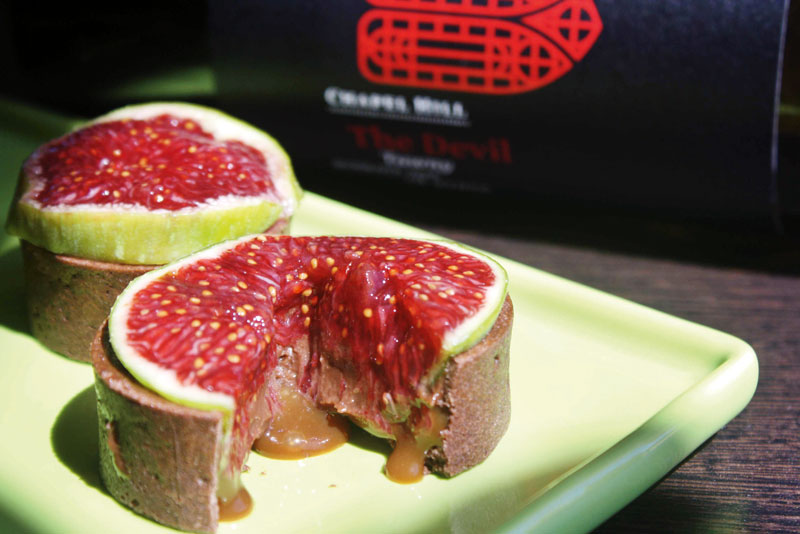 Udder Delights 
In the lanes of Hahndorf — a charming country town in the Adelaide Hills — lies a cheese cellar that holds a special place in the hearts of foodies across Australia. From its humble beginnings as a small family goat farm to an award-winning artisian cheese factory, the magic of Udder Delights has won over even the pickiest of cheese aficionados. Founding producer Sheree Sullivan's cheese-making classes have added to the Udder hype, with the experience, knowledge and passion for all things dairy proving irresistible for visitors.
udderdelights.com.au
Adelaide Chocolate School 
Chocolate connoisseurs unite. Indulge your chocolate obsession at Adelaide Chocolate School. Founded on a strong passion for chocolate, the school offers both basic and more complex courses to meet the needs of every type of chocolate lover. From moulds and tempering to decorating with chocolate and chocolate appreciation, there is something to suit every chocolate-covered level of interest. Perhaps you can impress your friends and family by making them a scrumptious handmade truffle.
adelaidechocolateschool.com.au

Regional Cooking Schools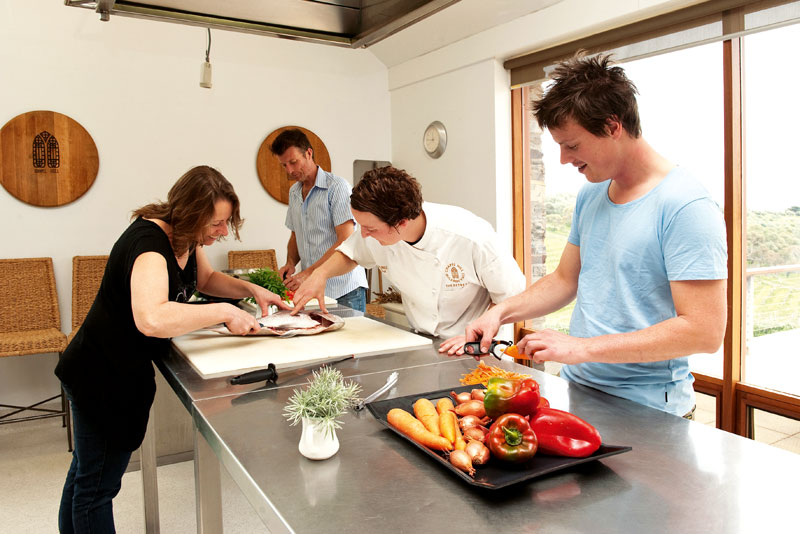 Producers 
Passionate regional producers David Arbon and Tori Moreton have put their harvest to the ultimate test, opening their barn doors to food and wine enthusiasts across Australia to taste the fruits of their labour. As guests flocked to their McLaren Vale homestead and restaurant, David and Tori noted a wave of enquiries about their organic cooking practices. And so the Producers cooking workshops began, with its tree-to-table principles proving a recipe for success. The immensely popular home-made cheese and winemaking workshops remain the favourites on the Producers seasonal class program.
producers.net.au
The Retreat at Chapel Hill
Take yourself on a culinary journey around the world with a cooking class at The Retreat at Chapel Hill. Coffee in hand, you will be instructed by a professional chef in the morning before sitting down to a sumptuous lunch and a glass (or two) of award-winning Chapel Hill wine. Master the intricate flavours of Middle Eastern cooking with an Arabian Nights class or escape to Spain with the popular Running of the Bulls. Located in the stunning McLaren Vale wine region, you can take in the beautiful vineyard views while getting a first-class education in cookery.
Visit chapelhillwine.com.au or phone 08 8323 9182.
Casa Carboni 
It is country meets culture at Casa Carboni, an Italian cooking school and enoteca located in the quaint village of Angaston, in South Australia's stunning Barossa Valley. Fresh to our shores, the Carboni family were captivated by the organic produce, beautiful scenery and laid-back lifestyle that embodies this heritage wine region. And so Casa Carboni was born, with an aim to bring a truly Italian experience of food, wine and friendship to locals and travellers alike firmly in sight. Matteo Carboni's Taste of Italy class is a favourite, with an expansive knowledge of local produce and Italian cuisine proving an irresistible combination.
casacarboni.com.au
Maggie Beer's Farm Shop
One of Australia's oldest wine regions houses a food haven of great proportions. Welcome to Maggie Beer's Farm Shop in the stunning Barossa Valley where gourmet produce and wine rule. Alongside a delicious picnic-fare menu and a smorgasbord of fresh foods to taste test open slather, the Farm Shop now offers daily cooking classes and demonstrations for all visitors to enjoy. Master the use of Maggie's most vital ingredient and attend a verjuice cooking demonstration. As the cooking whiz herself once said, "When in doubt, add more Verjuice."
maggiebeer.com.au
Rilka's Real Food
Look no further than Rilka's Real Food for healthy, special dietary cooking classes. Situated within a renovated barn located in Hahndorf in the Barossa Valley, the cooking school offers creative lunch and dinner classes several times a week as well as opportunities for groups to create their own menu. Owner, director and chef, Rilka Warbanoff was introduced to centuries-old recipes by her European family, and she cooks with passion and love. While all of the cooking classes are gluten- and yeast-free and have no added sugars, fructose, or manipulative chemicals, the end results always taste great and look fantasic.
rilkasrealfood.com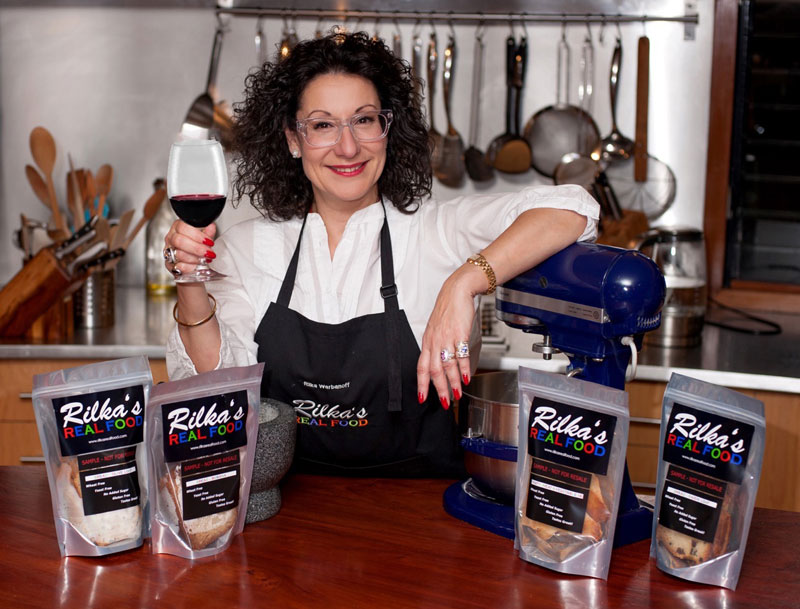 Food Luddite 
Inspired by a love of traditional food preparation, Mark McNamara, owner and head chef at Food Luddite, is passionate about keeping time-honoured cooking practices alive in his studio kitchen classes. Based in South Australia's Barossa Valley, Food Luddite embraces the rich flavours of local produce, and teaches students the delights of home-grown and handmade meals. We recommend the Everything's Just Ducky class, a four-hour workshop where participants will learn to cook duck at home, and make the most of this underutilised delicacy.
foodluddite.com
Thorn Park Cooking Classes 
At Thorn Park by the Vines, David Hay and Michael Speers have developed laid-back, fun classes for their guests. They can be taken over one or two days and are available for groups of two to six house guests staying for two nights. The classes are a combination of hands-on and demonstration and are held in the stunning new kitchen with views over the gum-studded property. David devises programs based on his love of fresh ingredients and quality produce. The classes include both formal and casual menus and draw on David and Michael's travels to Europe, Turkey and Asia. These classes can be added to the two-day accommodation package. Wines will also be included with some meals during the cooking schools.
thornpark.com.au/news/news_events.php
Casa Carboni 
In the picturesque town of Angaston in the Barossa is the newly opened Casa Carboni Italian Cooking School and Enoteca run and taught by Matteo and Fiona Carboni. Focusing on the preparation of Italy's traditional food, Matteo uses the Barossa's wonderful seasonal produce fresh from the farmgate. Class sizes range from small, hands-on cooking classes (maximum six people), demo classes with tastings and even a kids' class. Having worked in restaurants throughout Italy, Europe and Australia, Matteo has been an instructor at the celebrated Academia Barilla in Parma, Italy. The Enoteca has a selection of Italian and French wines from small producers and a range of Italian pantry offerings.
casacarboni.com.au
Jacobs Creek Kitchen Garden Cooking Experience
Jacobs Creek Estate's vineyard is rich in history, with breathtaking views and gourmet adventures aplenty in the sprawling hills of the Barossa Valley. The historic cottages of the estate play host to a series of Kitchen Garden cooking classes, with classes uncovering the gourmet secrets of the iconic wine producers. In addition to cooking and wine-matching, participants pick their favourite seasonal produce from the kitchen garden and create their own meal with the assistance of Jacob's Creek's finest chefs. Following an alfresco meal, the new cooks are free to roam the grounds and admire the beauty of the world-famous Jacob's Creek.
jacobscreek.com/au/visit-us/tours-experiences/
Wild Sourdough (Nationwide)
Get back to basics and feel inspired as chef and author Yoke Mardewi shares her knowledge and passion of food and demonstrates how to make delicious and wholesome sourdough bread. Yoke's one-of-a-kind cooking classes run for approximately four hours and all students are encouraged to get involved with the touch, feel and smell of making their own dough from scratch. Yoke also runs lacto fermentation and culturing classes, which teach how to make sauerkraut, kimchi and more. She also offers gluten-free sourdough classes. Based in Perth, Yoke teaches across Australia, and has been for almost 10 years.
wildsourdough.com.au