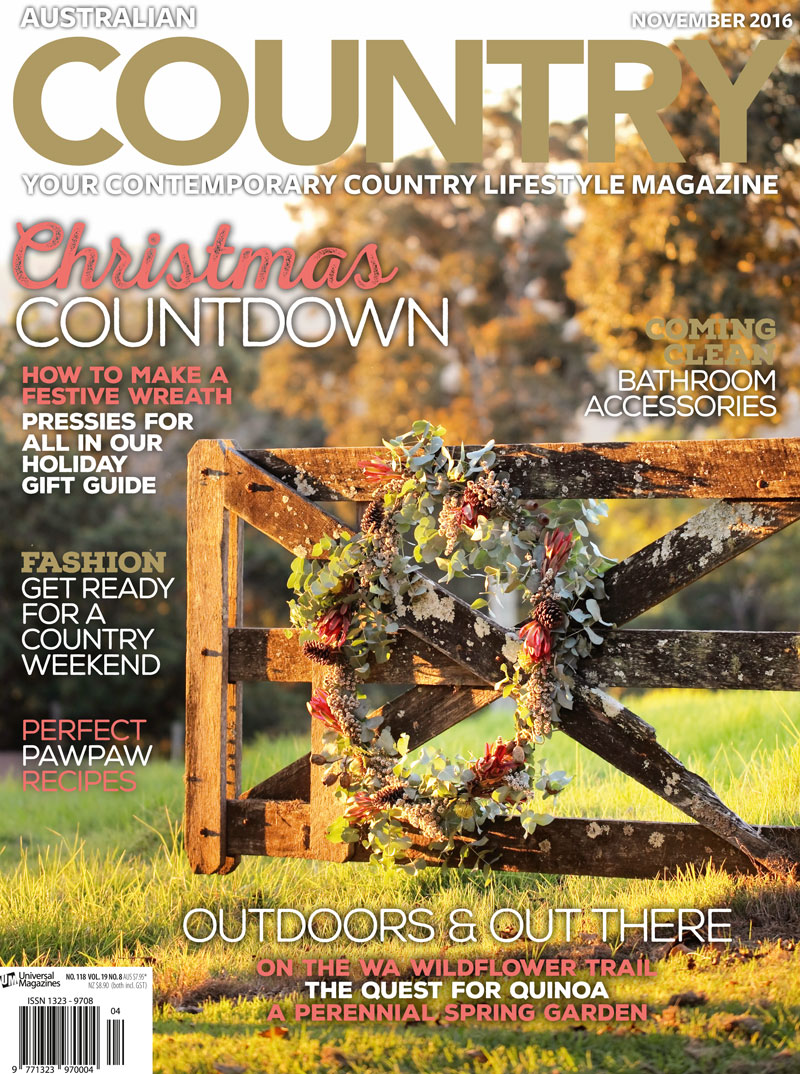 As most of you are aware I was born and spent my childhood in the bush, and I rarely need a second invitation to spend time there.
I am constantly amazed at the resilience and ingenuity of country people, and I love any opportunity to learn more about how they are dealing with the manifold challenges of modern life down on the farm. So I am eternally grateful that my job allows me to keep one foot in the bush and for the many opportunities it affords me to catch up with the resourceful producers of our food and fibre and share their stories with you. This issue we've travelled from historic Strathroy station in northern Tasmania, where the Grubb family has been farming for six generations to the Western Australian Wheatbelt, where a trio of innovative farmers has diversified into growing quinoa. Along the way, we stopped off to capture some truly beautiful images of WA wildflowers, visit a coastal home with a cool industrial rustic vibe and a beautiful garden in the NSW Southern Highlands.
Our fashion shoot took us to historic Gledswood homestead on Sydney's south-western perimeter and the very foundations of farming in this country. One of the jewels in the crown of the Macarthur region, Gledswood dates back to the earliest days of the colony. The homestead was built in the late 1820s and its buildings preserve all sorts of gems, including early wine-making equipment, farm machinery, carts and drays. Farming officially began in the area in 1803 when the founders of Australia's wool industry, John and Elizabeth Macarthur, were granted the 5000 acres that became Camden Park. However, the connection with European settlers goes back to 1788, when the colony's entire herd (four cows and two bulls) went missing. In 1795 a much enlarged mob of 61 cattle was found in this area which, for obvious reasons, became known as Cowpastures.
We'll be bringing you a story about this vibrant region where Sydney literally meets the bush in an upcoming issue, but in the meantime, I hope you enjoy this issue as much as we have putting it together and I look forward to seeing you for the next issue, which goes on sale October 13.