Surrounded by both alps and water, Geneva is a cultural gem located in the heart of Switzerland. With a combination of Italian, French and German influences, the city is a unique amalgamation of European history. We've done the research to bring you the top ten things to see and do in Geneva.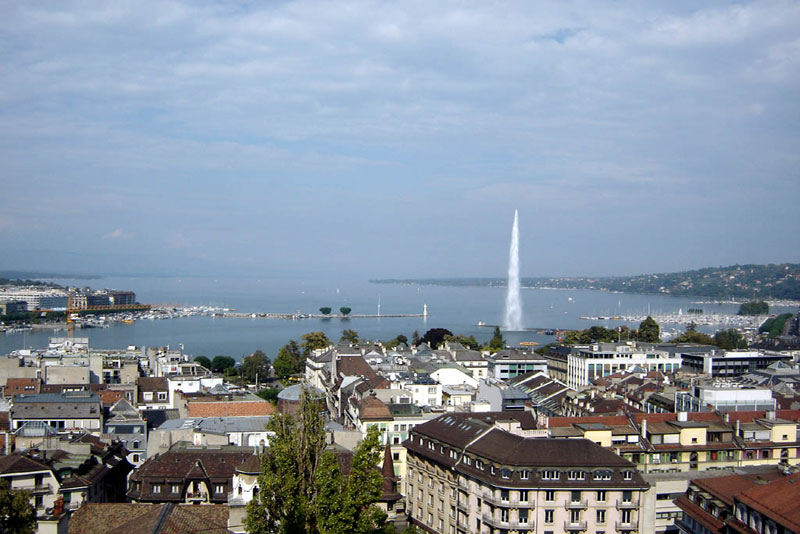 The Jet d'eau water jet
You can't miss the 140 metre water jet shooting to the heavens from Lake Geneva. The water jet was built in 1886 and remains one of the tallest water fountains in the world. Symbolising the city's strength, the fountain reaches a height of 140 metres and pumps a total of 500 litres of water per second. Now that's one impressive fountain!
 Lake Geneva
Shared between France and Switzerland, Lake Geneva itself is a site to be marvelled at. Such an iconic beauty, the crescent-shaped lake has inspired art and music throughout history.

Old Town
Walk through the city's history in Old Town. An ancient maze of small streets and picturesque squares, Old Town is filled with an abundance of French cafes, local restaurants, museums and beautifully preserved historical buildings. One building that stands out is the St Peter's Cathedral, built on the site of an ancient Roman temple.
The Reformation Wall
Aptly named and stretching for 100 metres, the Reformation Wall was built in the early 20th century to mark the city's reformation.

 Carouge
Explore Geneva's Italian side in Carouge. Often referred to as "little Italy", here you'll be able to dine on Swiss Italian delicacies and soak in the town's Sardinian heritage with a stroll through historic architecture.
Parc des Bastions
Located in the heart of Geneva is one of the country's most beautiful parks. Complete with a giant chess board and free WiFi, Parc des Bastions makes the perfect pit stop. Pack a picnic and make the most of the open green space or visit the nearby restaurants and cafes.
Broken Chair Sculpture
Symbolising the anti-landmine movement, the giant broken chair sculpture sits in front of the Unites Nations headquarters. Stop by for a unique photo opportunity.

Patek Philippe Museum
Wander through Swiss time with a trip to Patek Philippe Museum. Founded in 1839, the museum is home to an antique collection of clocks and wristwatches.
Molard Tower
Constructed in the 18th century, the Molard Tower is located near popular shopping districts. Best seen by night, paving stones light the way to the tower where visitors can grab an evening drink at the bar inside.
Mount Saleve
Although not technically in the boundaries of Geneva, Mount Saleve is considered the city's local mountain and provides breathtaking views of Geneva from above.
Enjoy a trip to Geneva with Australian Country editor Kirsty McKenzie and a local guide in September 2016. Book your spot at Travelrite.