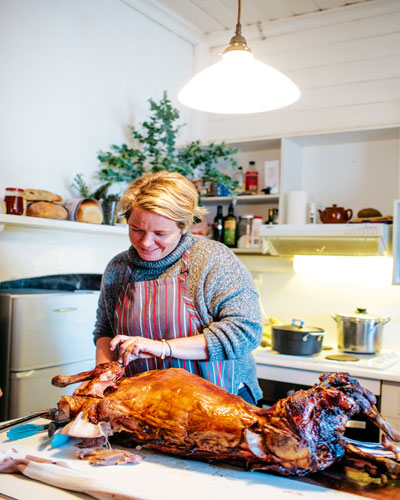 For Anna, Aireys Inlet is the calming countermeasure to her weekly life, which revolves, at a dizzying pace, around her love of farming and food. She is a lamb farmer who produces, markets and distributes her own product.
Using low-stress stock handling techniques, Plains Paddock lambs are never worked with dogs and they are transported in small groups to the abattoir late in the evening and processed first thing in the morning. A relaxed animal results in a more succulent muscle fibre. The consumers rarely need convincing any more than Anna's friends do when it comes to her product. Recognised for her demonstrations at the Melbourne Food and Wine Festival, weekend butchery courses and cooking classes, they seize the opportunity to spend a weekend down at the lighthouse keepers' cottages at Aireys Inlet. It's a group celebration that is planned months ahead and of course the specialty is a long, late lunch of slow cooked lamb.
"I chose a lamb with a good fat covering and had hung the beast for 10 days prior," Anna explains. "An hour before it went on to cook I took it out of the coolroom to bring it up to room temperature."
A good sized Mallee root, known widely for its wood density that produces a long burning time and good heat, fuelled the fire, which was then settled and the coals allowed to die down. The lamb went onto a spit over the coals and was turned slowly for four hours over a very low heat with the spit lid closed.
"I basted it regularly using very minimal marinade of salt to add a bit of flavour," Anna adds. "When it was cooked, I turned it off to rest for 20 minutes. When it was done, I needed one of the guys to help me carry it to the kitchen and carve it. Normally, a 15kg lamb like this would feed 25 people, however our group of eight were ravenous and made a good dent in it. The rest was disbursed among the group and taken home."
Anna recommends cooking over coals and if a spit is not available, then maybe use a mesh or grill. It produces a much nicer result than using flames or gas. If the domestic situation doesn't allow for the luxury of an outside fire and hot coals, she suggests lamb shanks in a white wine, slow-cooked lamb roast or family roast with a twist. "I have Mum's clay pot that came from France about 40 years ago and is great for slow cooking," Anna says. "The clay pot holds in all the moisture and produces a beautiful and tender result."
Words Kathy Mexted
Photography Kim Selby
Recipes Anna Kelly
Beetroot and lentil salad
1 bunch (1kg) beetroot, trimmed
400g can brown lentils, drained and rinsed
¼ cup coarsely chopped flatleaf parsley
100g feta cheese, crumbled
2 tablespoons red wine vinegar
2 tablespoons olive oil
1 clove garlic, crushed
Preheat oven to 200˚C. Wrap each beetroot in aluminium foil, place on tray and bake in oven for one hour or until beetroot is tender when pierced with a skew-er. Remove from oven and, wearing rubber gloves, peel beetroot. Cool and cut in-to quarters. Combine beetroot, lentils, parsley and feta cheese in a salad bowl and toss with a dressing made by combining the vinegar, olive oil and garlic.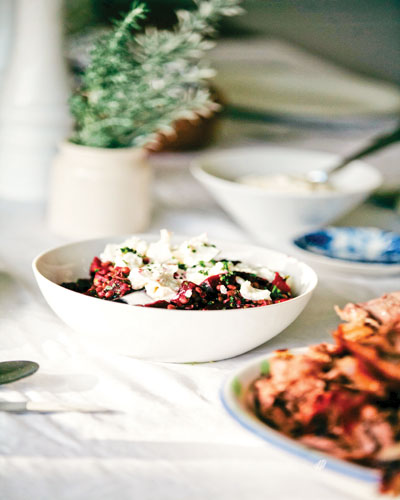 Salsa verde
5 handfuls flatleaf parsley
3 handfuls mint
3 handfuls of oregano, coriander and dill
½ cup rinsed capers
5 cloves garlic
2 teaspoons salt
Extra virgin olive oil
Lemon juice, to taste
Blend all ingredients in a blender or pound with a mortar and pestle until they form a coarse paste.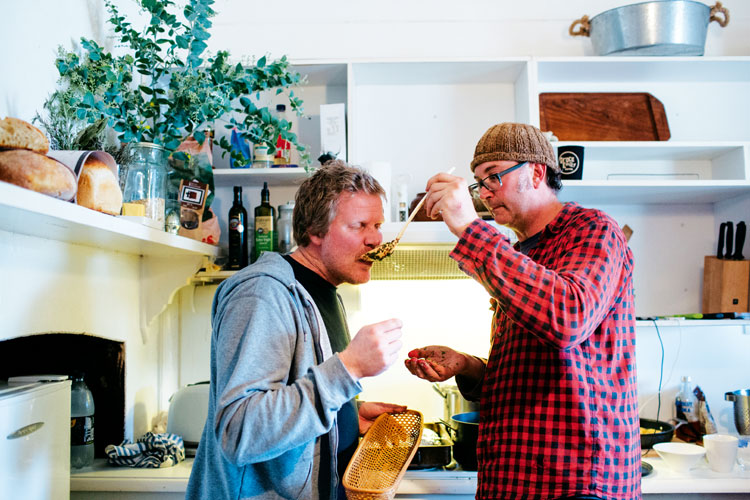 Slow-cooked lamb shoulder
1 lamb shoulder whole or boned
Greek oregano (rigani)
Salt, & pepper
4 cloves garlic
Extra virgin olive oil
Verjuice, to make a wet rub and for the roasting pan.
Chicken stock
Remove lamb from fridge, bring up to room temperature, slash with a knife and rub in a wet mix of crushed oregano, salt and pepper, garlic, olive oil and verjuice. Add stock and more verjuice to the pan. Cover lamb and place in oven at 110˚C. Cook for 5 hours. Turn heat up to 150˚C and cook uncovered for 40 minutes. Tear meat off bone with tongs and serve immediately.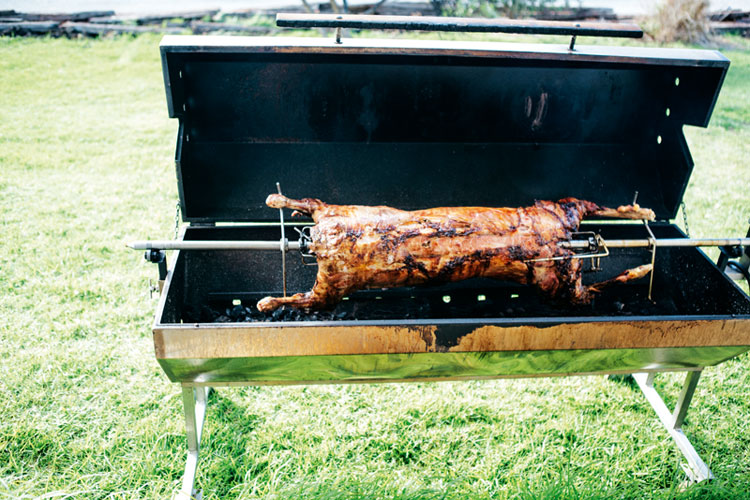 Family roast with a twist
1 butterflied lamb leg
4 tablespoons redcurrant jelly
2 tablespoons hot mustard
1 cup lemon juice
125g butter
1/2 cup tomato sauce
4 tablespoons brown sugar
Place leg in moderate oven (180˚C-190˚C), fat side up and roast for for 20 minutes. Meanwhile, add remaining ingredients to a saucepan on medium heat and stir until smooth. Remove lamb from the oven and coat in half the sauce. Return to the oven tray fat side down and roast for another 30 minutes. Remove and rest for at least 20 mins. Spread more sauce on the meat and carve.
Note: Anna serves this roast on a rice pilaf made by cooking basmati rice in chicken stock using the absorption method and mixing with softened onions and silverbeet. She serves it with toasted slivered almonds sprinkled on top.