The cooler weather heralds the best time for a rich harvest of apple recipes.
The simple apple, that most constantly reliable fruit, has a complex family tree. Part of the rose family, apples evolved in Central Asia and have migrated all around the world. Across time many new varieties have established, some by design and some randomly discovered after nature has had her way in an orchard. While apples grow from seed in the wild, they do not "breed true", so in commercial orchards they are usually cultivated from grafted rootstock. Australia's very own apple was first noted in 1868, when Maria Ann Smith (Granny Smith) showed an apple that had grown in her crabapple orchard in the Sydney suburb of Ryde. In recent years, apple conservation campaigns have resulted in a resurgence of interest in heirloom varieties. This year two new varieties have become available in Australia, the Kanzi and the Green Star. Both were originally bred in Europe; the Kanzi from a cross between the Gala Must and the Braeburn and the Green Star a combination of the Granny Smith and Delbarestival. The Green Star particularly has a long desired quality. Its flesh does not discolour after cutting or juicing, which makes it perfect for salads and lunch boxes. The Kanzi is a crisp, crunch textured apple with an intense and slightly tart flavour. Both are used in these recipes, but can be substituted by Granny Smith or Braeburn, or in fact any apple of your choice.
Storage and selection: Choose apples that feel firm and are free of blemishes and bruises. Generally speaking apples with a higher sugar content will keep their shape better when cooked. Larger apples do not keep as well as smaller ones and all apples and all apples lose crunch much faster on the bench than in a ventilated bag in the refrigerator.
Apples go with: pork, duck, game meats, cheese, cream, butter, sugar, honey, dried fruit, rhubarb, cabbage, cinnamon, vanilla and ginger.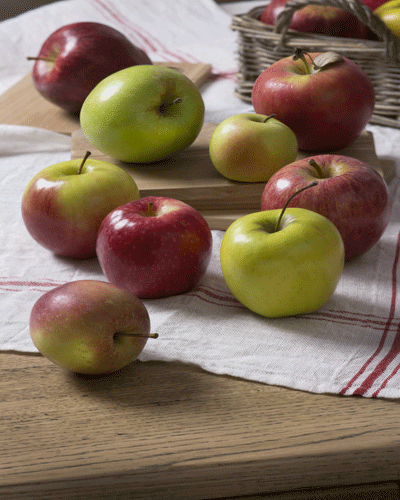 Winter Apple and Pork Salad
Serves 6
1kg pork loin portion, with thick top fat and no skin
1–2 tablespoons Manuka smoked salt or combined sea salt and smoked paprika
Winter Salad
1 small radicchio, leaves torn
1 small head witlof, leaves separated
1 small red onion, peeled and thinly sliced into rings
1 cup watercress tips
1–2 apples (Greenstar or Golden Delicious) cored and shredded, or cut into very fine julienne. If using Golden Delicious, sprinkle some of the dressing over the prepared apple, to prevent discolouration.
Dressing
2 tablespoons apple cider vinegar
4 tablespoons walnut oil
2 tablespoons chopped roasted walnuts
1–2 star anise
1 clove garlic, crushed
Freshly ground black pepper to taste
Preheat oven to 220°C. Score pork top fat into a diamond pattern and rub salt or paprika mixture into surface. Place pork on a rack in a baking dish. Add ½ cup water to the dish. Cook in preheated oven for 30 minutes, until fat is crisp and golden. Reduce heat to 150°C and cook a further 30 minutes. Remove from oven and cool until barely warm.
To make the winter salad: Combine dressing ingredients in base of a large bowl and whisk to combine. Pile radicchio, witlof, onion watercress and finally apple on top. Cut pork into large dice and add to salad just before serving, gently toss to incorporate dressing. Serve immediately.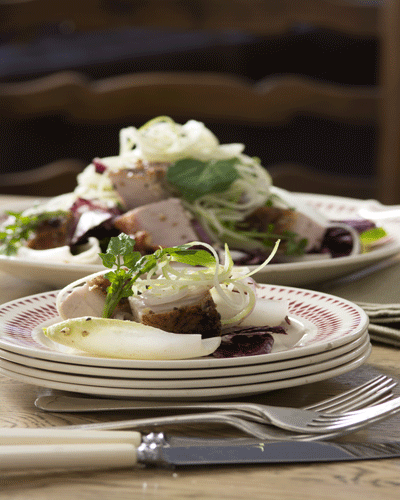 Apple and Smoked Duck Wontons
Makes 15
1 packet square egg pastry wonton wrappers
Vegetable oil for deep frying
Apple Chutney, to serve
Smoked Duck Filling
1 smoked duck breast (about 180g), cut into small dice
2 apples (Greenstar or Granny Smith), cored and grated
½ cup finely chopped water chestnuts (about half a 227g can)
2cm knob fresh ginger, peeled and grated
1 shallot, peeled and chopped
1 tablespoon potato starch or rice flour
Combine filling ingredients. Spread 15 wonton wrappers on work surface, brush edges with water, then place a tablespoon of filling mixture on centre of each. Place another wrapper on top, pinching edges together to seal. Layer wontons on a tray lined with baking paper, covered with plastic wrap and refrigerate until ready to fry.
Heat oil for deep frying in a large heavy-based pot. Fry wontons in batches of 3‒4, turning frequently for even cooking, until golden. Remove with a slotted spoon and place on a tray lined with paper towels. Repeat until all wontons are cooked. Serve immediately with apple chutney.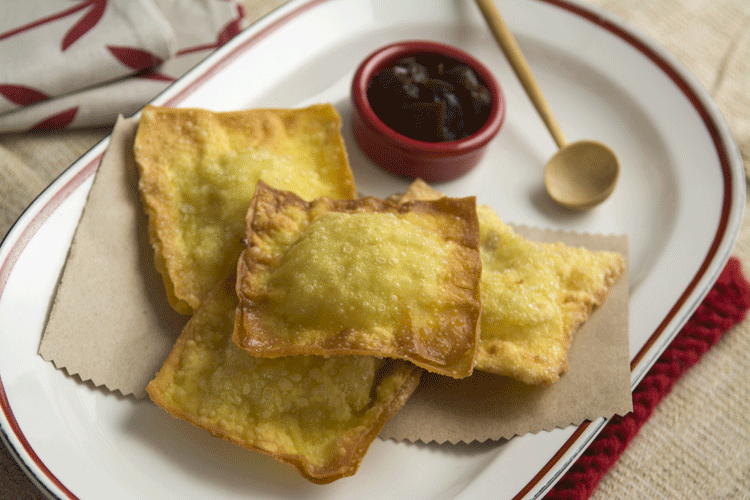 Individual Apple and Chevre Tarts
Makes 6
Store-bought, ready-rolled sour cream short pastry
Apple Topping
2 Kenzi, Braeburn or firm red apples, cored and sliced into wedges
90g butter
2 tablespoons walnut oil
Leaves from 6 stalks fresh sage
Freshly ground black pepper
½ cup walnut pieces, plus 6 halves, for garnish
150g fresh chèvre
Cut 6 x 15cm rounds from pastry and place on baking trays. Crimp edges, using your fingers, to form a slightly raised border. Refrigerate until required. Preheat oven to 190°C. Heat butter and oil in a medium heavy-based frying pan, until sizzling. Add sage leaves and fry 1–2 minutes, until crisp. Remove with a slotted spoon and drain on paper towels. Reserve 6 leaves for garnish.
Add apple wedges and freshly ground black pepper to taste. Fry apples, turning a moving frequently, until just browned. Remove from pan and drain on paper towels. Add walnut pieces and halves to pan and stir until just brown. Reserve walnut halves for garnish and pour remaining mixture into a bowl. When cool, stir in chèvre and crushed sage leaves. Divide mixture between pastry bases, spreading to edges. Arrange apple wedges on top. Bake in preheated oven 20–25 minutes, or until pastry is crisp and golden.
Garnish with reserved sage and walnuts.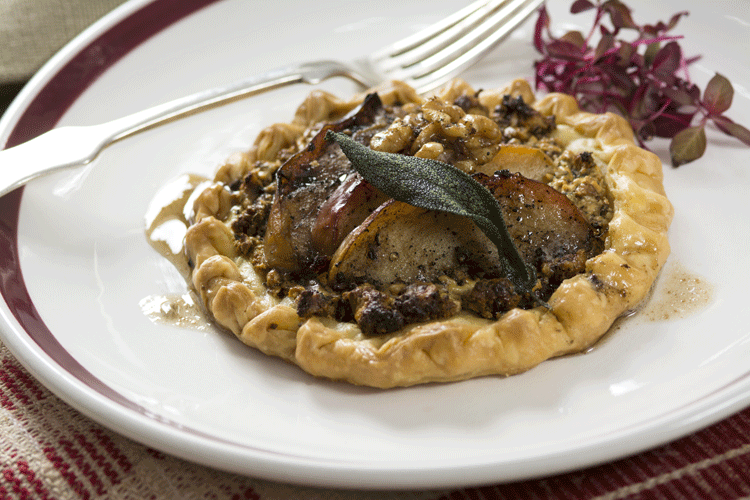 Spiced Glacé Apples with Apple Mousse and Jelly
Makes 8
Spiced Glacé Apples
2kg tiny firm apples (often sourced at Farmers' Markets or organic shops)
½ cup cider vinegar
Approximately 2kg caster sugar
1 stick cinnamon
1 vanilla bean, split
3–4 green cardamom pods, lightly crushed
Juice 1 lemon
Using an apple corer, carefully remove as much core as possible from the base each apple, leaving stem end intact. Peel apples and immediately drop into a bowl of cold water and the vinegar, to prevent discolouration. When finished, drain and weigh apples, then place in a large deep pot with cold water to cover. Bring to boil, then simmer for 1–2 minutes. Strain apples, reserving half the water. (The other half can be bottled and refrigerated and used served with mineral water as a refreshing drink.) Weigh the same amount of sugar as the weight of the apples. Add to reserved water in pot, with cinnamon, vanilla bean and cardamom. Bring to a boil, stirring to dissolve sugar. Carefully drop in apples, reduce heat, partly cover and simmer for 1½–2 hours, or until apples are almost transparent and syrup becomes slightly sticky.
Add lemon juice, increase heat until just boiling. Remove from heat, cool slightly, then carefully pack apples, stems up, into preserving jars. Pour syrup over to completely cover. If you wish, discard spices. Seal jars and refrigerate.
Apple Jelly
1 cup syrup, from glacé apples
3 sheets gelatine, soaked in cold water for 5 minutes
Heat syrup to just simmering. Squeeze water from gelatine, then stir into hot syrup to dissolve. Remove from heat and cool to room temperature.
Apple Mousse
2–3 Golden Delicious apples, cored, peeled and diced
Juice 1 lemon
3 sheets gelatine, soaked in cold water for 5 minutes
½ cup thickened cream
Place apple and lemon juice in a heavy-based saucepan, cover and cook over a medium heat until apples are soft. Pass through a sieve into a bowl, stir in the drained and squeezed gelatine until dissolved, then stir in cream. Spoon mixture into 8 x ½-cup rubber moulds or glasses, leaving room for a layer of jelly. Refrigerate until set. When firm, carefully pour prepared apple jelly on top of mousse, to fill mould or glass. Refrigerate until firm. Turn out moulds, serve with a glace apple. If using glasses, stand on a dessert plate with a glace apple to one side.
Notes: Apple puree can be made in quantity and refrigerated or frozen, for use in making cakes, scones and damper, as sauce, with cereals or in soufflés.
The syrup from the Glacé Apples can be used as a glaze for pan-fried or roasted pork or chicken, or reduced in a non-stick pan and used to caramelise walnuts or apple slices.
Glacé apples can be set in moulds or glasses with just apple jelly made from the syrup, and served with a zabaglione made with whisky.