Nutty for Chestnuts
Sweet and nutty in flavour, the chestnut has been a staple of the diet of southern Europe, Turkey, and Asia for centuries. Before potatoes migrated to the European table from South America, chestnut flour was used as a principle source of starch. Today, chestnuts are prized as a cool weather treat and they make great addition to soups, stuffings, pasta, stir-fries and desserts. The first chestnut trees came to Australia with the Chines migrants during the gold rushes in the mid 19th century and some of those trees are still growing today. Most commercial plantings in this country have occurred in the past 20 years and gradually foodies have come to appreciate its distinctive flavour and texture. traditionally, chestnuts are roasted over an open fire or in the oven, but they can also be cooked )after scorching) in the microwave, on a hotplate or in the frying pan.
Selection and Storage: Choose chestnuts that feel firm, with no air between the shell and the underlying flesh. The shells should have a healthy brown shine. Avoid mottled or dim shells. Unlike most nuts, chestnuts are highly perishable. They should be stored in an airtight container in the coolest part of the fridge for up to three weeks, or kept in airtight bags in the freezer. Note: 100g fresh chestnuts yields approximately 65g frozen peeled.
Preparation: To prepare the chestnuts before roasting, use a sharp knife to score the shell by cutting a semi-circle around the middle of each chestnut, making sure the knife gets right through the shell.
Chestnuts go with: Brassicas, chocolate, coffee, ham, bacon, honey, parsnips, Chilli, game, red wine.
Chestnut, Leek & Bacon Soup
Serves 6-8
30g butter
1teaspoon minced garlic
2 lean rashers bacon, diced
2 leeks, diced
400g chestnuts, peeled and chopped
1 large potato, peeled and diced
5 cups chicken stock
1 tablespoon chopped fresh thyme leaves or 1 teaspoon dried thyme
200ml sour cream
2 tablespoon brandy
Salt to taste
Sprigs of parsley for garnish
Melt butter in a saucepan. Add garlic, bacon and leek and sauté for 3 minutes until leek is soft. Add chestnuts, potato, chicken stock and thyme. Bring to the boil, reduce heat and cover the pan. Simmer for 35 minutes or until chestnuts are tender. Remove from heat and puree soup in a food processor or blender. Reheat and mix in sour cream and brandy. Add salt to taste. Serve topped with a sprig of parsley.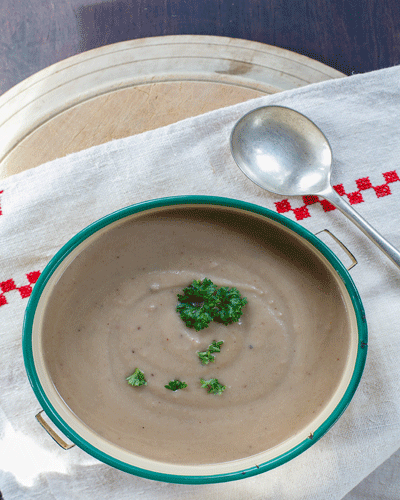 Chilli Chestnut Fettuccine
Serves 4
3 tablespoons extra virgin olive oil
1 teaspoon crushed garlic
2 long red chillies, deseeded and finely sliced
1/3 cup flat-leafed parsley leaves, chopped
2 cups chestnuts, finely chopped
freshly ground black pepper
300g cooked fettuccine
Shaved parmesan, to taste
Heat oil in a large non-stick frypan and add garlic, chilli, chestnuts and parsley until goldenband fragrant. Add cooked, drained fettuccine and toss to coat in chestnut mixture and heat through. Serve topped with parmesan cheese and extra chestnuts if desired.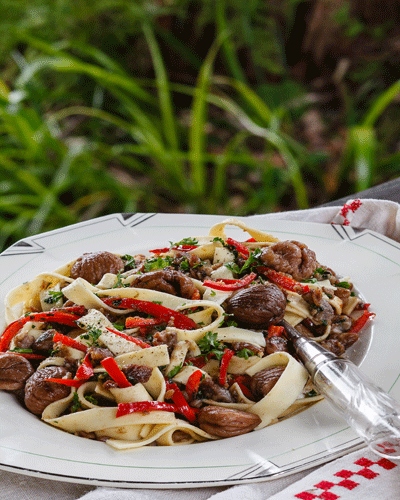 Chestnuts, Brussels Sprouts & Pancetta
Serves 6-8
300g of fresh chestnuts
Extra virgin olive oil
1 onion, chopped
2 cloves of garlic, minced
50g slice of pancetta, chopped
350g Brussels sprouts
1/4 cup chopped parsley
Salt and pepper
Score chestnuts and place them in a pot of cold water with a couple of pinches of salt. Bring to the boil then drain immediately. Allow to cool a little then peel. In a pan, heat extra virgin olive oil. Add onion, garlic, pancetta, Brussels sprouts and the chestnuts. Lightly fry for 8 minutes till the Brussels sprouts soften. Add parsley, season with salt and pepper and serve.
 Note: This dish is great as an accompaniment with roast chicken, duck or quail.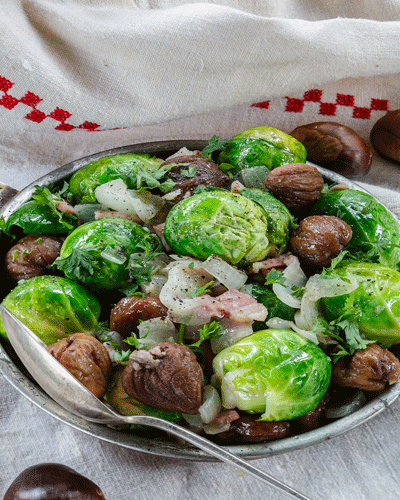 Chestnut and Chocolate Terrine
Serves 20
 600g peeled chestnuts OR 1 kg chestnuts unpeeled
1/4cup cream
125g unsalted butter
1 cup of castor sugar
250g couverture chocolate
vanilla bean or essence
1/4 cup rom or brandy to flavour.
1 cup cream, whipped
Raspberries to serve
Put peeled nuts in water with vanilla (bean or essence) and simmer until tender. Drain and puree with the cream in a food processor until a thick paste has formed.  In a separate bowl, beat the butter and sugar until white and fluffy. Melt the chocolate in a double boiler with half a cup of water and when cool, add to the butter and sugar mixture. Add pureed chestnuts to mixture and flavour with rum or brandy. Turn into a terrine or loaf pan lined with  baking paper. Chill overnight. Slice with a wet knife while cool and serve with whipped cream and raspberries to decorate.
This divine terrine is part mousse, part marquise; seductively delicious, but very rich. Enjoy small slices with cream and berries.