Famous for its ability to stave off vampires and potential lovers, garlic is the ultimate cooking staple.
Garlic can turn just about any savoury meal into a taste sensation; just make sure not to kiss anyone after it. Native to central Asia, garlic has been consumed by humans for more than 7000 years. It has long been a staple in the Mediterranean region, as well as a frequent seasoning in Africa, Asia and Europe. Egyptians worshiped garlic and placed clay models of its bulbs in the tomb of Tutankhamen. It was so highly prized; it was even used as currency.
Selection, storage and preparation: Closely related to the shallot, onion and leek, garlic is available in white, pink and purple-skinned varieties. Aussie garlic is mainly grown in South Australia, Victoria and New South Wales but more than 80 per cent of garlic consumed in Australia is imported, mostly from China. Garlic is grouped into soft-necked and hard-necked varieties. The soft-necked varieties generally produce larger bulbs and higher yields while their hard-necked cousins produce fewer and larger cloves per bulb. Choose garlic that is firm all over with no lesions. If you notice dark, chalky patches under the skin, pick another because this may be an indication of mould. Humidity is the enemy of garlic so keep your bulbs dry in a well ventilated space. It's best not to freeze or refrigerate unpeeled garlic and to keep it out of direct sunlight. While you can eat garlic once it has sprouted, the flavour will be less potent. As a rule of thumb the smaller you cut your garlic, the stronger the flavour. Garlic cloves are delicious baked whole with the skin still intact. The flavour mellows to become sweet and slightly nutty and is no longer pungent. It's best to keep a close eye when sautéing garlic as its flavour turns intensely bitter when it burns. The base of most pasta sauces and the shining star in garlic prawns and aioli sauce, garlic is also delicious on a homemade pizza, folded through mashed potato or with its bulbs pickled whole.
Garlic goes with: soy sauce, chicken, beef, sausage, white fish, anchovy, clams, prawns, tofu, mushrooms, eggplant, tomato, ginger, shallots, potatoes, olives, cabbage, lemon, olive oil, thyme, oregano, basil, chilli, pepper, butter, goat's cheese, parmesan, haloumi, horseradish, and vinegar.
Potato Wedges with Aioli
Serves 16 large wedges
Wedges
4 large Kipfler potatoes, scrubbed
2 tablespoons olive oil
Sea salt
Aioli
4 cloves garlic, unpeeled
2 egg yolks
Pinch of salt
2 tablespoons fresh lemon juice
1 cup extra virgin olive oil
Salt and freshly ground black pepper, to taste
To make wedges: Place washed potatoes in a saucepan of cold, unsalted water and bring to the boil. Cook until just tender when tested with a skewer, approximately 20–25 minutes. When tender, place the potatoes into a colander and allow to cool. Place baking trays in an oven and preheat to 200°C. Cut the potatoes in half lengthways and then with the skin side up, gently cut each half again. Remove heated trays from the oven and lightly oil. Lay wedges out in a single layer onto trays. Drizzle the olive oil and sprinkle with salt. Roast for 40–45 minutes or until golden, turning once halfway through cooking. Serve hot from the oven with Aioli and extra sea salt on the side.
To make the aioli: Place the garlic cloves into a small saucepan of boiling water and cook for 2 minutes. Drain and run under cold water to cool. Peel and roughly chop the garlic and place into a mortar. Using a pestle, grind to break down. Add egg yolks and a pinch of salt and grind to a fine paste. Transfer garlic paste to a food processor. With motor running, gradually add the lemon juice, then the olive oil, slowly at first, in a steady stream until the mixture has thickened. Add 1 tablespoon of boiling water or enough to give desired consistency. Season to taste and serve.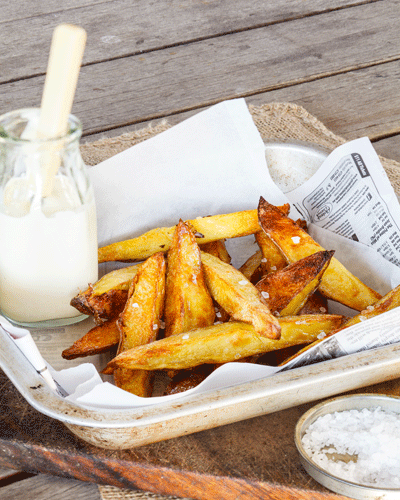 Bruschetta with Roasted Garlic, Goat's Cheese and Tomato
Serves 4
4 large whole garlic bulbs(choose firm bulbs)
Salt and ground pepper
1/2cup extra virgin olive oil
8 slices of Italian bread
110g soft goat's cheese
4 ripe tomatoes
Basil leaves, to garnish
Extra olive oil, to drizzle
Salt and pepper
Preheat oven to 200°C. Slice off top quarter of garlic bulbs, exposing cloves. Place garlic, cut side up onto foil and season with salt and pepper. Slowly drizzle with oil, letting it soak into and around cloves. Tightly wrap the foil and place the garlic in a baking dish. Roast for 40–45 minutes or longer, depending on the size of the bulbs. Remove from the oven when the bulbs are golden brown and cloves begin to protrude slightly from skins. Cool. Brush both sides of bread with olive oil. Toast under the grill or in a sandwich press until golden. Squeeze each clove of garlic, to push out pulp into a bowl and mash into a paste or place roasted garlic, alongside other ingredients on a platter to serve. To assemble, spread roasted garlic on toasted bread. Top with goat's cheese and sliced tomato. Garnish with shredded basil leaves and a drizzle of olive oil. Season to taste and serve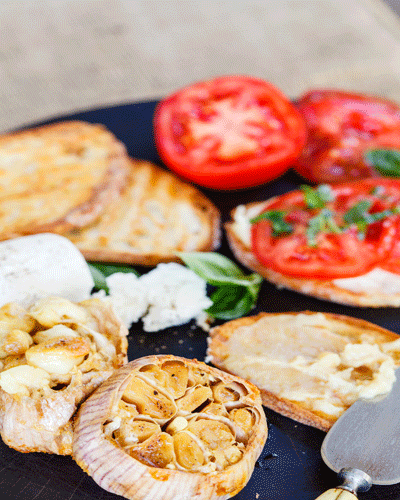 Garlic Soup with Cheesy Croutons
Serves 6
Soup
2 whole heads of garlic, roasted (method above)
2 large potatoes, peeled and diced
2 tablespoons extra virgin olive oil
1 large brown onion, chopped
4 cups chicken stock
Ground pepper
2 sprigs thyme
1 cup velouté (recipe follows)
1/2 cup milk
Fresh parsley, chopped for garnish
Velouté
25g unsalted butter
1 tablespoon plain flour
1 cup chicken stock
Cheesy Croutons:
1/2 Italian loaf, torn into bite-sized pieces
1 tablespoon olive oil
1 cup grated Gruyère cheese
Steam the potatoes for 15 minutes. Heat the olive oil in a large heavy based saucepan, over medium heat. Sauté the chopped onion until it turns translucent, about 5 minutes. Add potatoes, chicken stock, the pulp from the roasted garlic, sprigs of thyme and ground pepper. Bring to the boil, then reduce heat to a simmer and cook for 30 minutes. Remove the sprigs of thyme and puree with a stick blender or transfer, in batches to a food processor and process until smooth. Return soup to saucepan and add veloute sauce and milk. Gently reheat and stir. Do not boil. Sprinkle the soup with cheesy croutons and parsley, just before serving.
To make the velouté, prepare a roux by melting the butter and adding the flour, stir to form a paste. Gently heat through for 1 minute, do not allow to colour. Remove from heat and gradually add stock to the roux. Stir continuously with a whisk to form a smooth sauce. Return to the heat and simmer for 5 minutes before adding to the soup.
To make cheesy croutons, toss the torn bread in olive oil and place in a single layer onto baking tray. Sprinkle over grated cheese and place under a hot grill and toast until cheese and bread has turned golden brown.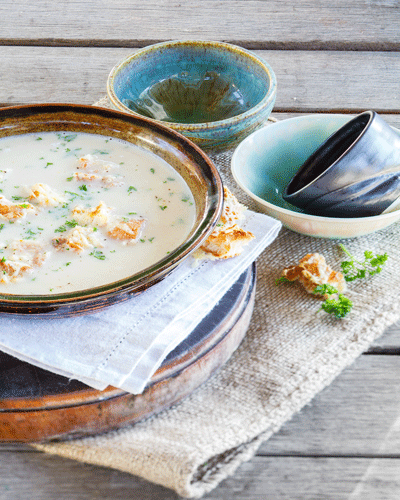 Mussels with Tomato, Wine and Garlic
Serves 4
2 tablespoons olive oil
6 cloves of garlic, crushed
6 shallots, sliced diagonally
1 large red capsicum, seeds removed and sliced
1 tablespoon tomato paste
400g can crushed tomatoes
1 cup tomato puree
1 teaspoon sugar
1/2 teaspoon dried thyme
Salt and pepper, to taste
1.5kg fresh mussels, scrubbed, bearded and rinsed
1 cup dry white wine
Salt and pepper, to taste
Fresh parsley, chopped for garnish
In a large frying pan, heat the oil over medium heat and sauté the garlic and shallots for 2 minutes. Add the capsicum and cook for 2 minutes. Add the tomato paste, cook and stir for another 2 minutes. Add crushed tomatoes, puree, sugar, thyme and season with salt and pepper. Reduce heat to a simmer and cook for 30 minutes. Keep warm. Place the mussels in a large pot and pour over the white wine. Cover and bring to the boil. Reduce heat to a simmer and cook for 3 minutes, giving the pot a shake every now and then. Remove the open mussels. Continue to cook the remaining mussels and remove them as soon as their shells open. Discard any that do not open. Place mussels onto a serving platter. Pour over sauce and garnish with chopped parsley. Serve with crusty bread.