Sweet, juicy and famous for being packed with Vitamin C, an orange makes a delicious snack and adds a unique tang to a variety of recipes.
Don't be fooled by their colour, oranges don't necessarily have to be bright orange to be good. In fact, oranges that are partly green or brown may be just as ripe and flavoursome as those that are perfectly orange. Believed to have originated thousands of years ago in South East Asia, an orange is not a wild fruit but thought to be a crossbreed of the tangerine and pomelo. Sweet oranges were introduced into Europe around the 15th century by Portuguese and Spanish Sailors. The First Fleet brought orange seeds from Brazil to the new colony of New South Wales, and to this day orange trees are an integral part of backyards all over Australia.
Selection, Storage and Preparation: Both of the sweet variety, Navel and Valencia Oranges are the largest grown varieties in Australia. Mainly grown in the Murray Valley, the Riverina of NSW, and the Riverland of South Australia, Navels are available during the winter from June to August. Valencia Oranges, also grown in the Riverina, are available in the summer months from November to February. If you're after something a bit more exotic, the Arnold Blood Orange is available in this country from July to November.
For ultimate juiciness, choose fruit that feels smooth, firm, and heavy for its size.  As a rule of thumb, smaller oranges with thinner skins will be juicier than those that are thicker and larger in size. In recipes, oranges are often required in juice form. Always juice oranges at room temperature, as like most citrus fruits, they produce more juice when warmer. Not juicy enough? Rolling the orange with your palm on your kitchen bench will also help extract more juice. If zest is required it's better to buy organic, as oranges retain pesticides in their skins more readily than other fruits.
Oranges go with: Poppy seeds, almonds, pine nuts, coconut, walnuts, fennel, cinnamon, ginger, lemon, dates, squash, chocolate, honey, salmon, duck, chicken, goat's cheese, and rocket.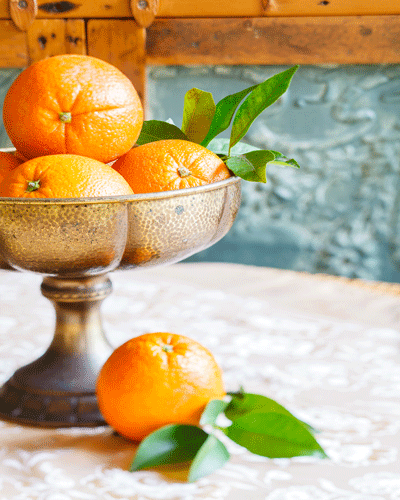 Orange Marmalade
Makes 2x 500g jars
2 large oranges (thin skinned)
1 lemon
4 cups water
2 cups orange juice
500g sugar
Wash the fruit and roughly grate the coloured peel only, avoiding the white. If you prefer a more textured jam, remove and slice the peel into strips. Chop the fruit and remove any pith and seeds. Place the chopped fruit, peel, water and orange juice into a large saucepan and bring to the boil. Reduce the heat and simmer gently until the volume has reduced by one third and the fruit is soft. Add the sugar and stir over low heat, until the sugar has dissolved and then bring to the boil and cook until jam reaches setting point (105°C) Skim the surface regularly for a clear jam. Remove from the heat and allow to stand for 10 minutes before ladling into warm sterilise jars, seal and store.
Note: This recipe may be doubled.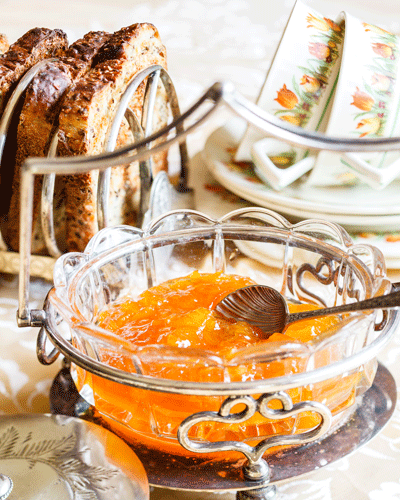 Orange and Poppy seed Muffins
Makes 16 large muffins
1 large orange
1/2 cup warm milk
1/4 cup poppy seeds
250g unsalted butter
11/2 cups caster sugar
3 eggs lightly beaten
3 cups self-raising flour, sifted
1/2 cup orange juice
 1/4 cup sugar, extra
Place whole orange in a saucepan and cover with water. Bring to the boil, reduce the heat and simmer covered, for 20 minutes. Remove from heat and stand for 20 minutes. Drain and rinse orange under cold water and then place in a colander for 1 hour. Combine the warm milk and poppy seeds in a bowl ,stir and stand for 1 hour. Preheat oven to 180°C. Line large muffin tins with baking cups.  Roughly chop the orange, remove the seeds, but do not peel. Place the chopped orange, butter and sugar into a food processor and process for 1 minute. Add the eggs and process for 1 minute. Transfer mixture to a large mixing bowl and fold through the sifted flour, alternately with  the  poppy seed and milk mixture and gently mix until combined. Spoon batter into baking cups (filling each cup two-thirds full). Bake until golden around the edges, approximately 20 minutes. Meanwhile, bring orange juice and the extra sugar to a boil in a small saucepan over medium heat, stirring until the sugar dissolves. Remove from heat and let stand until ready to use. Brush the muffins straight out of the oven, with the orange syrup. Transfer muffins to a wire rack to cool.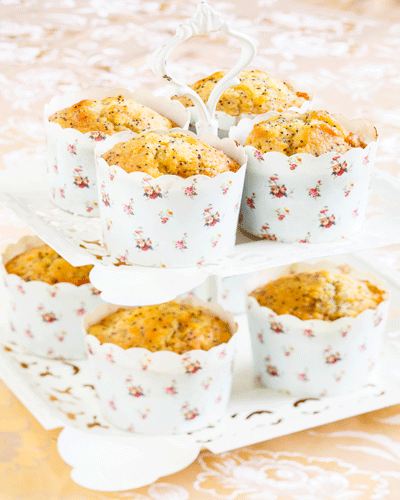 Frosted Orange Cake
250g unsalted butter
Rind from 1 large orange
1 cup caster sugar
4 eggs
2 cups self- raising flour, sifted
Juice from 1 large orange
Frosting Ingredients
125g Philadelphia cream cheese
125g unsalted butter
2 teaspoons finely grated orange rind
11/2 cups icing sugar, sifted
2 teaspoons milk
 Candied Orange Ingredients
1 orange, thinly sliced
1 cup water
2 cups caster sugar
Preheat the oven to 170°C. Grease and line with baking paper, 23cm spring form cake tin. Cream butter with the orange rind until it becomes pale and smooth. Gradually add the sugar, beating well until light and fluffy. Add the eggs one at a time, beating well after each addition. Fold in sifted flour, alternately with the orange juice and gently mix until well combined. Pour batter into prepared cake tin and place onto a baking tray. Bake in oven for 1 hour or until an inserted skewer comes out clean. Leave the cake in the tin on a wire rack to cool, then gently remove the sides of the tin. To make the icing; Beat the Philadelphia cheese, butter and rind until well combined. Gradually add the sifted icing sugar, beating well after each addition, adding the milk before the last addition of icing sugar, beat until smooth. Spread frosting over cake, using a round-edged knife. To make candied orange slices; Place the orange slices into a small saucepan with enough water to cover. Bring to the boil, drain. Repeat this process. Combine water and sugar in a small saucepan, over medium heat, stir until the sugar dissolves and then bring up to the boil. Add the orange slices and reduce the heat to a simmer. Cook for approximately 45 minutes, or until the syrup has thickened. Cool. Garnish frosted cake with candied oranges.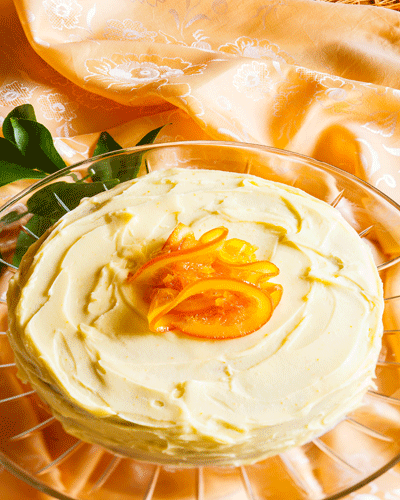 Orange and Semolina Biscuits
80g Butter
1/4 cup milk
1/2 cup plain flour
3/4 cup semolina
2 tablespoons caster sugar
1 teaspoon cinnamon
Grated rind from 1orange
1 tablespoon orange blossom water
Icing sugar, for serving
Filling Ingredients
40g walnuts
40g soft dates, pitted
Pinch of cinnamon
1 tablespoon caster sugar
1 tablespoon orange flower water
In a saucepan over medium heat, bring butter and milk to the boil. Mix flour, semolina, cinnamon and sugar in a large bowl. Pour hot milk mixture into flour mixture all at once, and beat with a wooden spoon until well combined. Add orange rind and orange blossom water. Using your fingertips, rub in  until combined. Cover with paper towel and stand for 3 hours. Preheat oven to 180°C line baking trays with baking paper. Knead dough by hand for 5 minutes until soft and pliable. Shape dough into walnut-size balls. Using your thumb, make an indent in the centre of each and fill with date and walnut mixture (recipe follows). Bake on middle rack of oven for 25 minutes, or until golden. Cool and sprinkle with icing sugar. Serve with glace and dried fruit and a nice glass of port!
Note: To make filling, process dates, walnuts, sugar, cinnamon, and orange juice in a food processor until coarsely ground.