Pine after these refreshing recipes
Perfectly packaged, nature's precision on show, the pineapple stars as the fruit of celebration, summer and sunshine. When first introduced to Europe after its discovery by the Spanish in South America in the 16th century, it was regarded with fascination and a symbol of status to display as a decoration when entertaining. The name pineapple was first recorded in England during the late-17th century and is thought to refer to the resemblance of the fruit to a pine cone. Pineapples are a multiple fruit, growing from a cluster of fertilised flowers that join together. The flowers are also known as the eyes of the fruit and there are approximately 150 on each mature pineapple.
Selection & storage: The small golden Aussie Rough is a popular sweet less acidic fruit, but production is declining in the face of new fruit varieties, such as Aussie Gold, Aus Jubilee and Aus Festival, the newest variety and still in development. Pineapples are generally available all year round with the best value being from November to February. The Aus Festival will extend the season to April. Pineapples are rich in Vitamin C, plus thiamine, niacin, manganese and fibre. Once harvested the fruit does not continue to ripen, so there is no need to test for ripeness when purchasing, though many swear by the rule that if a leaf comes away when pulled gently, the fruit is at its prime. The other rule is that if it is on sale, it's ripe. Look out for a firm fruit, not necessarily golden – the colour varies with the variety and also changes with the season. The base should be free from mildew at the stem end with a fragrant sweet smell, and the leaves should be fresh, although many pineapples are now sold with leaves removed. The armour-like skin of the fruit belies its relative fragility, and the fruit can bruise, so avoid any with soft spots. Best eaten soon after purchase, the fruit will keep 2 to 3 days at room temperature. After cutting it is best stored in a lidded container or plastic bag in the refrigerator. A large sharp knife is essential for cutting a pineapple. Remove enough skin to take the 'eyes' and if preferred remove the core, either by cutting the pineapple into wedges and trimming it, or by cutting thin slices and using an apple corer to remove most of the centre.
Pineapples go with: raspberries, strawberries, limes, coconut, coconut cream and milk, chilli, mint, coriander, capsicum, onion, cream, ice-cream, ginger, five-spice, star anise, macadamias, pork, ham, quail and chicken.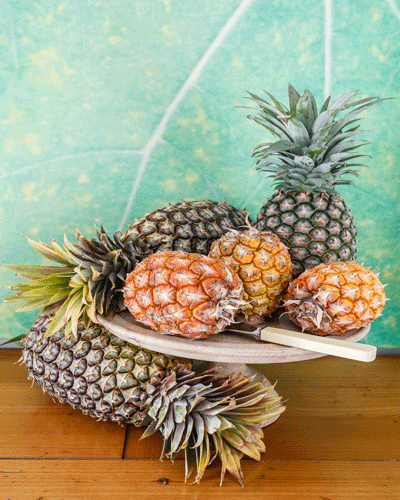 Pineapple Salsa and Pork Rice Paper Wraps
Makes about 40
500g minced pork
1teaspoon sesame oil
1 large red chilli, finely diced
3 tablespoons chilli jam
40 Vietnamese mint leaves
1 packet small round rice papers
Salsa
2 cups finely diced pineapple (about ½ a large pineapple)
2 cm knob green ginger, peeled and very finely diced
1 cup finely diced fresh coconut
1 medium-sized shallot, finely diced
2 cups finely diced paw paw (about ½ a large paw paw)
Lime pepper dipping sauce
Juice of 4 limes
1 teaspoon coarsely ground black pepper
½ teaspoon sea salt
1 tablespoon fish oil
1 tablespoon soft brown sugar
1 tablespoon chilli jam (optional)
Combine salsa ingredients in a large bowl and refrigerate until required. Heat a large frying pan over high, add sesame oil and then pork mince, immediately stirring to break up clumps. Cook, stirring often, for about 20 minutes, or until dry and slightly browned. Add chilli during cooking. Stir in chilli jam, then transfer to a bowl to cool. To assemble, place salsa in a colander to drain, then combine with cooled pork. Fill a dish, large enough to accommodate rice paper, with cold water. Place 3–4 papers at a time in the water to soften. Line a tray with baking paper. Place a clean tea towel on work surface, carefully remove a single rice paper from the water and lay on the tea towel, bring a corner over to pat top surface dry. (Rice paper can be fragile and you are likely to tear and discard a few sheets during this assembly process.) Place a single Vietnamese mint leaf, face down, in centre of rice paper. Place about 2 tablespoons of the salsa/pork mixture on top. Fold top and bottom edges in to cover filling, keeping the filling and rice paper as compact as possible. Fold one side over that. Carefully lift and turn roll onto remaining rice paper. Trim any excess to make a neat parcel. Transfer to tray and repeat process with remaining ingredients. The finished rolls may dry a little as you do this, but that will make handling easier, when being eaten. Serve as soon as possible, or the underside may become soggy and difficult to handle. Combine ingredients for dipping sauce and serve in a small bowl on a platter with the rolls.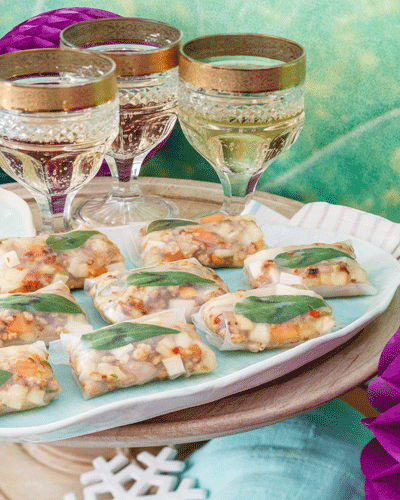 Carmelised Pineapple and Pork with Mint
Makes 16–20 pieces
1 pork fillet, silver membrane removed and meat cut into 2cm cubes
½ large pineapple, cut into 2cm cubes
1cm knob green ginger
Pure icing sugar
Sesame oil
1 bunch fresh mint, leaves removed
Mint Dipping sauce
Mint leaves
2 shallots, peeled and roughly chopped
¾ cup brown rice vinegar
1 tablespoon soft brown sugar
Place as many pineapple cubes as there are pork cubes in a shallow dish and sprinkle with icing sugar, turning pineapple to lightly coat. Place remaining pineapple and ginger in a food processor and puree. Pour into a sieve and drain juice into a bowl with the pork. (Pineapple juice acts as a meat tenderiser.) Heat oven to 180°C.
Heat a medium non-stick frying pan over moderately high. Add a few drops of sesame oil and some pork cubes. Cook until browned on underside, about 2–3 minutes, then turn to brown top side. Remove to a dish and place in oven. The pork will cook thoroughly. Between batches, wipe pan out with a paper towel to remove excess burnt bits. Repeat until all pork is cooked. Clean pan and cook pineapple in the same way, refreshing the sesame oil after each batch. Remove from pan onto a tray (there is no need to put pineapple in the oven).
To assemble, skewer a cube of pork topped with pineapple and one mint leaf. Place on a serving platter and serve at room temperature. These can be made in advance and refrigerated, covered, until required.
For Mint Dipping Sauce: Place remaining mint leaves, shallot, brown rice vinegar and sugar in a blender and process until mint is finely chopped. Taste for seasoning (you may wish to add more sugar). Serve in a small bowl with the pork and pineapple.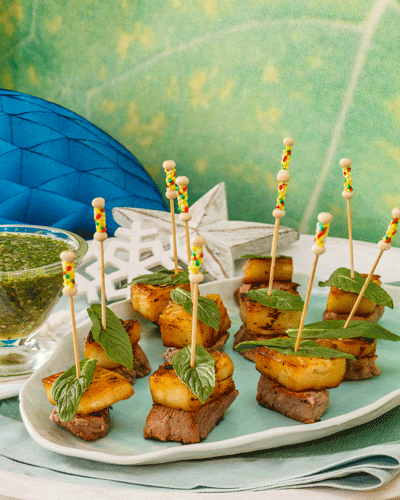 Pineapple Toffee Ice Cream
Serves 8–10
2-litre tub creamy vanilla ice-cream
I Golden Roughy pineapple
2 cups soft brown sugar
125g salted butter
Place ice cream in refrigerator compartment, to soften slightly. Remove skin from pineapple, cut flesh into chunks, place in a food processor chop pineapple to a crushed consistency. Place into a sieve over a bowl and drain juice. Reserve solids.
In a wide, deep saucepan combine ½ cup of the juice, 1 cup of the sugar and half the butter. Place over a medium high heat, swirling saucepan occasionally until butter dissolves. Boil to soft ball stage on a candy thermometer (available from kitchen ware shops). Remove from heat and cool until just warm. The toffee will thicken, then stir in 1 cup of the reserved crushed pineapple. Transfer ice cream to a large bowl, break down slightly and then pour toffee mixture over it. Using a large metal spoon, quickly stir in the toffee to form ripples. Immediately spoon ice-cream back into original container and return to freezer for several hours, or until firm.
To make the toffee garnish, repeat the process with ½ cup of the pineapple juice, the remaining butter and sugar. This time boil the toffee to "hard crack" stage on a candy thermometer. (Watch toffee carefully and remove from heat immediately if it starts to burn.) Pour toffee onto a non-stick baking tray, tipping the tray to quickly spread mixture as thinly as possible. Do not stir the toffee or spread other than by tipping, or it may crystallise and look "sugary". Leave until set hard, then store in pieces in an airtight container, in layers between baking paper. Serve ice cream garnished with shards of toffee.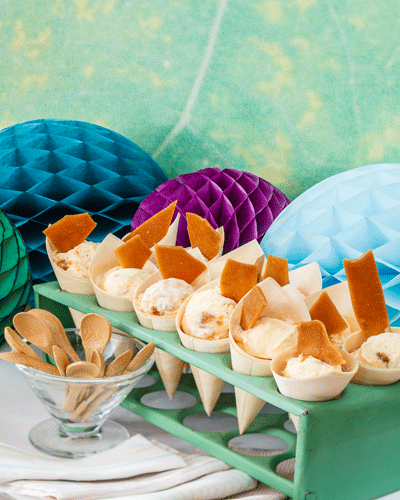 Carmelised Pineapple and Ginger Baked Cheesecakes
Makes 10
Base
250g packet ginger nut biscuits
75g butter, melted
Filling
500g cream cheese, at room temperature
1 cup caster sugar
3 eggs
½ cup pineapple pulp, drained
3 cubes glace ginger, finely chopped
Topping
½ cup fresh pineapple juice
1 cup soft brown sugar
10 thin slices of small pineapple, cored
Preheat oven to 150°C. Lightly butter 10 x 1-cup metal moulds, or use a jumbo muffin pan. Cut a small square of baking paper to fit in the base of each tin. Place ginger nut biscuits in food processor and process until very fine crumbs. While machine is running, slowly add butter and process until mixture clings together. Place about 1 tablespoon of mixture in each tin and use another tin to press down on it to make a firm base.
To make the filling, beat cream cheese until light and fluffy. Beat in sugar, and then eggs, one at a time, beating well after each addition. Stir in pineapple pulp and glace ginger. Divide mixture between tins, place these on a baking tray (a holed pizza tray is good) and bake in pre-heated oven 45 minutes. Meanwhile, prepare topping. Melt butter with sugar in a large frying pan. When bubbling add pineapple slices, turning once to coat with the mixture. Cook over a low heat for 20 minutes. The pineapple with give off juice and increase the liquid level, and this becomes a sauce to serve separately. When cheese cakes feel firm to touch, remove from oven, top each with a pineapple ring and return to oven. Turn off heat and leave cheesecakes in the oven to cool slowly. Refrigerate until required, then turn out. Serve with warmed sauce spooned over the top.
Recipes and Styling Kay Francis
Photography Ken Brass