Achieve broad bean brilliance with these fun, light and delicious recipes!
Broad bean, fava bean, vicia, faba, field, bell, tic … the many names for this ancient annual leguminous plant reflect its presence in cuisines worldwide throughout history. Originating in Persia and Africa, the plant was particularly cultivated by the Egyptians, for whom it became a staple food, eaten fresh and dried. It is the main ingredient of felafel and also the Egyptian national dish, ful medames – beans mashed with oil, salt and cumin, traditionally eaten with bread at breakfast.
Known mostly in Australia, New Zealand and the UK as broad bean, fava is more commonly used elsewhere. The new young beans are regarded as a delicacy, particularly in Italy, when served raw, often in the immature pod, with pecorino and salami, or even just salt.
Generally the mature pod is split to reveal the bean, which can be dried, or eaten fresh, as in the following recipes. To cook, boil the beans in water until the skins appear to loosen, about 10 minutes, then drain. A second peel of the skin depends on your preference and the age of the bean. Older larger ones usually benefit from the removal of the outer skin, revealing the bright green tender kernel.
Selection and storage: Choose pods that look glossy, feel firm and show no signs of wrinkling. Store in a bag or sealed container in the refrigerator for a couple of days at the most. When buying fresh broad beans, take into account that you will lose about three-quarters of their weight when you discard the pods. For 1kg shelled beans you need to have 4kg beans in pods. Fresh beans are usually available from late winter to spring, but excellent frozen podded beans are available all year and can be substituted for fresh in all recipes.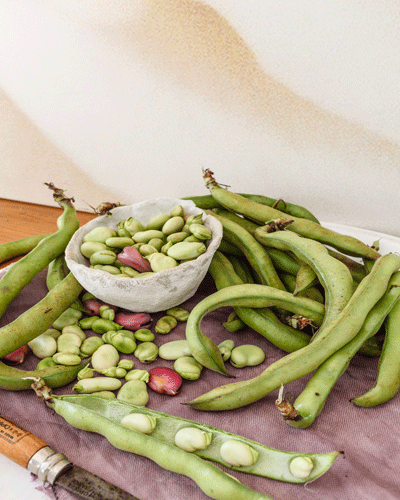 Chicken and Broad Bean Wraps
Makes 24 pieces
1 large chicken breast
1 teaspoon celery salt
6 eggs
1 shallot (finely chopped)
Sesame oil
8 seeded wraps
Broad bean and garlic puree
¾ cup purchased chilli jam
Rocket leaves
Cut chicken breast into long thin strips. Place in a saucepan with celery salt and cold water to cover. Bring to the boil, turn off heat, cover and stand for 20 minutes. Drain (the liquid can be used as stock). Whisk eggs, shallot and 1 teaspoon sesame oil in a jug. Heat a medium-sized non-stick frying pan or wok over medium temperature, add a few drops of sesame oil and swirl to coat pan. Pour in a little of the egg mixture, tipping pan to coat base in a thin even layer. Cook until egg is firm and just golden on underside. Tip out of pan onto a board or work surface. Repeat with remaining mixture, to make at least eight "omelettes".
Lay wraps on work surface and spread each generously with Broad Bean puree. Place chicken on centre line, then spread 1 tablespoon of chilli jam on top. Add rocket leaves, then place an omelette over filling. Roll wrap in from one edge, keeping the roll as tight as possible. Place in a sandwich toaster or a ribbed grill pan and grill on both sides, pressing down on the roll. Cut each roll into 3 and secure with a cocktail stick or toothpick, to prevent unravelling. Stack onto serving platter. Serve at room temperature.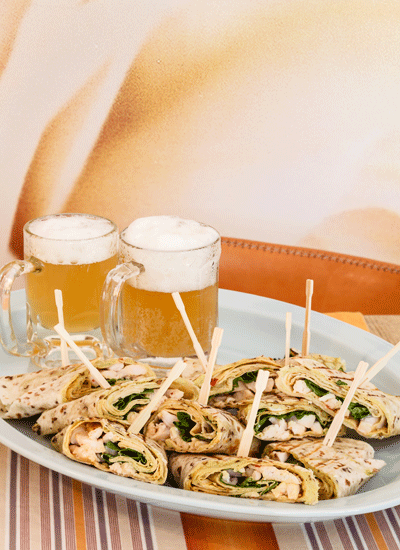 Polenta, Broad Bean and Parmesan Bites
Makes about 30-40 bites, depending on size.
250ml chicken stock
750 ml milk
40g butter
1 teaspoon porcini powder (see note)
½ teaspoon freshly ground black pepper
1 ¼ cup fine polenta
150g Parmesan, grated
160g pancetta in one piece, cut into tiny dice
1 cup cooked, double-peeled broad beans
2 tablespoons horseradish
Place chicken stock, milk and butter in a deep saucepan and heat over a low temperature until simmering. Stir in porcini powder, pepper, and salt to taste. Slowly pour in polenta in a steady stream, stirring constantly in a circular motion. Continue to stir until mixture thickens, remove from heat then gently stir in Parmesan, pancetta, broad beans and horse radish. Spoon into non-stick moulds (silicone finger- and tiny muffin-shaped moulds are good). Cover with plastic wrap and refrigerate until set firm. When required, turn out and place under grill to brown, turning once. Serve warm or at room temperature.
Note: Porcini powder is dried porcini mushrooms which have been ground to a fine powder. It is available at delicatessens and speciality food shops.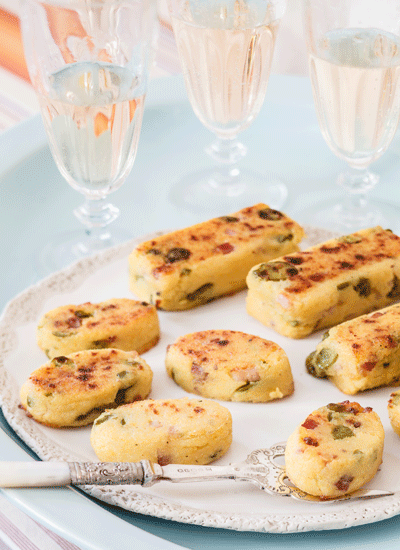 Bruchetta with Broad Beans, Buffalo Mozzarella and Herb Oil
The quantities in this recipe are deliberately loose, so you can structure the topping to your preference.
1 loaf sourdough bread
Garlic oil
Buffalo mozzarella
Broad beans, cooked and double-peeled
Grape and small yellow tomatoes, split and oven roasted
Herb oil (recipe follows)
Slice bread thinly and brush both sides with garlic oil. Grill in a ridged grill pan, over a high heat, until both sides are browned. Spread bread generously with herb oil, then top with a slice of buffalo mozzarella, a scattering of broad beans and roasted tomatoes. Drizzle with more herb oil.
Herb oil:
10g fresh marjoram leaves
10g fresh oregano leaves
1½ cups flatleaf parsley
2 cups watercress leaves
4 cloves confit garlic
1 cup olive oil
Salt and freshly ground black pepper to taste
Place all ingredients in blender and process until smooth. Pour into a sterilised jar or bottle, seal refrigerate. Makes about 350ml.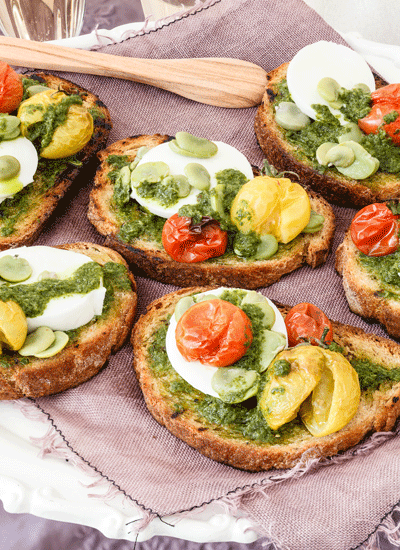 Broad bean and Bocconcini Tartlets
Makes about 40
1 packet seeded bread wraps
Garlic oil
220g bocconcini
1 cup cooked and double-peeled broad beans
2 tablespoons fennel seeds, roasted
Lemon-pepper butter
1 tablespoon coarsely ground black pepper
1 teaspoon sea salt
125g salted butter
Finely julienned rind and juice of 1 large lemon
Preheat oven to 190°C. Using a glass as a guide, cut rounds from the wraps to fit medium-sized muffin moulds (the tiny size is too small). Gently ease the bread into the mould, taking care not to tear the base. Brush lightly with garlic oil (or olive oil blended with chopped garlic).Bake in preheated oven for 15-20 minutes until bread is crisp and golden. Distribute bocconcini, broad beans and fennel seeds between bread cases.
For lemon-pepper butter, put pepper and salt in a small saucepan and heat until pepper is fragrant. Add butter and melt, then add lemon rind and juice, stir and simmer for 5 minutes until thick and creamy. Spoon lemon-pepper butter over tartlet fillings, reserving some for drizzling before serving. Reduce oven to 170°C, heat tartlets until warm and bocconcini begins to melt. Drizzle with reserved butter and serve warm.