Now widely cultivated around the world, it has become a staple of the Spanish and Italian tables, is popular in many Central European countries and is widely used in Asian cooking. A close relative of the chilli, the capsicum contains no capsaicin and therefore lacks the fire of a regular chilli. Green capsicums ripen to red, but the fruit also comes in all the colours in between, from yellow and orange, to black-purple, which turns green when cooked.
To roast and peel capsicum, place under a hot grill or skewer with a fork and hold over a gas flame until the skin blackens on all sides. Place in a bowl and cover with plastic wrap (or enclose in a paper bag) until it cools slightly and the fruit sweats and collapses slightly, then rub the surface so the skin slips off.
Selection and storage: Choose capsicums with firm glossy skins, no blemishes or evidence of shrivelling or wrinkling. Store in the crisper section of the refrigerator or, during the cooler months, in the fruit bowl.
Capsicums go with: Tomatoes, walnuts, pine nuts, eggs, goat's cheese, feta cheese, parmesan cheese, cabbage, onions, garlic, olives and olive oil, eggplant, lamb, fish and chicken.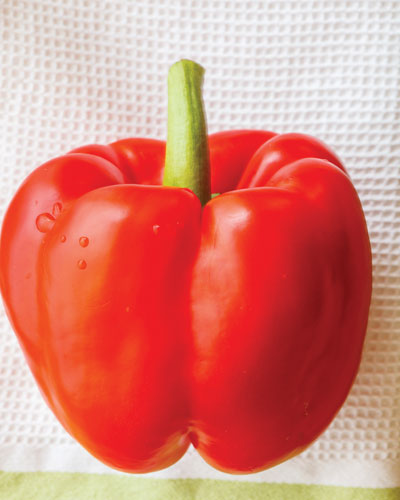 Capsicum and Coriander Soup
Serves 4
5 large red capsicums
Olive oil
2 brown onions, diced
1 clove garlic, chopped
1 teaspoon finely chopped fresh ginger
1½ teaspoons sambal oelek, or to taste
2 cups chicken stock
1 tablespoon lemon juice
⅓ cup fresh coriander leaves, finely chopped
Salt and freshly ground black pepper
1 cup cream
Sliced capsicum and coriander leaves for garnish
Preheat oven 200°C. To prepare the capsicums for roasting, firmly push through the stem of the capsicum. Remove stem and seeds. Brush whole capsicums with olive oil and place upside down on an oven tray. Roast for 15 minutes. Using tongs, turn capsicums over and roast for another 15 minutes or until capsicum skins have blistered evenly. Place capsicums into a plastic bag, seal and stand for 20 minutes or until cool enough to handle. Peel and chop roughly. Heat 2 tablespoons of oil in a saucepan and gently cook the onions over medium heat for 5 minutes. Add the garlic, ginger and sambal oelek and cook for 3 minutes. Add chopped capsicum and stock, bring to the boil and simmer for 30 minutes. Stir in lemon juice. In a food processor, process the soup in batches until smooth. Stir in the coriander and ¾ cup of the cream, season to taste. Garnish with capsicum slices, coriander and a drizzle of remaining cream. Serve hot.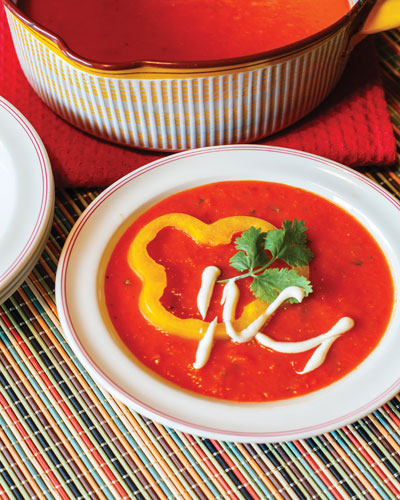 Rolled Ratatouille Omelette
Makes approximately 4 cups of ratatouille
3 tablespoons olive oil
1 large onion, chopped
2 cloves garlic, minced
1 red capsicum, diced
1 green capsicum, diced
3 yellow squash, diced
Cayenne pepper, to taste
1 baby eggplant, diced
1 teaspoon thyme leaves
1 tablespoon tomato paste
400g can diced tomatoes, drained, reserving ¼ cup of tomato juice
2 tablespoons red wine
1 tablespoon basil leaves, finely chopped
1 tablespoon parsley, finely chopped
Salt and freshly ground black pepper
Mixed salad leaves, to serve
OMELETTE
*Per omelette
2 eggs
½ teaspoon water
Salt and freshly ground black pepper
1 tablespoon butter
Heat 2 tablespoons of oil in a frying pan over medium heat and add the onion and garlic, cook for 2 minutes. Add capsicum, squash and cayenne pepper, cook for a further 5 minutes. Transfer mixture to a bowl and set aside. Heat 1 tablespoon of oil in the pan and add the eggplant and thyme. Cook over medium heat, stirring occasionally, until eggplant is partially cooked, about 3–4 minutes. Return the capsicum mixture to the pan and stir in the tomato paste. Add the diced tomato, tomato juice, red wine, basil and parsley, season to taste. Reduce heat to low, cover and cook for 15 minutes, stirring occasionally.
To make omelette: Whisk together eggs, water and season with salt and pepper. Heat a frying pan over medium heat. When hot, add butter. When the butter stops sizzling, add the egg mixture. As the egg begins to set, lift the omelette sides and tilt the pan, allowing uncooked egg to run underneath. As soon as the omelette has set, slide onto a paper towel. Spoon ratatouille along the long edge of the omelette. Gently roll into a log, keep warm. Repeat process to make additional omelettes. To serve, cut omelette on the diagonal and place on serving plate, seam side down. Serve with a green salad.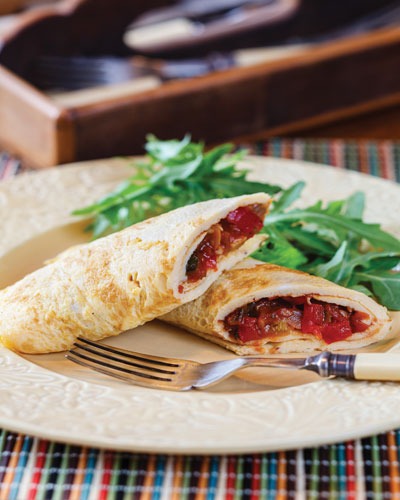 Stuffed Capsicum with Couscous, Chorizo and Goat's Cheese
Serves 8
4 medium capsicums (a mixture of colours), halved lengthways through the stems, seeded
1½ tablespoons olive oil
2 chorizo sausages, casing removed and roughly chopped
6 shallots, sliced
2 cloves garlic, minced
1 cup couscous
2 cups vegetable stock
120g goat's cheese
¼ cup coriander leaves, finely chopped
Salt and freshly ground pepper
Coriander leaves for garnish
DRESSING
¼ cup olive oil
2 tablespoons lemon juice
Preheat oven 200°C. Lightly coat a baking pan with olive oil. Place halved capsicums, cut side down, in baking pan, and bake until the capsicums just begin to soften, about 10 minutes. Remove from oven and set aside.
Heat 1 tablespoon of the oil in a pan over medium heat. Add chorizo and cook until just starting to turn golden. Remove from heat and set aside. In the same pan and oil, add the shallots and garlic and sauté for 1 minute. Add the couscous and stock and stir well. Bring to the boil, and then remove from heat and stand, covered, for 5 minutes. Using a fork, fluff up the couscous to separate the grains. Stir through chorizo, goat's cheese and coriander, season to taste. Divide couscous mixture among capsicum halves. Place in baking pan and cook for about 15–20 minutes or until capsicums have heated through. Place capsicum on serving plates, garnish with coriander and a drizzle of dressing.
To make the dressing: Combine the olive oil and lemon juice and whisk, season to taste.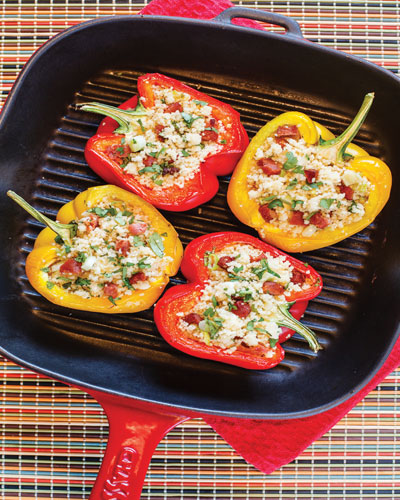 This story was originally published in the April 2014 issue of Australian Country. Order the back issue here.
Click here for more recipes.
Recipes and styling Sue Stadler
Photography Ken Brass
Props supplied by Town & Country Antiques, 200 Great Western Highway, Hazelbrook NSW PH: 02 4758 6686 and Hazelbrook Cottage Antiques, 33/34 Railway Parade, Hazelbrook NSW PH: 02 4758 6919