Figtastic!
Savour the sensation of late summer and autumn with these recipes for one of nature's more versatile fruits. Figs are an ancient fruit, native to the Middle East and western Asia. They migrated to the Mediterranean via the traders along the Silk Road and were spread through Europe by the Romans. The Egyptians prized the fig as the tree of life and dried figs were found in the pyramids as food for the pharaohs in the afterlife. More earthly travellers, of course, prized the fruit because it could be dried and carried long distances without losing any nutritional value. Figs in Australia tend to be categorised according to the colour of their skin (white, black and purple) rather than variety.
Selection, storage and preparation: If you are lucky enough to have access to a fig tree, you have the luxury of leaving them on the tree until they are fully ripe with skin so plump they are almost splitting. That's if the birds don't get to them first. A ripe fig is a thing of perfection. A day later, it's well on its way to putrefaction, oozing juice and starting to ferment. Select figs that are fully coloured and give slightly when squeezed gently. They can be refrigerated for a day or two, ideally on a plate lined with their own leaves or, second best, with kitchen paper.
Figs go with: ham, prosciutto, goat's cheese, blue cheese, cream, almonds, walnuts, rocket, ginger, cinnamon and honey.
Savoury Fig and Prosciutto Tart
Serves 4
Pastry
200g plain flour
1 teaspoon salt
¼ teaspoon dried marjoram
115g butter, chilled and cubed
1 tablespoon chilled water, if needed
1 egg white, lightly beaten
Filling
20g butter
1 red onion, thinly sliced
150g white Castello cheese, thinly sliced
1 egg
¼ cup thickened cream
Freshly ground black pepper
4 slices prosciutto, torn into bite-sized pieces
8–10 fresh figs (depending on size), stems removed and sliced
Fresh marjoram leaves, for garnish
To make the pastry: Place the flour, salt, dried marjoram and butter into a food processor and process until mixture starts to come together. You may need to gradually add up to 1 tablespoon of chilled water if mixture is too dry. Turn out onto a lightly floured surface and form into a disc. Cover with plastic wrap and refrigerate for 30 minutes. Lightly grease a 36cm x 13cm tart tin with removable base. Preheat oven to 200°C. Roll out pastry on a lightly floured surface and line prepared tin. Alternatively, press pastry into tin but be sure the pastry is not too thick. Cover with foil and blind bake for 10 minutes. Remove foil and brush with egg white and bake for another 5 minutes. Remove and allow to cool.
To make the filling: In a frying pan over low heat, melt the butter and gently sweat down the onions until soft and lightly caramelised. Remove from heat and allow to cool. In a small bowl, whisk the egg, cream and black pepper together until smooth. Line the cooled base with cheese slices, onion and half of the prosciutto. Pour over the egg mixture and neatly layer the figs on top, along with the remaining prosciutto. Bake in the oven for 35 minutes or until the filling is set and golden. Remove from the oven and leave to rest for 10 minutes. Remove from tart base and sprinkle with marjoram leaves. Serve with a green salad.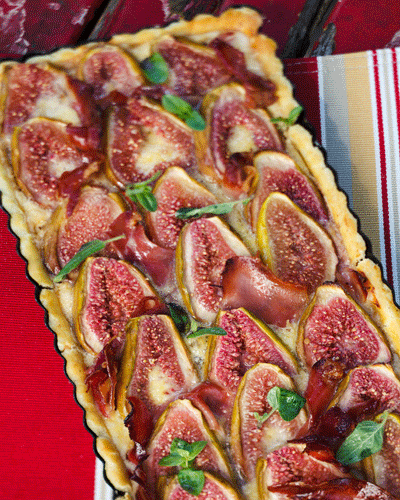 Figs, Gorgonzola and Walnut with Baby Rocket Salad
Serves 4
100g baby rocket leaves, washed and spun dried
6-8 fresh figs (depending on size), halved or quartered
½ cup toasted walnuts, coarsely chopped
100g gorgonzola cheese, crumbled
1 tablespoon white balsamic vinegar
1 teaspoon caster sugar
2 tablespoons walnut oil or olive oil
Freshly ground black pepper
Place the rocket into a large serving bowl or on a platter. Add the walnuts and gorgonzola cheese and scatter the figs on top.
To make the dressing: Whisk together the vinegar, sugar, oil and black pepper. Drizzle dressing over salad and serve.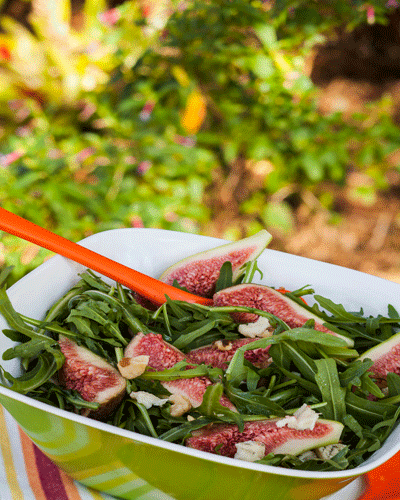 Fig and Toblerone Ice Cream
Makes 1L
1½cups milk
1½ cups cream
1 teaspoon vanilla paste
6 egg yolks
½ cup caster sugar
8 fresh figs, stems removed and quartered
1 tablespoon caster sugar, extra
1 tablespoon fresh lemon juice
200g Toblerone milk or dark chocolate, roughly chopped
Combine the milk, cream and vanilla paste in a saucepan and bring mixture to a simmer over medium heat (do not boil), remove from heat. Beat egg yolks and sugar until thick and then gradually whisk in half of the milk mixture. Pour egg mixture back into saucepan and stir constantly over low heat with a wooden spoon until the custard thickens. This will take approximately 8–10 minutes. To test, run a finger across the back of a spoon. If it leaves a clear line, the custard is ready. Remove from heat and cool to room temperature. Refrigerate until well chilled. Meanwhile, sprinkle the figs with sugar and lemon juice, set aside and refrigerate. Place the custard into an ice-cream maker and follow manufacturer's instructions. When it is about half-way churned, fold in the chopped figs, along with their juices and the chocolate, continue to churn until the ice cream is made. Transfer to a freezer container and cover. Freeze for at least 2 hours. Alternatively, pour chilled custard into a shallow freezer-proof container and freeze until firm around the edges. Place the ice cream into a food processor and beat until smooth. Return to the freezer. Repeat. Transfer the beaten ice cream to a large bowl. Add the figs, juices and chocolate. Mix until well combined. Return to freezer-proof container, cover with a freezer bag and freeze for at least 4 hours. To serve, remove ice cream from freezer and leave at room temperature for 10 minutes to soften.