Most researchers agree that the onion is a prehistoric food, probably originating in central Asia and doubtless cultivated for thousands of years. A member of the Allium family, the green-shooting bulbous plant is a cornerstone of just about every cuisine and is widely credited with enlivening everything from soups and stews to curries, roasts and stir-fries. Modern medicine generally agrees that the antioxidants contained in the onion may help fight cancer and reduce cholesterol.
Selection and storage: The most common onion is the brown or yellow onion. White onions are milder in flavour and are therefore more commonly used in salads. Purple, red or Spanish onions are also popular for salads as they are mild and sweet-tasting. A shallot (from the French eschalot) is a small, brown-skinned (or purple in the case of an Asian shallot) relative with an elongated bulb a bit like a garlic clove. Choose onions that are firm, with crackly outer skin and have no soft spots or blemishes. Store in a cool, dark place, with plenty of air circulating (not in a plastic bag). Refrigerate onion once it is cut and discard if not used in a couple of days.
Onion goes with: garlic, butter, cream, parsley, basil, sage, all types of red meat and poultry, eggs, red and white wine, sherry, tomatoes, capsicum… pretty much any vegetable you can name.
 SPRING ONION TART
Serves 6
Store-bought, ready-rolled sour cream short crust pastry
5–6 spring onions, halved lengthways and trimmed to fit width of baking tin
1 tablespoon date molasses
150g mild blue cheese
400g fresh ricotta
4 eggs
Preheat oven to 190°C. Line a 20 x 28cm tart tin with removable base with the pastry. Trim edges, then line with baking paper (make sure the paper covers the edges of the pastry). Fill with baking weights or dried beans. Bake blind in preheated oven 20–25 minutes, until just golden. Remove beans and paper, return to oven for a further 5-8 minutes, until base is crisp.
Meanwhile, brush cut surface of spring onions with a little date molasses and grill, turning once, until onions are just softened and
charred. Combine blue cheese, ricotta and eggs and beat until smooth. Pour into prepared pastry case, arrange spring onions, cut side up, on top. Return to oven for 25–30 minutes, or until filling is puffed and firm to touch. Serve warm.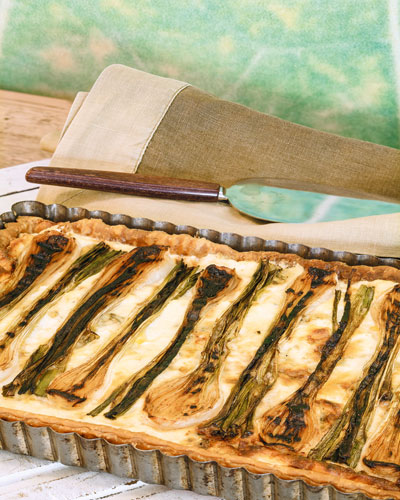 WHITE ONION SEAFOOD SALAD
Serves 6 as an entree
500g combined green prawns, scallops, fleshy boneless white fish (kingfish, trevalla)
Marinade
1 cup lime juice
1 spring onion bulb, finely shredded
Salad
1 white onion, finely shredded
1 cup finely shredded white cabbage
½ cup finely diced celery
½ cup roasted sesame seeds
12 white anchovies
Dressing
2 tablespoons sake
1 tablespoon sesame oil
2 tablespoons ponzu (citrus soy) sauce
1 teaspoon fish sauce
1 tablespoon grated palm sugar
2 tablespoons rice wine vinegar
Place shelled and deveined green prawns, sliced scallops and fish in a shallow glass or ceramic dish. Sprinkle with 1 teaspoon sea salt. Stand 5 minutes, then add white onion and lime juice. Stir gently to combine. Refrigerate 1 hour. Meanwhile, combine dressing ingredients. Prepare salad ingredients and combine.
To serve, make a little pile of salad on 6 serving plates, divide marinated fish and onion between each. Pour a little dressing over.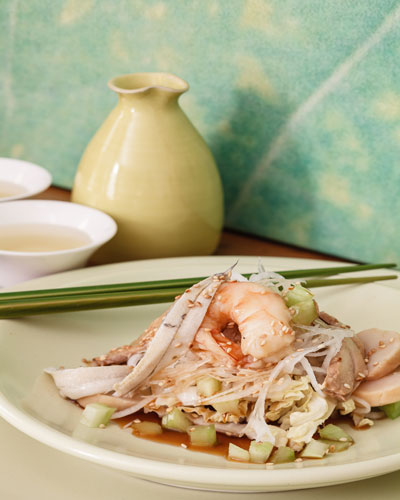 GREEN ONION PASTE
Makes about 3 cups.
Note: Green onion paste is also good as a base for pizza topped with thinly sliced potatoes and sea salt, as a component in the roux for a soufflé, on grilled meat or fish, pushed under the skin of a chicken before roasting, on steamed new potatoes as a hot salad, stirred through sliced chicken and mushrooms as the filling for a deep-dish pie.
6 green onions, trimmed, leaving 20cm green
100g shallots
1 cup (70g) roasted walnuts
10g chervil
150g anchovy-stuffed green olives (or pitted green olives and 3–4 strips anchovy)
150g feta
½ cup walnut oil
2 tablespoons salted capers (rinsed briefly)
Combine all ingredients in a food processor and blend to a smooth, thick paste. Spoon into a lidded container and refrigerate. Will keep up to 2 weeks.
Pasta with Green Onion Paste:
Cook pasta of your choice until al dente, drain and stir in 1 cup green onion paste (or more, depending on the quantity of pasta you are serving) and 1 cup cooked fresh or frozen peas. Garnish with chopped roasted walnuts, crumbled grilled salami and prosciutto and fresh chervil.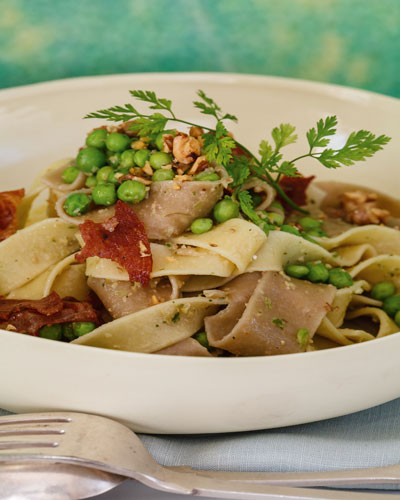 This story was originally published in the September/ October 2014  issue of Australian Country. Order the back issue here.
Click here for more recipes.
Recipes and styling Kay Francis
Photography Ken Brass