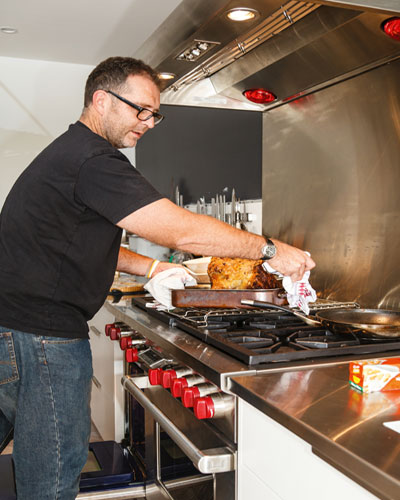 Cooma-born-and-raised Neil Mackenzie had spent the best part of two decades in the UK working as a chef. He first went to London as a backpacker, completed training as Leith's School of Cookery and Wine and then worked for Yottam Ottolenghi and Fishworks before starting out on his own with a catering company Lovefood, which specialised in catering for crews on advertising photoshoots.
Neil and wife Jane are hosting a lunch to showcase the region's finest ingredients. Their menu includes soft-ripened cheeses from Comboyne Culture, wines from Red Tail and a giant standing roast beef from Manning Valley Wagyu Beef. Neighbours and fellow refugees from the rat race Ian Rowland and Stella Savvas brought along their Stellar biodynamic garlic, which Neil used in a caramelised garlic tart and the herbs, leaves and pumpkin for the salads came from the garden, which also supplied macadamias and passionfruit for the cheesecake for dessert. The proof as they say, is in the eating and the meal is indeed a wonderful tribute to these dedicated farmers and the Mackenzies' local, seasonal ethic.
Neil has plans to build a commercial kitchen in one of the sheds on the property and convert a barbecue shelter into a small restaurant catering for house guests and a few locals. Jane has visions of afternoon teas in the kitchen garden, and the plans for the future include expanding their accommodation options with yurts and maybe permanently erected bell tents.
Read more about Neil and Jane's riverside revival here.
Words Kirsty McKenzie
Photography Ken Brass
Recipes Neil Mackenzie
CARAMELISED GARLIC TART
Serves 8
375g butter puff pastry
3 bulbs garlic, cloves separated and peeled
1 tablespoon olive oil
1 tablespoon balsamic vinegar
200ml water
1 tablespoon caster sugar
1 tablespoon chopped rosemary
1 tablespoon chopped thyme
200g Camembert
2 eggs
200ml cream
Salt and black pepper
2-3 sprigs thyme and rosemary, to serve
Preheat oven to 180˚C. Roll out pastry and line a 24cm fluted tart tin, rest in fridge for 20 minutes. Remove from fridge, line with baking paper and baking beans or weights and blind bake for 20-25 minutes. Remove beans and paper and bake for a further 5-10 minutes or until golden. Remove and reduce oven temperature to 160˚C. While tart case is baking, put garlic in a small saucepan, cover with plenty of water, bring to boil and simmer for 3 minutes. Drain well, dry saucepan, return garlic and and olive oil and fry on very high heat for 2 minutes. Add vinegar and water, bring to the boil and simmer for 10 minutes. Add sugar, rosemary, thyme and a pinch of salt and simmer for approximately 10 minutes or until most of liquid has evaporated and garlic is coated in caramelised syrup. Remove from heat. Slice or tear Camembert and scatter over tart base, spoon over garlic and syrup. In a jug, whisk eggs and cream with a pinch of salt and a few grinds of black pepper. Pour over tart filling making sure custard is filling the gaps. You should still be able to see the garlic on the surface. Bake on middle shelf for 35-40 minutes or until filling has set and top is golden brown. Remove from oven, cool and then remove from tin. Garnish with springs of thyme and rosemary to serve.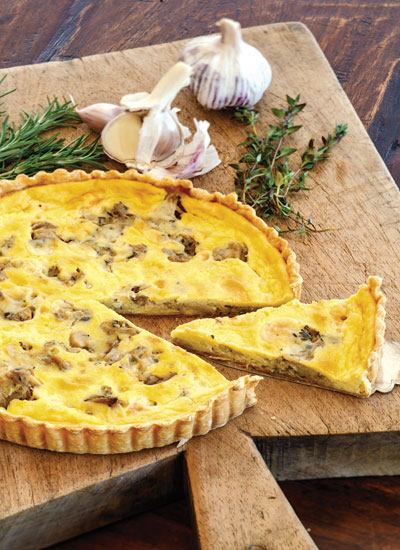 ROAST PUMPKIN WITH LIME AND YOGHURT
Serves 4-6
2 limes plus juice of 1 lime
5 tablespoons olive oil
Sea salt flakes
1 large Kent or Jap pumpkin
2 tablespoons cardamom pods
1 tablespoon cumin seeds
1 tablespoon coriander seeds
150g Greek yoghurt
2 tablespoons tahini
1 red chilli, sliced thinly
Handful of coriander leaves
Preheat oven to 210˚C. Cut off top and bottom of lime and stand on board. Following the curve of the lime, remove skin and pith. Segment the lime cutting along the membrane to create skinless segments. Put in bowl with 1-2 tablespoons of olive oil and 2 pinches of sea salt flakes. Stir. Slice pumpkin into 1cm thick slices, place on oven tray lined with baking paper. Put cardamom pods in mortar and bash to release seeds, remove pods. Add cumin and coriander seeds and grind to a coarse powder.
Brush pumpkin with olive oil on both sides and sprinkle with spices and salt. Place in oven for 15 minutes or until knife pierces easily. Cool.
To make dressing: Whisk yoghurt, tahini, lime juice, 2-3 tablespoons water and a pinch of salt to achieve pouring consistency. To serve, range pumpkin on platter, spoon with yoghurt dressing and scatter with lime segments, thinly sliced chilli and coriander leaves.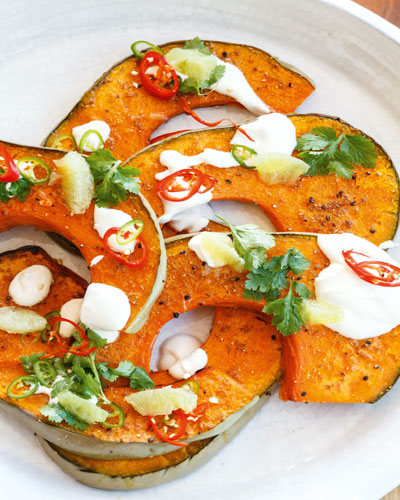 STANDING ROAST SIRLOIN OF MANNING VALLEY WAGYU
Serves 8-10
3-4 cloves garlic
1-2 tablespoons of sea salt and black pepper
olive oil
5kg sirloin of Wagyu beef, bones in, trimmed, at room temperature
Preheat oven to 220˚C. Peel garlic and pound to a paste with salt and black pepper in a mortar and pestle. Mix with 2-3 tablespoons olive oil and massage over all surfaces of the beef. Stand in roasting tray, place in oven and roast for 40 minutes or until well browned. Reduce oven to 160˚C and roast for 11-12 minutes per 500g. A temperature probe should read 58-60˚C. Remove from oven, rest for 40 minutes loosely wrapped in foil before serving. Reserve fat, strain and keep in fridge for future – it's great for roast spuds.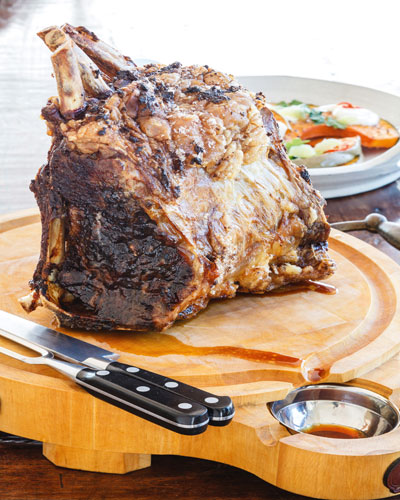 PASSIONFRUIT CHEESECAKE
Crust
1 cup raw macadamia nuts
90g digestive biscuits
2 tablespoons caster sugar
pinch salt
50g butter, melted
Filling
650g Philadelphia cream cheese
150g caster sugar
3 large eggs
Pulp of 3 passionfruit, strained to remove seeds
⅔ cup cream
Extra melted butter, for brushing
Topping
1 cup cream
Pulp of 3 passionfruit
Preheat oven to 160˚C. Wrap the base of a 22cm springform pan in aluminium foil. In a food processor, process macadamia nuts on high until coarsely chopped. Add biscuits, sugar and salt and process until mixture resembles coarse breadcrumbs. Add butter, stir well and transfer mixture to tart case, pressing firmly and evenly into the pan. Bake for 12-14 minutes until just beginning to brown around the edges. Remove and cool.
Reduce oven temp to 150˚C. In a large bowl, beat cream cheese until smooth. Beat in sugar until well combined. Beat in eggs one at a time, scraping down sides of the bowl as necessary. Add in strained passionfruit pulp and cream. Brush sides of the springform pan with extra melted butter and then pour filling over the cooled crust. Place on a baking sheet and place on centre rack of oven. On rack below place a large baking dish filled with water. Bake for 1½-1¾ hours until edges are set and the centre barely jiggles when you shake the pan. Remove and let cool completely. Run a sharp knife around edge of pan and remove sides. Cover with plastic wrap and refrigerate for at least 3-4 hours.
To make the topping beat cream until stiff peaks form and spread over chilled cheesecake. Drizzle with passionfruit just before serving.