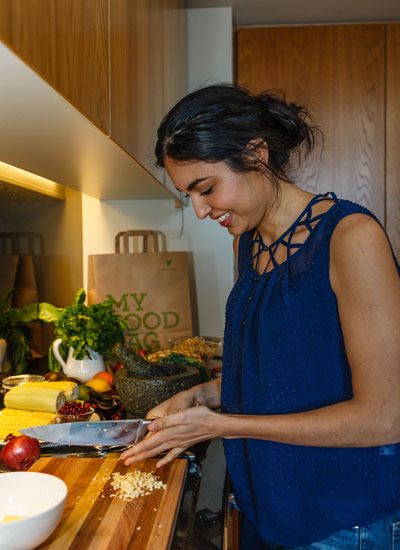 She's the dietician who doesn't believe in diets. She's also a breath of fresh air in a food universe full of dos and don'ts, recipes that require magic ingredients and expensive powders and potions available only from specialist food stores. Meet Malaysian-born Kiwi Nadia Lim, winner of New Zealand's first MasterChef series, presenter of New Zealand with Nadia, a cooking show which has aired in 16 Asian countries and judge on My Kitchen Rules NZ. And all staying on track, she will soon be a household name in Australia as the creator, chief cook and dietician behind My Food Bag (MFB), a home-delivery ingredient and recipe plan based on her simple, free-range, fast-and-fresh food philosophy.
"My approach is based on what I call nude food," she explains. "There is no secret to healthy eating beyond good food that avoids the factories by coming simply from the ground, the sea and the sky. In Australia and New Zealand we are blessed with some of the world's best produce and if you use as soon as possible after it's been harvested and treat it simply, you won't need to use a calculator to work out what you put in your mouth."
Visit http://www.myfoodbag.co.nz/ for more information and to test out Nadia's My Food Bag for yourself.
Read more about Australian Country's lunch with Nadia Lim in the food files section here.
Words Kirsty McKenzie
Photography Ken Brass
 Marinated kale, pomegranate and avocado salad
Serves 6
Prep time: 10-15 minutes
1 bunch curly kale
juice of 1 lemon
good quality extra-virgin olive oil
flaky sea salt
2 just-ripe avocados, sliced
seeds of ½ pomegranate
Strip the kale leaves from the tough stalks (discard the stalks). Wash well, pat dry, and finely slice the leaves. Add to a large bowl. Squeeze over lemon juice, drizzle with extra-virgin olive oil and sprinkle over a good pinch of sea salt.
Using clean hands, massage the oil, lemon juice and salt into the kale for 1-2 minutes – this helps to soften the kale and remove any bitterness. Place marinated kale on a serving plate and top with avocado and pomegranate seeds.
 BBQ eggplant with lemon, mint yoghurt, feta and pomegranate
Serves 6
Prep time: 10-15 minutes          Cooking time: 15 minutes
8 Lebanese eggplants
Olive oil
½ cup natural unsweetened yoghurt
Juice of ½ lemon
3-4 tablespoons chopped mint leaves
50g feta cheese
Good quality extra-virgin olive oil
Seeds of ½ pomegranate
more mint leaves, to garnish
Cut eggplants in half lengthways. Brush with olive oil and season with salt. Grill on the BBQ until soft and slightly charred, about 5-10 minutes on each side. Mix yoghurt, lemon juice and mint together, and season to taste with salt and pepper.
To serve, arrange grilled eggplant on a serving plate. Drizzle over mint yoghurt and crumble over feta cheese. Drizzle with a little extra-virgin olive oil. Scatter over pomegranate seeds and garnish with extra mint leaves.
 Grilled pineapple with Basil Lime Sugar
This combination may sound unusual, but boy does it work! Caramelising the pineapple brings out its juices and natural sweetness, and together with the very fragrant basil lime sugar and a squeeze of lime, it is absolutely divine, yet surprisingly simple — this will become one of your favourite summer desserts, and it's a great one to do on the BBQ.
Serves 6
Prep time: 10 minutes          Cook time: 5 minutes
1 whole ripe pineapple
small knob of butter
about 10-15 basil leaves
zest of 2 limes
1/3 cup sugar (plain white sugar works best for this recipe)
Natural unsweetened thick Greek yoghurt, to serve
1 lime (use one of the zested ones above), cut into wedges
Cut the skin from the pineapple, then cut in half lengthways. Slice both halves of the pineapple into 1cm-thick slices. Use a small knife to cut out the tough inner core (in a triangle) of the pineapple slices.
Grill pineapple slices on the BBQ, for about 2 minutes on each side, or until caramelised. Alternatively, melt a knob of butter in a large fry pan on medium high heat and, when it starts to bubble and turn brown, add pineapple slices and cook for about 2 minutes on each side to caramelise.
Place basil leaves, lime zest and 3-4 teaspoons of the sugar in a mortar and pestle, and bash/grind until it becomes a green paste. Add the remaining sugar and mix with a teaspoon – it will turn into a bright green coloured sugar.
To serve, arrange 3–4 slices grilled pineapple on a plate, sprinkle over a couple of teaspoons of basil sugar and serve with a dollop of yoghurt on the side. Serve with a wedge of lime to squeeze over just before eating.