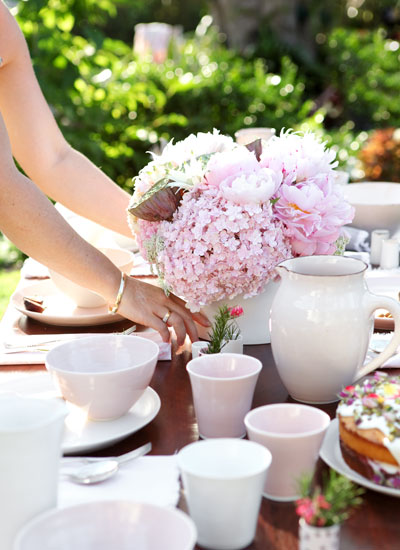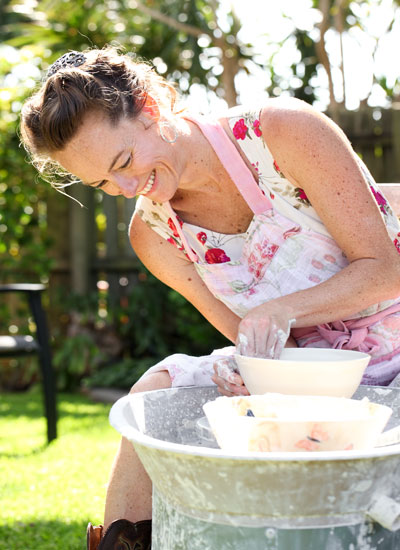 The wheel has turned a full circle for Queensland ceramic artist Shannon Garson, who now finds herself living very happily in the country town she once couldn't wait to leave. Returning to Australia in the late 90s after travelling and working overseas, Shannon set up her shingle as a ceramic artist specialising in handmade porcelain vessels. "I've always been a keen cook so tableware was a natural direction for me," she says. "I was inspired by the beautiful 19th-century English pottery tradition that reflects local flora and fauna. So I make plates, cups and bowls inspired by the natural environment and decorated with repeatable designs for my daily range. I also produce one-off exhibition pieces. They are all functional pieces, even though people might not choose to actually drink or eat from the exhibition work." These days Shannon and her husband, jazz musician and cheesemaker Trevor Hart, both work from the back of their charming weatherboard home in Maleny. Australian Country were lucky to visit Shannon and her family where she baked us two delicious cakes. For more information on Shannon's work visit shannongarsonporcelain.com.au.

Pavlova Pavlova is a dessert that can seem intimidating. Piles of pure white marshmallowy meringue piled high and transferred gingerly to a hot oven and baked into a cloud of pillowy sweetness. It really only contains two ingredients – egg whites and sugar, and there are only a couple of things to remember. The first is to make sure your beaters and bowl are very clean and totally dry. Keep those egg whites pure and unadulterated. The other is that the perfect pavlova takes a lot of beating (more than you think possible). 8 egg whites 2 cups caster sugar Heat the oven to 180˚C. Beat the egg whites until soft peaks form. Now for the important part, add 1 cup of sugar and keep beating, keep beating, keep beating; you will know when to add the second cup by the fact that the meringue starts to look glossy and if you taste a little bit it will be smooth, not grainy. Add the second cup and repeat. The beating will take 7-10 minutes. When the mixture is glossy, tastes smooth and holds stiff peaks without slumping, splodge it out onto a baking tray covered in non-stick baking paper, I like to pile it as high as possible and rough up the edges so those little crisp, meringue peaks form at the top. Put the pavlova in the oven and turn the oven down to 150˚C. Cook for 1½ hours. If you pull the pavlova out of the oven before it is cool it will probably crack but that is ok, covered in whipped cream, strawberries and other tart fruits it still looks abundant and beautiful. As Leonard Cohen says "There is a crack in everything, that's how the light gets in."

Lemon Cake with Sour Cream Orange Blossom Icing 240g softened butter 200g caster sugar (a scant cup) Grated zest and juice of 1 lemon ¼ cup milk 3 large eggs 2 cups self-raising flour Preheat the oven to 180 degrees. Cream the butter and sugar until the butter turns a pale, fluffy yellow. Add the eggs, lemon zest and juice and milk and continue beating. Stir in the flour with a spoon. Bake in the oven for about 1 hour or until the top is golden and a skewer comes out clean. Turn out and allow to cool before icing. Sour Cream, Orange Blossom Icing 300g sour cream ½ cup icing sugar 1 teaspoon orange blossom water Finely grated orange rind Mix all the ingredients together and beat until smooth. Ice the cake and decorate with rose petals, pistachios, Persian fairy floss, candied orange rind and other good stuff!