It may not have been the most romantic of gifts, but Kylie Warrington says it quickly became one of her most treasured. When her then fiancé, Peter, excitedly ushered her outside their Canberra home to reveal the John Deere 855D Gator that was waiting on a trailer out the front, Kylie admits she may have been slightly underwhelmed. But closer acquaintance with the 4WD all-terrain utility vehicle on their hobby farm in the rugged hills behind Narooma on the NSW south coast changed her perception. These days Peter says he practically has to fight Kylie for access to the Gator, as it has become her vehicle of choice for all shifting and carrying jobs and getting around the steeply sloping terrain of their 10-acre (four-hectare) block. In fact, she is so fond of the Gator that it doubled duty as a bridal car when she and Peter married in December last year at nearby Tilba Tilba.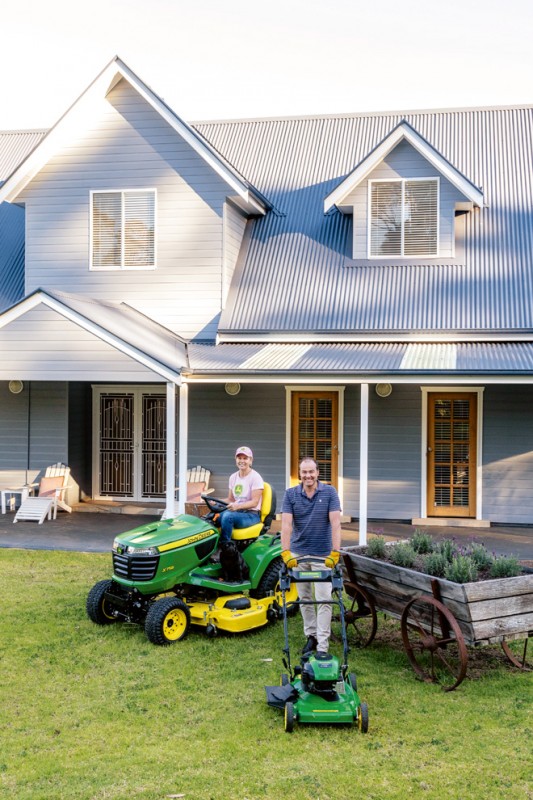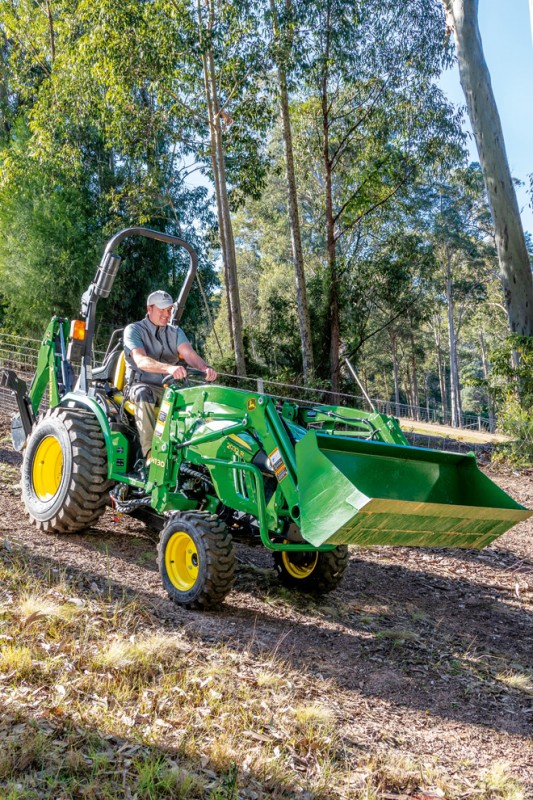 The Warringtons bought their property at the end of 2016 after a six-month search. "We initially looked at land around Tilba," Peter recalls. "But ever since Paul West of [TV series] River Cottage Australia put Tilba on the map, everybody wants to live there, so we had to look a bit further afield."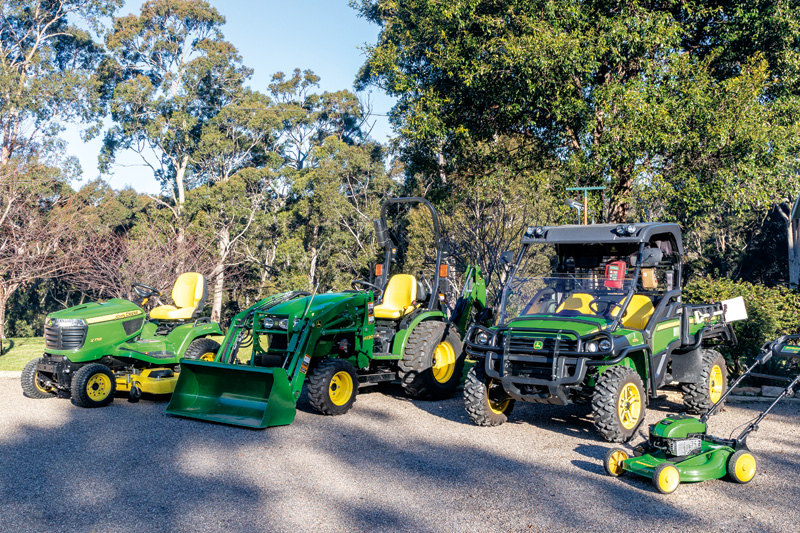 The couple say they regard the farm as their future retirement home. Kylie grew up on a Merino sheep property in Victoria's Grampians district, but Peter is a complete rookie at living on the land. They have big plans for their hobby farm and intend to run a small herd of miniature Black Angus cattle as well as plant a large vegie patch and orchard so eventually they will grow much of their own food. "We're project people," Peter says. "We both have office jobs, so coming down here on weekends and building fences or clearing undergrowth and chipping it is relaxing to us. We want to be as hands-on as possible when it comes to running the farm, but already we've had lots of help from many talented tradies who live along our road."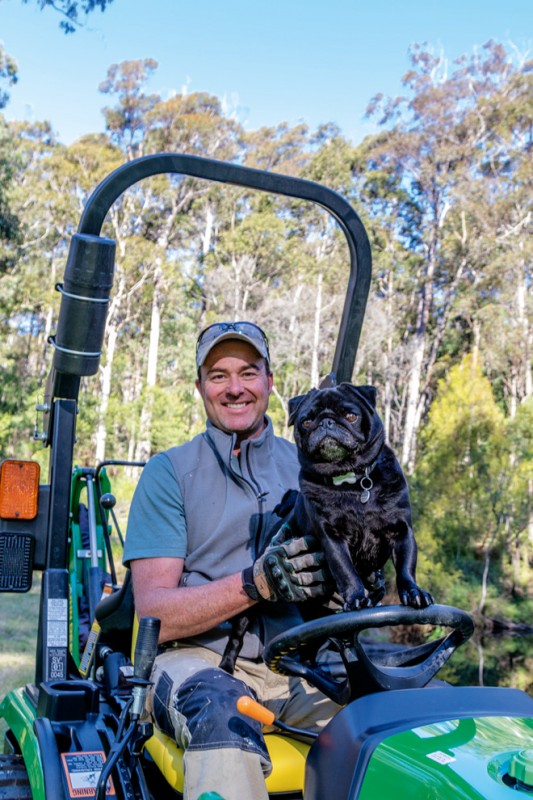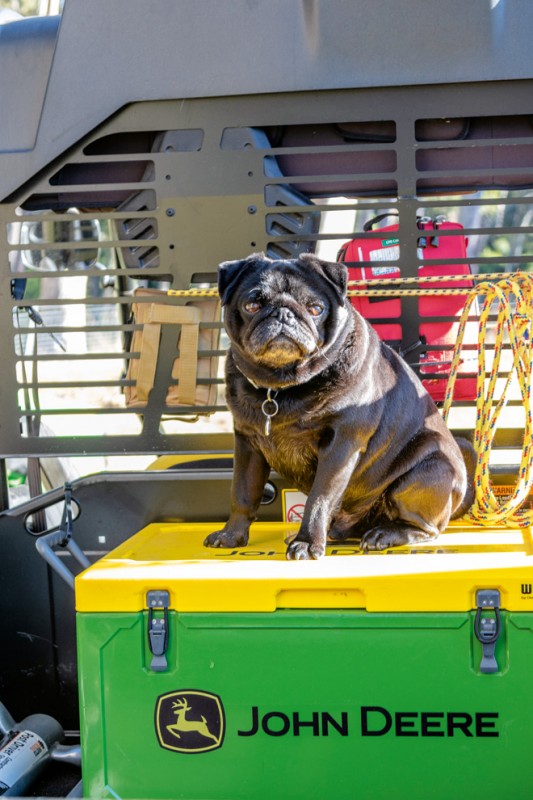 They'd already cut their teeth at renovating by doing up three houses in Goulburn and a beach shack at Narooma. "We do everything we can including the painting, gardening and decorating," Kylie says. "But we outsource the technical stuff such as plumbing and electrical to contractors. With each renovation and sale, we got closer to buying our own place in the country." When it came to buying machinery, Peter was adamant that he wanted the best that was made to last. "My father taught me that if you invest wisely, it will repay you with many years of use," he says. "You may end up spending a bit more to get precisely the right vehicle for the job, but you save on efficiency and repair bills down the track."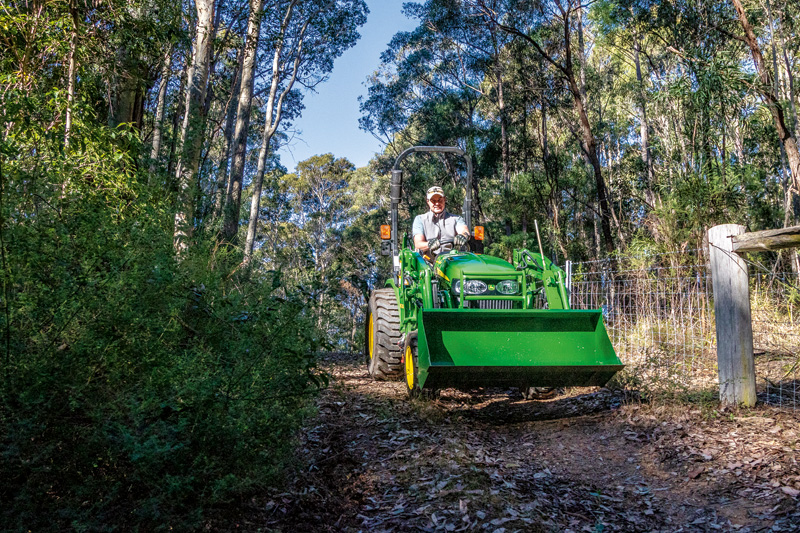 With that in mind, shortly after they purchased the farm Kylie encouraged Peter on an outing to the Murrumbateman Field Days. "All the manufacturers bring their wares to the field day," she says. "So you can do your comparisons right there on the spot without having to traipse from dealer to dealer." Peter and Kylie had the first of what they call their ''Oh Deere'' moments when they came away from Murrumbateman as the proud owners of an X758 ride-on mower. Their next purchase was a 2 Series 2032R tractor, purpose built for small-to medium-sized farms and compactly scaled so driving it is not daunting. Then came the "wedding" Gator and finally a walk-behind mower for access to the tight spots the ride-on mower is too big for.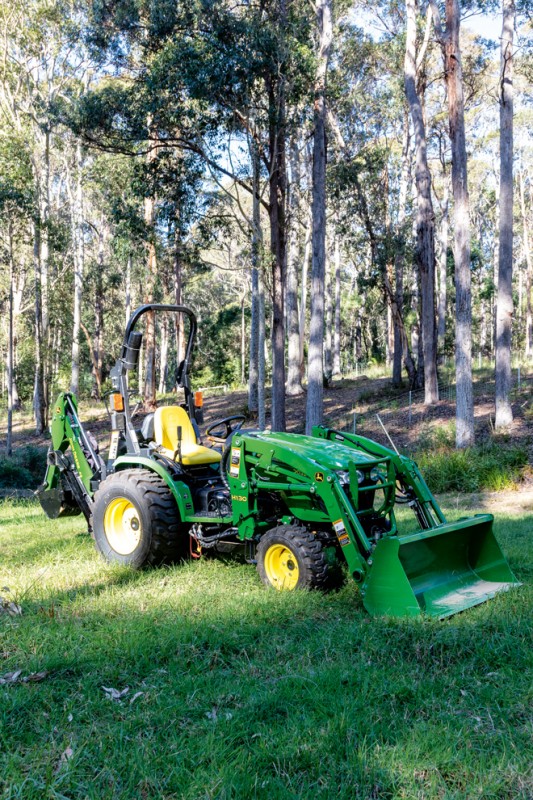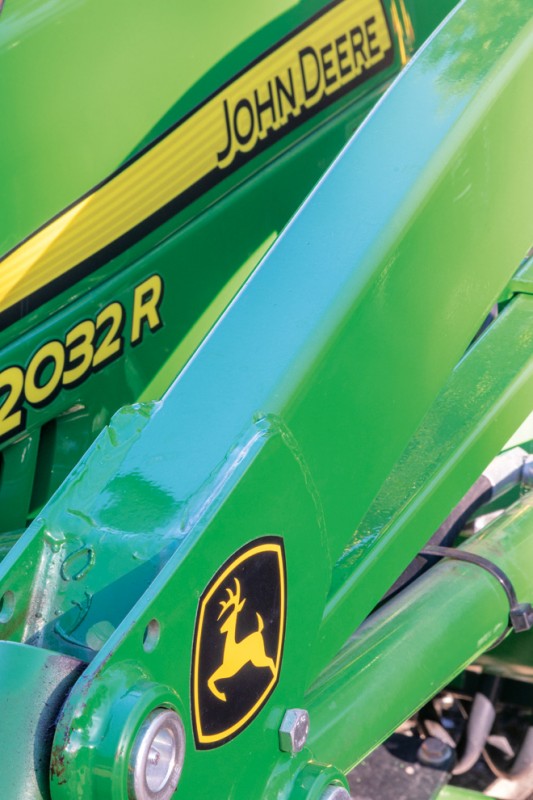 "I reckon it looks like a John Deere dealership when they are all lined up out the back," Kylie says. "However, the fact is they all serve a very important purpose." Peter adds that each machine is designed to be both solid and heavy duty, with most of the weight close to the ground, which is an important consideration when dealing with the steep site and its deep valleys. "The sales rep from Agriquip Machinery Co in Bowral took a lot of time taking our needs into consideration," he explains. "With each purchase, he came down to spend time on the farm with us and make sure we were completely trained in how to use it. That after-sales service was one of the reasons I kept coming back to that particular branch." As it turns out, John Deere has a long tradition of backing farmers and listening to their concerns. The company was founded in the US state of Illinois in 1837 when the blacksmith John Deere developed a plough that was better suited to the thick prairie soil of the mid-west than those that had been developed for the sandy loam of the eastern states. In 1886, shortly before his death at the age of 82, the founder proudly claimed that he had "never wilfully wronged any man and never put on the market a poorly made article". John Deere entered the tractor industry in 1918 when it took over production of the Waterloo Boy tractor. A century later, the company remains as committed as ever to providing trail-blazing technology with the right machine for the task.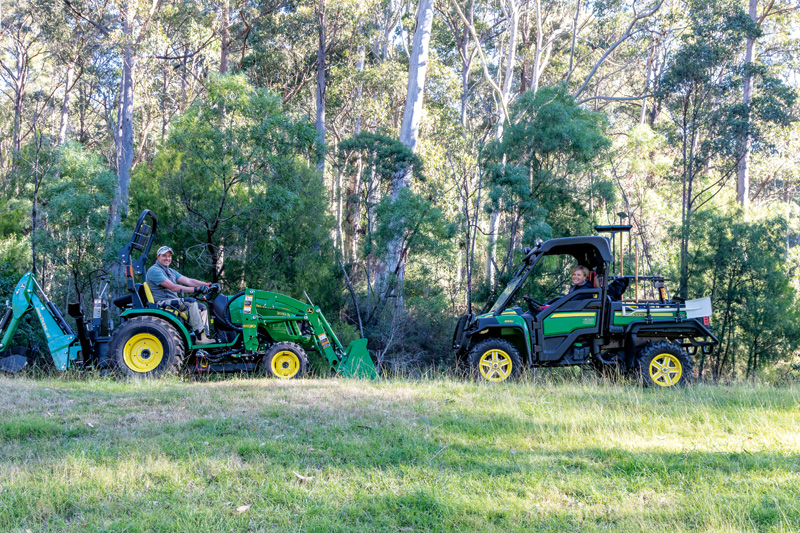 By the time of the Great Depression the company was known as a major manufacturer of tractors, harvesters, haymaking and other farm machinery, and further earned its clients' trust when it took on $12 million in farmer notes and extended terms on already purchased tractors and power farming machinery. Although sales took a big hit, the company earned strong farmer loyalty. Today the company is still regarded as the farmer's friend, with operations in 35 countries around the world. On the day Australian Country caught up with the Warringtons, they had their sleeves rolled up clearing fallen sticks and branches from their land. With a chipper attached to the ride-on mower, they were turning the windfall into mulch for the garden. Later in the day, the back hoe on the tractor was deployed to dig some holes to plant new trees for the garden, and then Peter took the hand mower for a spin to trim the lawns close to the house. "Everything functions precisely as it should," Peter says. "The tractor, in particular, is the ultimate manageable work horse and will end up being the most-used machine on the farm. That seems appropriate given that John Deere is celebrating 100 years of tractor manufacture this year.''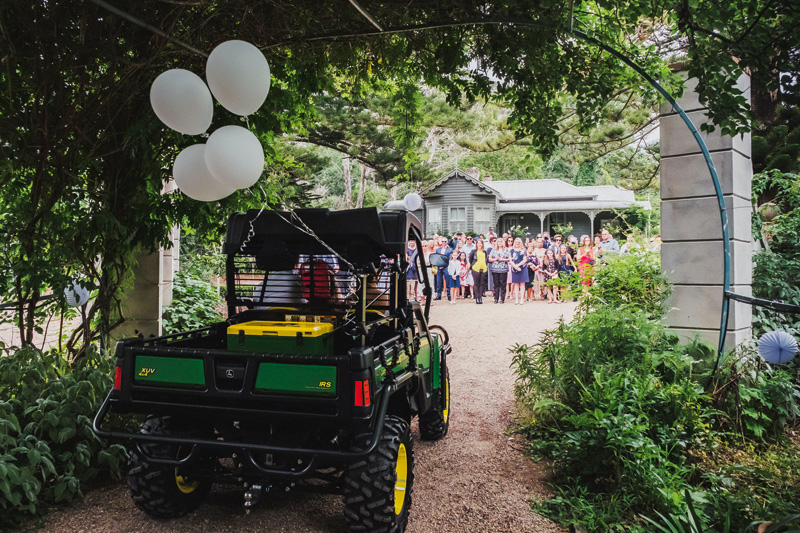 ''Before we can introduce the cattle, there is a lot of work to be done,'' Kylie adds. ''The tractor was essential for building fences and clearing the tracks through the land. Now we need it to address all the undergrowth so the cattle can graze between the trees. It's a big job but we're taking it steady and working away at the clearing one weekend at a time.'' Kylie and Peter say they have a 10-year plan, in which time they hope to be semi-retired and live perhaps four days a week on the farm and three days in Canberra. Already Kylie has scaled back her working week to four days, so she can spend more time in the country.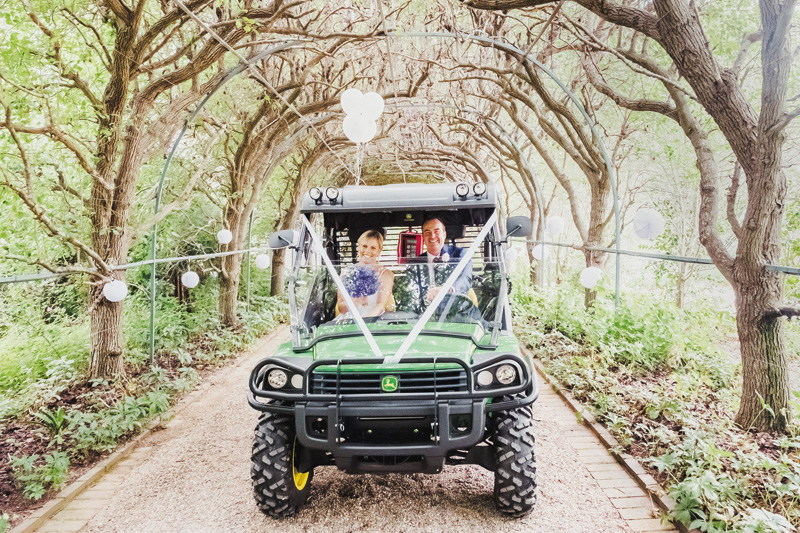 One question, however, hangs over our conversation. Are there likely to be any more equipment purchases down on the Warrington farm? "I doubt it," is Kylie's hasty response. "We'd have to build a bigger garage." "I think we are pretty well set up," Peter adds. "But there is this attachment for the tractor that has pincers for grabbing logs and picking them up." Kylie nods in agreement. "That would be pretty handy," she allows. "After this morning's stick picking, I guess some things are open to discussion."
For more information visit www.deere.com.au
The complete story was originally published in Australian Country issue 21.5. Click here to subscribe to our magazine
Words Kirsty McKenzie
Photography Ken Brass