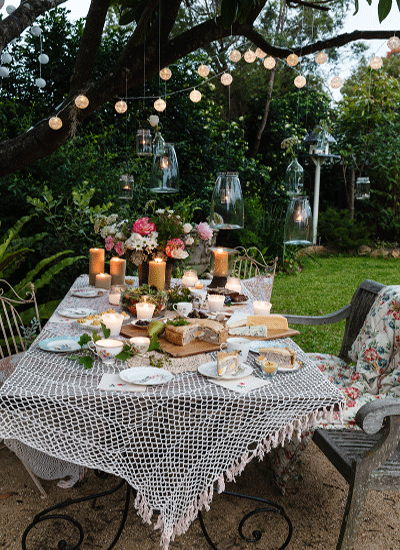 We're taking cues from the Earth Hour movement by turning out the lights for this teatime affair.  This year Earth Hour Australia focussed on celebrating, and committing to protect, our great Aussie food and farmers. All Australians are proud of our farmers for producing food that's safe, healthy, fresh and delicious. But Aussie farms are on the frontline of climate change, already experiencing more extreme weather. We need to transition Australia away from fossil fuels such as coal and gas to abundant, affordable renewable energy.  So turn out the lights and bring out the beautiful Happy Flame beeswax candles.
The secret to good picnic fare is its portablity and provided you have a means of keeping your food and drink cool, it's hard to beat the essential elements of a ploughman's lunch as a starting point … pork pie, cheeses, pickled onions, cornichons and good old Branston pickle.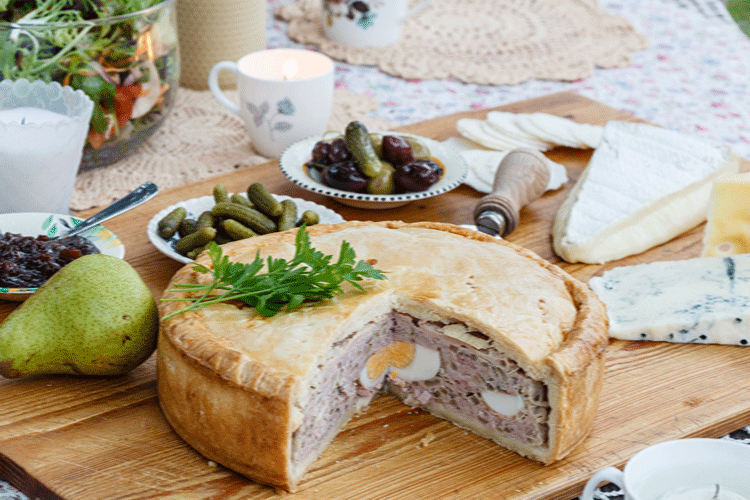 Floating candles in vintage teacups is a cute and effective way of adding ambience to the setting as well  as protecting the flames. Ensure the water level is not too high in the cup or the candle will blow out.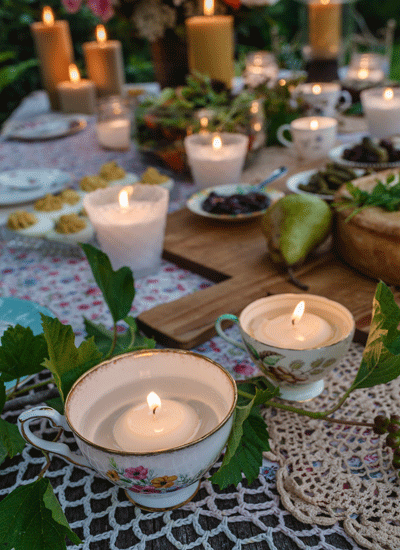 To make the pork pie pastry combine 3 cups of flour with a pinch of salt and rub in 250g of cold, cubed butter. Mix to a dough by adding chilled water 1 tablespoon at a time. Knead until smooth, then divide dough into one third and two thirds. Wrap in plastic wrap and refrigerate to rest dough before rolling out. Grease a 22cm springform pan and line it with the two-thirds dough.
To make filling, combine 500g pork mince, 250g chopped bacon, 1 chopped onion, 2 tablespoons each chopped sage and parsley and 1 lightly beaten egg in a bowl and mix together well. Place half the pork mix into the pastry case, dot with 8 halves of hard-boiled egg, cover with remaining filling. Roll out remaining dough, cut a circle with  the diameter of the pan and lift lid in place. Trim pastry, roll over lid and seal by pressing the edges together with the tines of a fork. Brush with  beaten egg yolk, bake in preheated 180C oven for 1 hour. Cool.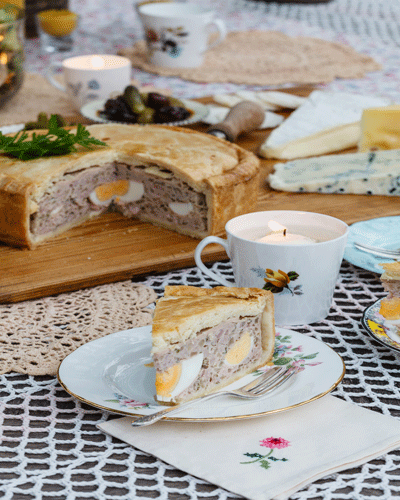 A big billy full of cottage flowers complements the lace and soft floral table linen perfectly.
Tip: The devil's in the detail, use tealight candles to frame the flower setting.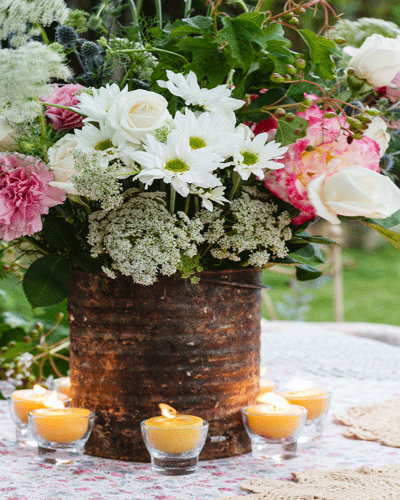 It wouldn't be a picnic without something sweet to finish. And what better than a good old-fashioned sticky ginger syrup cake to complete the picnic menu?
Remember – if ever in decorating doubt, use flowers!