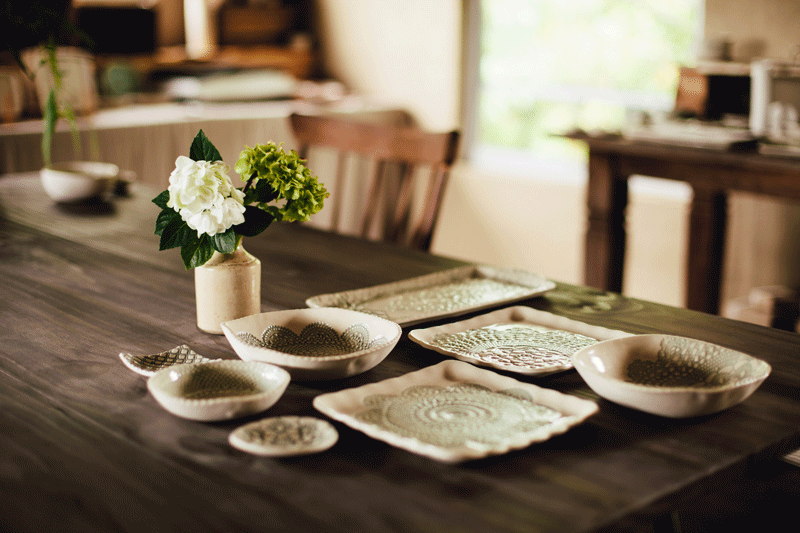 The beauty of Tinbeerwah's lush trees, sweeping hills and mountain views filters through the windows of Kim Wallace's studio and falls gently across the delicate ceramics that line the shelves. Some are glazed and fired; others are waiting for an application of carefully chosen colour; some are still in clay blocks, waiting to be made into something wonderful.
The studio, which is attached to the house that Kim shares with her husband, Greg, and their two-year-old daughter, Elissa, is the legacy of another creative — an artist who used the space for painting — and its wooden floors bear the splatters of projects painted by the previous inhabitant.
"It seemed perfect," Kim says of the house and studio. "When we came back from overseas and were looking for somewhere to establish ourselves, Queensland's Sunshine Coast seemed a great place to raise a child. We were lucky to find such a perfect space for my art as well."
A born artist, Kim started developing her range of ceramics in 2008, after leaving her job as a graphic designer. Though she was using artistic skills, Kim found that spending day after day behind a computer wasn't achieving the creative lifestyle she was seeking.
"I'd always done a lot of art classes when I was younger — drawing, painting and ceramics too — and I really missed that," she says. "I sort of thought that the graphic design job I had would allow for a bit more of that creativity but it's not really like that."
After becoming a freelance graphic designer, Kim took Greg's advice and began Udessi, an online directory of Australian artists. "Freelancing gave me a bit more time, because you don't always have full-time work so I was able to start my own thing," Kim says. "I could never really find Australian gifts. I knew people made beautiful things but I didn't know of a spot where I could find them all."
Udessi was created in order to provide artists with a place to showcase their works and products. "I wanted to create a space for artists to sell their works and somewhere I could sell my own works too," Kim says. "At that stage I didn't even know what that was yet."
Kim experimented with different media until she found the perfect thing and realised that part of the fun was getting her hands dirty. Coupling a love of working with clay with a chance find at a St Vincent de Paul op shop, she had found her niche.
"I found a box of doilies at Vinnies and, looking back now, that trip was actually pretty special," she says. "Most of the doilies I use now are from that original batch and I didn't think much of it at the time — but now I know how difficult it is to find the right doily, I think I should have bought the whole box!"
Kim has found that the perfect doily is a crucial component of a beautiful piece. Though generally thought of as "those things under ornaments at Grandma's house", doilies differ significantly in size and pattern, and consequently provide a range of various lace imprints. "I still always look, but it's so particular with what works and what doesn't in the clay," she says. "Some just look terrible and messy, and quite ugly once it's all set."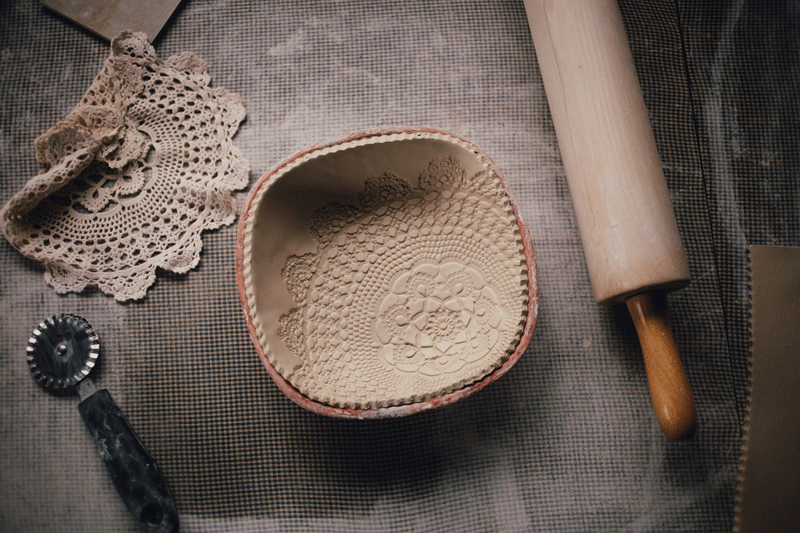 Each bowl, vase, ornament and piece of jewellery is created with the same sense of creativity. The perfect combination of prettiness and practicality, these ceramic beauties are one-of-a-kind pieces, which feature intricate lace detailing and soft colourings. They go through a lengthy process between rolling through a press to leave a beautiful lace impression and being ready for sale. The precision of this process is balanced nicely by the natural warping of the clay when glazed and fired.
"I think people love it because each piece is unique," Kim explains. "They're never perfect but that makes them look handmade. I have people looking for the wonkiest bowl or the piece with the oddest shape."
Discover more about Kim Wallace in the Dec/Jan issue of Australian Country Magazine. Click here to purchase this issue!