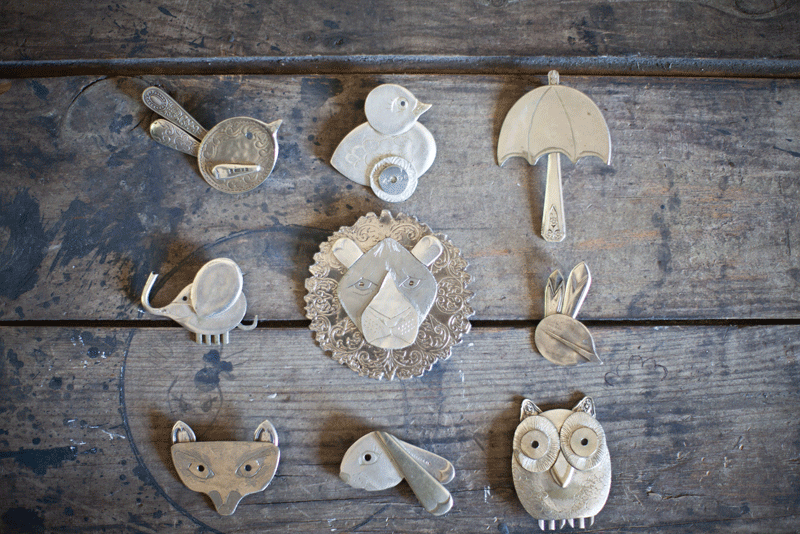 Tucked down a quiet street near the historic Heronswood homestead east of Melbourne is a secret studio where antique  cutlery is transformed into wearable art. It's a place where the prongs of a fork become the legs of an octopus, an old metal tea tray the mane of a jungle lion and the rounded tops of tarnished teaspoons the tail of a fat sparrow.
The Alice of this wonderland is Megan Greenwood, a young silversmith whose love of the natural world comes from growing up with a menagerie of animals. "My family lived on a farm, so I was surrounded by pets and wildlife," Megan explains. "My parents always encouraged my creative side and these two loves came naturally together. Creatures of the Greenwood started in 2008 after a friend and I had been busy making spoon necklaces and rings for ourselves. I was admiring a beautiful big soup spoon, which I thought looked like a bird, and started thinking of all the other little creatures I could make from it."
While Megan mostly looks to our furry friends for design ideas, inspiration also comes from an unusual "My parents always encouraged my creative side and these two loves came naturally together." From her Mornington Peninsula base, self-taught silversmith Megan Greenwood creates wearable art inspired by her childhood animal menagerie. "I'm very influenced by my dreams and trying to recreate them; I literally dream up some of my designs," she says. "Sometimes they're a little scary but mostly they are fun and adventurous, wild and kooky. That's where my little creatures often come from. They're dreams in a solid object, something I can share with people."
The success of this self-taught silversmith has seen her collection featured at several shopfront stockists injust over a year, in addition to online sales. To expand her range and knowledge, Megan has recently enrolled in an advanced diploma of engineering in jewellery at the nearby Box Hill Institute. "I've been lucky enough to have family and friends helping me source antique cutlery," she says. "But it's been getting harder to find  beautiful pieces. I'm always on the lookout! The diploma will help me create from a vast spectrum of materials rather than be limited to just cutlery. This will also allow me greater creative control over the ideas I wish to express."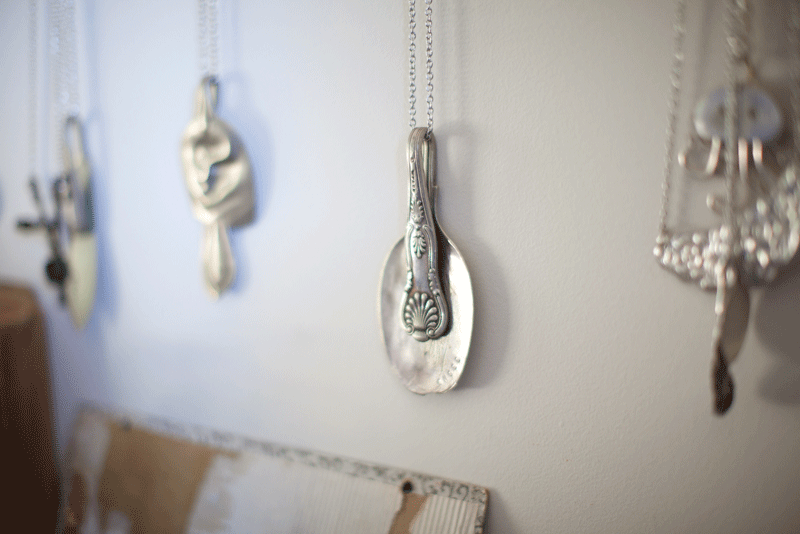 To the fans of her quirky artform, Megan's professional persona is Emgee, which came from merging her first and second names. "The concept of Emgee is the child in me that will never grow up," Megan explains. "She's a true inspiration. Emgee is a little vintage girl who loves to play in the ocean and forests and by drawing from that I can put that into jewellery for other people to enjoy and be inspired by. "I hope that when people see my work it reminds them of the dreams they may have had, the fact that we still need to nurture our inner child and that the worlds we created as children are still valid in our adult years." And, as Megan studies and refines her craft, gaining attention and encouragement from well-established designers and artisans, we're sure those concepts will continue to inspire and delight.
To learn more about Megan Greenwood visit the Emgee Facebook page or her Etsy profile.