In keeping with the theme of turning over a new leaf we kept our menu light and healthy, with fresh spring rolls, and a yummy chicken salad to follow. Tropical fruit salad and a ginger-spiked juice complete the spread.
There are few ingredients more versatile than the Asian rice paper wrapper. After brief soaking in warm water, the wrapper can be used to enclose myriad delicious and healthy fillings. Go down the traditional Vietnamese route and fill the roll with sliced cooked prawn, cooked chicken or pork mince, bean thread noodles, chopped mint and coriander or let your creativity run wild and fill the  wrappers with any combination of salad, tofu, seafood and meat that appeals to your palate. We've a particularly soft spot for a Peking duck version that encloses Chinese BBQ duck meat, cucumber sticks and hoisin sauce.
We used goose eggs for our placecard bases, but you could easily substitute regular hen eggs if don't have access to geese. To blow the eggs, use a skewer to puncture a hole in either end of the egg, then hold one end of the egg to your mouth and blow gently until the yolk and white empty through the hole in the other end. Gently tap the end to open it up so you can fill it as desired.
There is nothing so refreshing as fruit to end a meal. Pineapple not only makes a lovely addition to any fruit salad, but also doubles duty as a serving container. We scoured the greengrocer for tropical treats for this fruit salad and came away with mango, banana, papaya and passionfruit. Sprigs of mint provide an aromatic boost.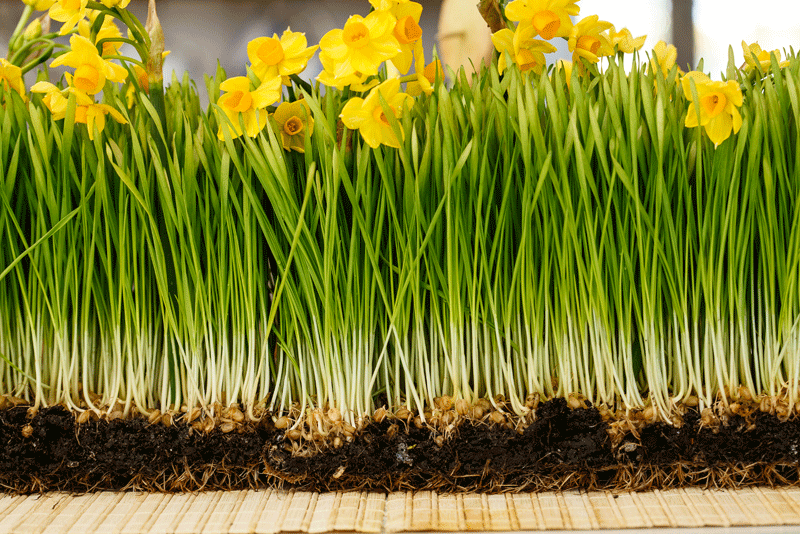 Our gorgeous table centrepiece started life as a tray of wheatgrass. We added splashes of colour by interspersing the grass with jonquils and the cute little placecards made from goose eggs filled with flowers and grass. Top it off with a name card made by sticking paper pointers onto a toothpick and finish them with dragonflies, available from cake decorating suppliers.
Find out more tips and tricks to create the perfect spring lunch in the September/October issue of Australian Country magazine, available for order and online now!