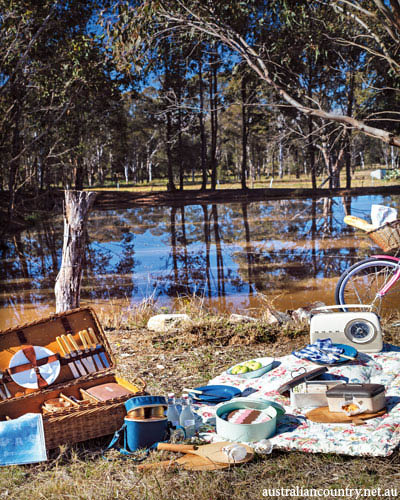 Photography Ken Brass
Styling Sandra Hinton
This shoot was originally published in Australian Country issue 15.6. To subscribe to the magazine, click here.
 
Bacon and egg tarts, marble cake and finger sandwiches will satisfy the heartiest appetites
 
To make bacon and egg pies, trim 8 rashers of bacon and line the sides and bases of 8 holes of a muffin pan. Whisk 8 eggs with 1 x 300g container of sour cream and pour into lined pan holes. Bake in 180°C oven for 15–20 minutes or until the filling sets. Of course you can't go past a sandwich and an apple to stave off any remaining hunger pangs brought on by the combination of all that fresh air, exercise and sunshine.
 
Old-fashioned ginger beer starts
 
A portable radio adds to the retro mood and provides a soundtrack for the picnic.
 
Don't forget to pack a Thermos filled with fresh coffee, herb tea or whatever your hot drink of choice is.
 
Anyone for shuttlecock? This game for all ages can be played as singles, doubles or as a team (with three players on each side).
 
Popular sandwich fillings include leg ham and mustard, egg mayonnaise with lettuce and smoked salmon with herb and caper cream cheese. We're also big fans of shredded chicken with mayo, chives and chopped celery.
 
Slabs of marble cake are the quintessential way to end a retro picnic. Divide a basic butter cake mixture in 3 and colour one portion pink, one with cocoa powder dissolved in water and leave one plain. Place generous spoonsful into the cake pan, swirl through with a knife or skewer and bake according to the recipe instructions. The icing is easier than it looks. Divide a quantity of firmish icing into 3 and colour one portion pink, one with cocoa and leave one plain. Ice the cake in 10cm-wide strips then, working in alternate directions, drag a skewer or knife across the strips to create the pattern.