By Kirsty McKenzie, photography Ken Brass
Justine McNamara has loved caravans for as long as she can remember. Growing up on Victoria's Mornington Peninsula she fondly recalls summer holidays on the road with her family. "We always stayed in caravans," she explains. "My grandfather actually built a couple of vans when he retired so that was our holiday accommodation when we were growing up. In fact I was actually conceived in a caravan while my parents were travelling along the northern Queensland coast. My dad was a builder, so we were always moving around. I lived in 28 different houses before I left home to study graphic design in Ballarat."
These days Justine lives with her cruise boat operator husband, Troy Muir, and their daughters Matilda-Pearl, 10 years, and Bonnie, four years, in an organic beach house that nestles into the dunes behind the Mornington's bracing Bass Strait frontage. True to her builder's daughter's upbringing, she admits that their home is a "work in progress" where family life, her painting and Troy's family business, Port Phillip Bay's Polperro Dolphin Swims, come together in a sometimes chaotic, sometimes idyllic, whole.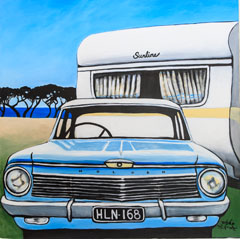 Coming across photographs of those treasured beach camping holidays almost a decade ago, Justine was prompted to explore the subject in her art. She started with old annexe fabric and stencilled caravans on to the stripes and has been exploring the rounded retro forms of the vans of the '50s and '60s and the cars that towed them ever since.
"I was driving home one day when I came across a vintage caravan club meeting at one of the beaches," she recalls. "I nearly drove off the road I was so excited to see all those vans I remember from my childhood. There's no doubting the influence of my transient upbringing on my interest in the freedom of the temporary. As a society we often idealise the past regardless of the detail. Having my own children has helped spark a journey into my own childhood series, which ranges from holiday activities and pastimes to treasured objects such as old trikes and billycarts. I also enjoy reworking old 1950s illustrations that celebrate and support my thoughts on how we romanticise the past as these times were typically depicted as innocent and cheery."
Justine and Troy's home is a cheerful amalgam of this romanticised past. Quirky collectables and childhood mementoes are juxtaposed with the girls' toys and works of art in various stages of completion in the open plan living and sleeping sections. With the beach and its rockpools just a short walk away and their dad's family the pioneers of swimming with Port Phillip Bay's wild bottlenose dolphins, it's perhaps inevitable that the girls are growing up to be keen swimmers, snorkellers and beach lovers. The family recently enjoyed an interlude in Tonga, where they were privileged to swim with humpback whales.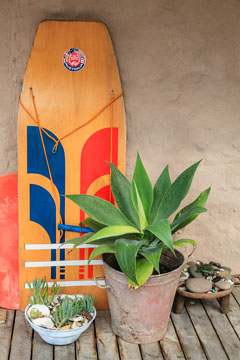 "I went to school with Troy's brother and for a while I worked as a deckhand on their cruise boat," Justine says. "Marine research and eco tourism are very important to our family. At the same time we wanted the girls to experience some of the freedoms we enjoyed as kids growing up on the beach and it's gratifying to see them soaking up the opportunities. I usually paint when they are at school and then spending time with them enables me to explore the themes I am developing on canvas. I have no doubt that some of my paintings reflect the things I had to give up as a consequence of our many moves. Perhaps it's a way of processing feelings of loss. But at the same time I am fascinated by transience. The caravans symbolise community and the family unit in a temporary state of happiness."
She adds that she deliberately excludes figures from her caravan works as she wants the cars and vans to represent the life that is held within them. However, she is totally happy to populate other works which might show people sailing, skipping, playing tennis or flying on a trapeize.
"I take great pleasure in revisiting and reinventing my childhood memories," she says. "I try to keep my work accessible and affordable and it gives me great joy when people respond with enthusiasm to the memories I am rekindling."