Artist Jo Anderson lives in a creatively chaotic world by the Victorian seaside.The glass is always half full for Jo Anderson. From Fairy Cake Pond, her home on acreage on Victoria's Mornington Peninsula the passionate collector, whimsical blogger and eternal optimist shares her joy with the world. "I'm married to Mr Australia and we have four very beautiful children," Jo announces in her blog profile. "I love playing house. I make your beds, sweep your floors. I'm trying so hard to make the best spot on earth for my family." In real time that's her husband, Peter, and children Jessica Opal, 28, Jordan, 26, Jeremiah, 19, and Angus, 16. Together with a menagerie of animals — Dorothy the hen, Izzy the dog, Mr Bella Donna the cat and six magpies — they populate a life that's creatively chaotic and filled with a vast circle of artistic friends who spark off each other, barter for each other's works and drop by for afternoon teas and "sing for your suppers". Builder Pete built the house they share behind the dunes of Gunnamatta Beach. Jo coloured in the details with an amazing pastiche of old wares, art works, recycled fabrics, flowers and vegies from her garden and her very own fairy tales under glass, the 3-D collages she assembles from vintage dolls, bric-a-brac, children's toys and tea sets grouped under glass cloches.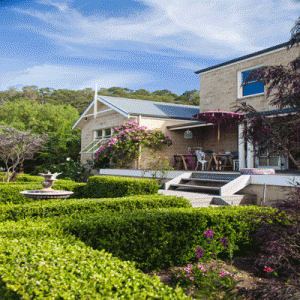 If it sounds idyllic, it wasn't always thus. A car accident at 15 led to a very serious foot injury, which meant Jo had to spend a year in hospital The debilitating injury wasn't repaired until relatively recently. Things weren't all that dandy at home either, and Jo lived with her grandparents from the age of 11. "The upside of living with my Nana is she introduced me to making things and appreciating bygone values and objects," Jo explains. "From her I learned to craft, knit, sew and make the most of what you have in life. It really has coloured my entire approach."
It wasn't until 2007 that Jo was finally able to have restorative surgery on her foot. Aware that hospital could be torture for one so accustomed to perpetual motion, her kids gave her a laptop. Her blog, filled with witty and wry observations on life and the human condition, started flowing, and these days her oldflowers4me.blogspot.com has thousands of viewers.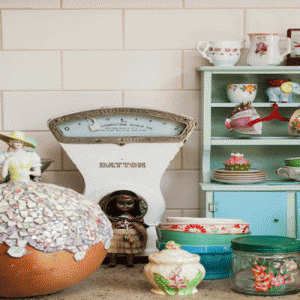 The blog has given Jo the opportunity to "sing and skip" through life like Little Audrey, the iconic Melbourne vinegar advertisement neon sign. Listing inspirations as diverse as naive artist Mirka Mora, brother-and-sister folk duo Angus and Julia Stone, Engish children's bedtime story heroine Milly-Molly-Mandy and America's queen of shabby chic, Rachel Ashwell, Jo has honed her signature style. "I've no formal art or design training," she says. "I started with food covers for picnic tables but I'll try my hand at making anything … jewellery, golliwogs, dolls, quilts, teddy bears. I see something in an op shop, or people give me old things they perceive as junk and off I go. I just love the process of building pleasing pictures."
Find out more about the whimsical world of Jo Anderson in the May issue of Australian Country, on sale now!