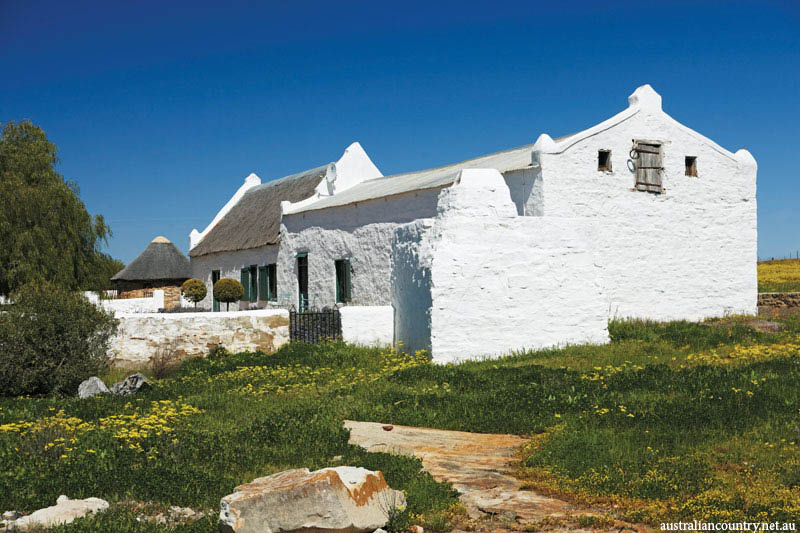 The houses on the sizeable farming estate of Papkuilsfontein have been rooted in this arid, semi-desert landscape for centuries. Located in the Nieuwoudtville region of the northern Cape of South Africa, the farm of Papkuilsfontein belongs to the van Wyk family, which has been linked to the area for multiple generations.
Life here is harsh, with the area's climate characterised by freezing temperatures in winter and summer heatwaves. This house, the oldest homestead on the van Wyks' land, is called Matjiesfontein. Driving from Cape Town to Papkuilsfontein, you realise once again that, as so often when travelling in South Africa, the journey is part of the destination. You leave the N7 behind at Vanrhynsdorp, heading east.
At this point, approaching Vanrhyns Pass, the landscape opens up into a vast expanse with this area's characteristic and special kind of arid splendour. Once up the pass, you feel closer to the sky and to the east across the plain lies the Hantam Karoo, stretching all the way to Calvinia and beyond.
It is in this harsh and simple landscape that the van Wyks have been farming for centuries, Matjiesfontein currently being home to Mariette and Willem van Wyk. The building is a langhuis (longhouse) built into two stages: the original side with a thatched roof, while the later addition has an iron roof. In front of the house is the original fountain of the farm enclosed in a low whitewashed wall, which creates an attractive old-fashioned voorwerf (front garden).
When Mariette and Willem had to move away from their previous home so their son and his wife could take over there, they decided to restore Matjiesfontein to its original look and feel. Willem researched each detail of the restoration and, together with the Vernacular Architecture Society in Cape Town (www.vassa.org.za) they slowly unearthed its beautiful and solid core.
Large, uneven flagstones were carefully removed from damp-proofing, then laid back exactly where they had previously been placed. The original reed and poplar beamed ceilings were restored and Willem cleared many coats of whitewash to reveal the original wall paints hidden underneath. These date back to the 1980s, when artist Antonie Buss travelled this part of the Cape.
This story was originally published in Australian Country issue 15.5. Subscribe to our magazine here.
Click here for more farm-life stories.
Words Sven Alberding/Bureaux
Photography Micky Hoyle