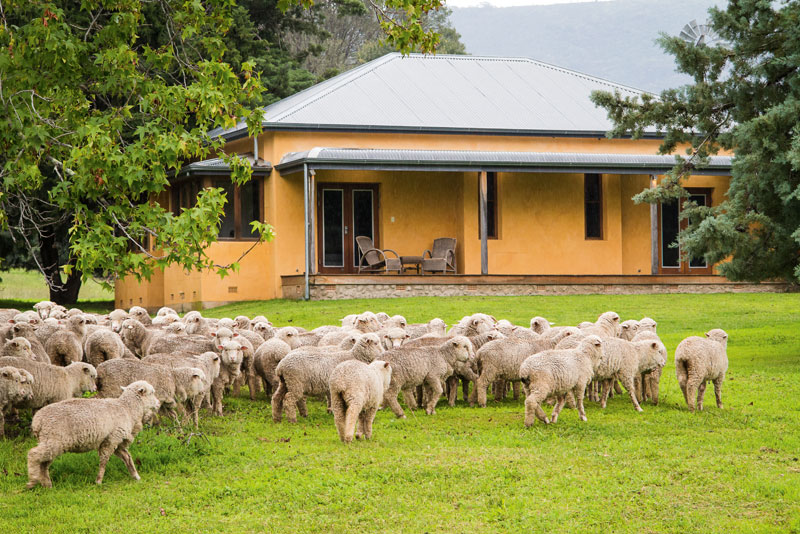 When Ian and Helen Cathles bought the 7500-acre (3000-hectare) Cooradigbee station at Wee Jasper in the NSW Brindabella Ranges, everyone told them the historic pisé homestead was beyond salvation. Built in 1911, when the flooding of the Murrumbidgee River to fill the newly constructed Burrinjuck Dam submerged the original homestead, Cooradigbee's homestead was indeed a sorry sight when the couple bought the property in 1988. Closer inspection revealed that the walls made of rammed earth reinforced with barbed wire were actually quite sound and Ian and Helen went ahead with a year-long renovation.
"The verandahs were hanging off all round the house," Helen recalls. "But once you looked past that, the main part of the building was actually in reasonable condition. There had been water damage in the breezeway where there once was a greenhouse, but we were able to keep the original cypress pine floorboards and cedar skirtings, architraves and cornices. The render is original and when we stripped back the masonite ceilings there were beautiful timber ceilings underneath."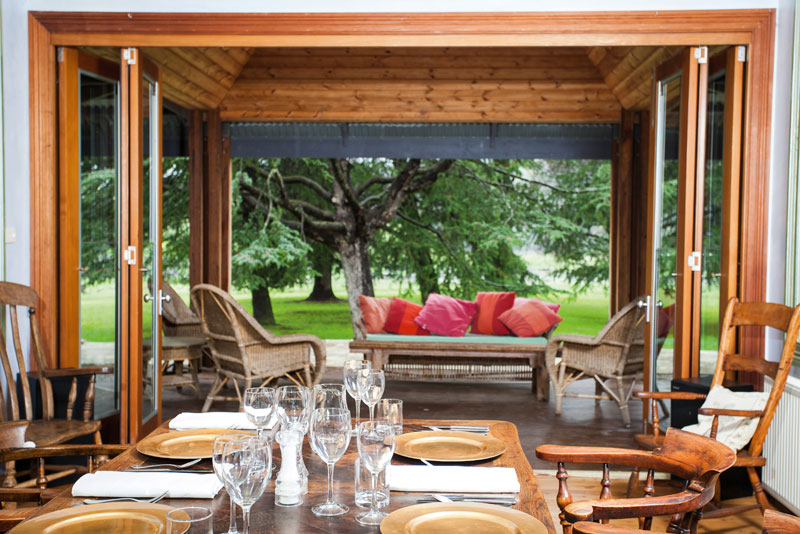 Ian's son and daughter-in-law devoted countless hours to sanding back all the timber surfaces and the interior spaces were rearranged, but kept simple with unadorned windows framing expansive views of the surrounding landscape. Early on Ian and Helen decided that in order to preserve the homestead, it would need to generate an income beyond that of the fine Merino and Angora goat flocks they run on the property. So they decided to turn the homestead into a boutique conference centre and farmstay accommodation and continue living at their home on the other side of Wee Jasper. As well, they offer more basic self-catering accommodation in the shearer's quarters adjacent to the shearing shed, which was built in 1940 after the 1939 bushfire burnt destroyed the original. The fire is one of the landmark events in the district's history and the homestead's front doors still bears the scars of how perilously close it came to being razed as well.
Cooradigbee's European history goes back to the earliest settlement of the Wee Jasper Valley. In 1831, seven years after explorers Hume and Hovell walked through the region, William Hampton Dutton, was given a land grant for his pioneering work bringing Saxon sheep to Australia and establishing the breed for the Australian Agricultural Company (AACo). When the sheep he moved to the valley died of salt deprivation he moved onto South Australia and the property was sold to Colin McDonald. In 1866, Samuel Barber, one of the largest and wealthiest landholders in NSW added the property to his already extensive portfolio. Four generations of Barbers continued to work Cooradigbee until the 1970s, and in more recent years, descendants of the founding family have returned to the Valley.
This story was originally published in the August 2014  issue of Australian Country. Subscribe to the magazine here.
Click here for more farm-life.
Words Kirsty McKenzie
Photography Ken Brass