Ross O'Meara's pigs bring a paddock-to-plate ethos to his farm-based pork products range.
It would be hard to imagine a greater leap than from the high pressured life of a chef in a Michelin-starred restaurant in London to that of a pig farmer on remote Bruny Island off the south coast of Tasmania. But that is precisely the journey that Ross O'Meara has taken and it appears he couldn't be happier.
Ross first popped up on our radar as the hunting and fishing buddy of SBS TV's Gourmet Farmer Matthew Evans. But in fact he's been on Bruny since 2008, when he and his wife, Emma, were lured from the mainland on the promise of a working holiday at Nick Haddow's Bruny Island Cheese Factory. They liked what they saw and soon after bought a 25-acre farm near Lunawanna on south Bruny.
"My dad was in the air force so I've lived all over the place," Ross explains. "I did my apprenticeship with Qantas flight catering in Perth so early on I was exposed to old-style European trained chefs and charcuterie. Then I went to London in the '90s and stepped it up a notch by working at places like One Ninety Queens Gate in the Gore Hotel and Antony Worrall Thompson's Zoe. Kitchens were very aggressive places in those days and I became accustomed to working 14 to 16-hour days and then partying just as hard after work."
Then he did his body a favour and returned to Australia and jobs in the Margaret River wine region where he met Emma in 1997. "Emma's dad is a mining industry geophysicist so she'd also lived in a lot of places," Ross adds. "We married in 2003 and bought a pop top camper and set off on the big trip around Australia. We'd just done a season at the snow, when we headed to Bruny. I took over as cheesemaker and Emma worked front of house and we kind of put down roots here."
Having always "made stuff" in his home kitchen, it was a natural progression that Ross and Emma should look to a farm-based business. Ross turned to his charcuterie training and started a small herd of rare breed pigs, mainly Berkshire and Wessex Saddleback. Ross uses the entire carcass to make a range of sausages (known locally as Rossages), ham, bacon and rillettes in a shed at the back of the farmhouse.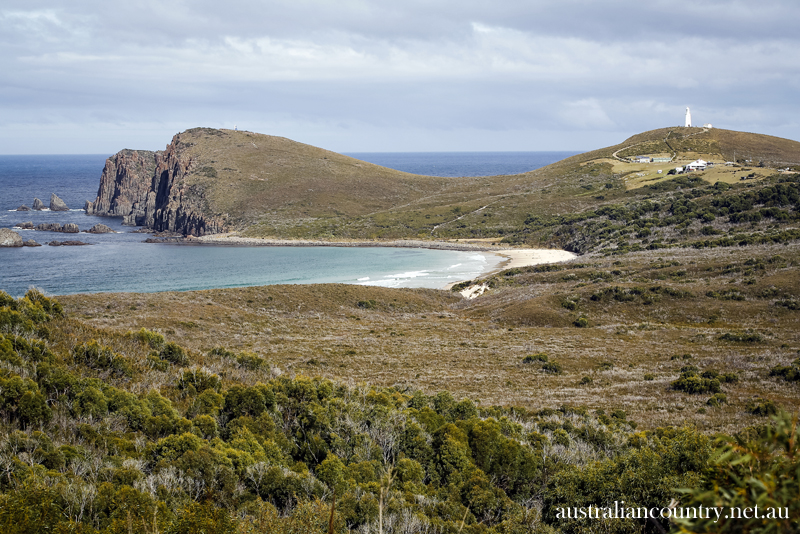 He sells under the label Bruny Island Food direct to local restaurants and to the public from a stall at Hobart's Farm Gate Market. Ross's farming philosophy is one of minimal interference. His boars are kept with his breeding sows all the time, he doesn't detusk and he slaughters his porkers at 6 months so he doesn't have to castrate. The pigs free range across a former apple orchard and apart from the man-made shelters they are left to wallow where they choose and build nests from bark and leaves in the middle of the paddock. They are fed on a mix that is all Tasmanian grown, most of it on Bruny Island.
"I'm not a conventional pig farmer, but it works," Ross says. "Emma and I have made a very conscious decision to work the business so it doesn't grow beyond what we can manage, which is why we sell only through the market."
Ross adds that his approach creates a docile herd and he has complete confidence that his children, six-year-old Felix and four-year-old twins Finegan and Molly, are completely safe around the pigs, most of whom they know by name. "I firmly believe you reap what you sow," he says. "If it's not family friendly, it's not worth doing. You can make a viable business from a relatively small plot of land. And the care that we invest in our land and animals is reflected in the quality of the end product."
The complete story was originally published in Australian Country issue 20.5. Click here to subscribe to our magazine.
Click here for more farm life stories.
Words Kirsty McKenzie
Photography Ken Brass