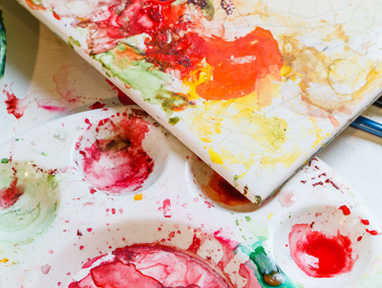 A BOTANICAL BENT
We chat to botanical artist Janet Hauser about path to paints and love of all things floral.
Janet Hauser can't remember a time when she didn't paint. One of her earliest memories is of being given a painting set as a little girl growing up in Brisbane. "I've also been interested in gardening for almost as long and helped in our veggie garden since I was old enough to dig," she recalls. "My path as a botanical artist was probably set by the age of five or six when my mother gave me a copy of Thistle Harris's Wildflowers of Australia. I was hooked." 
Tragedy intervened when Janet was widowed as a young mother of two, and she was forced to find employment. "I heard about a job going at a local agricultural research station," she recalls. "They needed someone to paint botanically accurate descriptions of weeds for a field guide so farmers could identify them. I thought 'I can do that', so I packed one kid under each arm and went for an interview. Amazingly, I got the job." One thing led to another and before long Janet found a niche for herself as a botanical artist providing illustrations for a variety of government publications. Along the way she developed a passionate interest in rainforest conservation and for the past 15 years she has developed a career as a botanical surveyor assessing and identifying plants on land that is earmarked for development.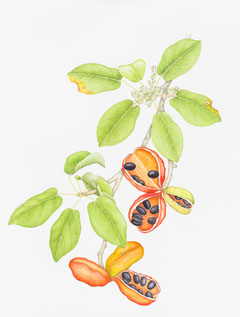 "For someone with my interests it's a wonderful thing to be paid to walk around in the bush and look at plants, producing botanically accurate habitat paintings along the way," Janet says. "Sometimes I can't believe how lucky I've been."
In another stroke of good fortune, on much of this journey she has been accompanied by Snow Necker, a boyfriend from her teenage years, with whom she was reunited after her first husband died. "We've been together for 38 years," Janet says. "He's my greatest supporter."
Janet and Snow live on acreage at Laravale, in the Scenic Rim region of south-east Queensland. With their cattle dog Ruby they have plenty of space to indulge their mutual passion for gardening, with a huge vegie patch and orchard occupying many waking hours. In recent years, Janet's "day job" has been amalgamated with an interest in local history. All her enthusiasms converged when she worked on a book called Grandfather Grew Mangel-Wurzels, which combined the knowledge district's farmers, many of them fifth generation on the land, with botanical art. "I then moved on to the work an Italian priest called Benedict Scortechini, who as well as being Beaudesert's first Catholic priest, was a passionate botanist," Janet says. "He delivered his pastoral care on horseback in a region that ranged from Killarney to Tweed Heads and included a leper colony that was on Peel Island in Moreton Bay. Along the way, he documented the many plants he observed. Unfortunately he died while on leave in India before he saw his life's work published by the Linnean Society.  As a tribute to him I produced an exhibition of works of the plants he identified for the Queensland Herbarium."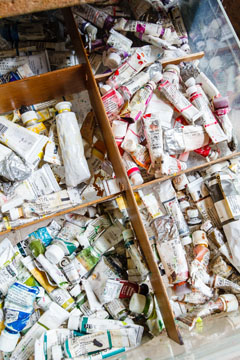 Having completed that exhibition two years ago, Janet was casting around for her "next project" when a botanist friend suggested the name William Carron. "I'd not heard of him, and although there are several plants that perpetuate his name, nor have many others," she says. "In fact he's an important figure in Queensland history, not to mention Australian botany, and he deserves much greater recognition."
Carron and his wife arrived in Australia from England in 1844. He'd worked as a gardener at the botanic gardens of Cambridge University and it's thought he brought specimens for colonial secretary Alexander Macleay, a keen amateur botanist when he came to Australia. For a time Carron worked as a gardener at Elizabeth Bay House, the Macleays' home, and later he worked in a nursery in Glebe. In 1848 he was selected by Charles Moore, the director of Sydney's Royal Botanic Gardens, as the botanist to accompany explorer Edmund Kennedy on his ill-fated expedition to explore Cape York Peninsula.
The expedition ended in tragedy with the death of all but three of the expedition, Carron, a convict called Goddard and their Aboriginal guide, Jacky Jacky. Carron's observations of the trials and tribulations of the journey written after his rescue describes the hardships the party endured and an insight into the country they traversed from the spot now known as Kennedy Bay south of present day Mission Beach across the rainforest-clad ranges into the country now covered by Lakefield National Park and areas adjacent to Princess Charlotte Bay ending at Weymouth Bay.
"After two years of research into the route taken by the expedition and the plants Carron described, I came up with a plan to follow their route," Janet explains. "Snow and I set off from Mission Beach in July last year with the aim of locating and painting the plants along the way. The the artworks were intended to be a tribute to Carron and hopefully to form part of an exhibition."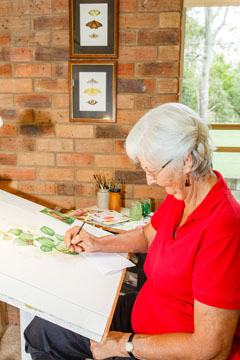 Having survived her own expedition, albeit in the comfort of an air-conditioned 4WD, Janet says her admiration for the expedition is now many times multiplied. "I know the excitement of discovering a new plant, so on one level I understand what motivated Carron and Kennedy," she says. "But of course, I only have the slightest inkling of what it was like to be starving and sick and to have to make decisions like they did to sacrifice the horses that were too weak to go on for food. We timed our trip to roughly follow the same time frame as the 1848 expedition, to maximise my chances of finding the same plants and I can't tell you what a thrill it was to actually paint the plants as we found them along the way."
Although Carron never returned to robust health after his rescue, he returned to Sydney and eventually a posting as "plant collector" for the Botanic Gardens. In this role he contributed significantly to the knowledge of Australian botany and accompanied Charles Moore on expeditions in NSW and further afield to exotic locations including Lord Howe Island, New Caledonia and New Zealand. He later went on to write a report on the newly gazetted timber reserves in northern NSW and became a passionate early conservationist, arguing against indiscriminate logging and barking of trees for huts as well as the need to reduce the amount of red cedar being felled in the region. All the while he documented new discoveries, including the only true Australian beech, the Antarctic beech as it is now known. In 1875 he was appointed the first forest ranger of the Clarence district, but unfortunately his ill health caught up with him and he died at the age of 55 within a year of taking up the position. Carron is buried in Grafton cemetery, but unfortunately all records of his grave site have been lost.
"The more I learned about Carron's dedication, the more I felt I owed it to him to put together an exhibition to give him the recognition he deserved," Janet says. "It was initially intended to be just an exhibition, but now that I have completed about 40 works, there have been expressions of interest in giving him further recognition. I've had discussions with the State Library of Queensland and there's interest from the Sydney Gardens for a broader exhibition for their bicentennial in 2016. I can't think of a more fitting tribute to such an unsung hero. On so many levels, it feels as though that's what I was meant to achieve."