Going with the flow has a whole new meaning for Brisbane student Chantal Le Lievre, who recently completed Year 12 at Clayfield College in the city's inner north. Chantal explored the concepts of viscosity and fluidity as the theme for her major art work, which included a mixed media series of work based on Japanese marbling techniques.
Chantal completed all of her high school education at Clayfield College, a Presbyterian and Methodist Schools' Association school with 850 students enrolled from PrePrep to Year 12. The school, which was established in 1931, takes girls and boys for the primary years and girls only from Years 7 to 12. Female boarders make up about 12 per cent of the roll call from Years 5 to 12. The school has a strong arts program in visual art, music and drama as well as an elite sports program and a robust academic tradition, which means most of its students go onto tertiary studies.
Chantal balanced her science and business subjects with physical education and visual art. "Art is practical as well as theoretical," she says. "You have to build a portfolio of work through the year so there is no way you can just whip out an allnighter the day before it's due and expect to do well. I found the art commitments a good way to re-energise and destress after a day of English, maths and science. It's good to engage the other side of the brain and think outside the box. We need creative thinkers to overcome all the issues the world is facing at these times and I hope I will be able to contribute to finding solutions in some way."
Chantal's major works were all based on the swirling patterns created by floating oil-based paints on water or milk. "I began my designs by making the patterns in a baking dish in the kitchen at home," she explains. "I photographed the results, uploaded them to the computer and manipulated them in Photoshop. From there the images can be transferred to just about any surface you can imagine … canvas, timber, fabric for clothing, cushions, upholstery, lampshades or wallpaper."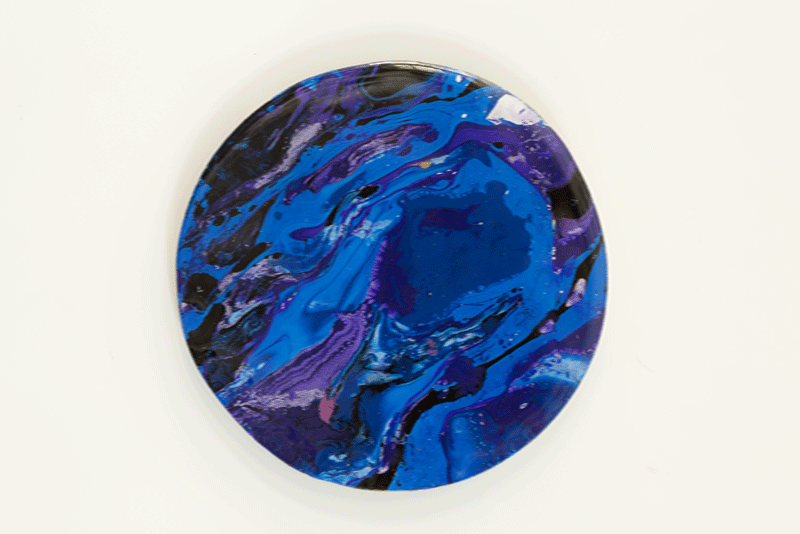 Chantal also experimented with paint flows over the human body and persuaded some of her long-suffering friends to join the project to have themselves doused in layers of paint. Other extensions on the theme included a table covered with a paint flow and several series of wooden circles decorated with marbled effects. She was fortunate to have her work selected for the regional finals of the Creative Generation, an annual showcase of Year 12 students' art, which culminates with a selection of works displayed at Brisbane's GOMA (Gallery of Modern Art).
For more information on Clayfield College's art program head to their website and find our more about Chantal in the March/April issue, available for order and online now!
Words: Kirsty McKenziePhotography: John Downs