Crime author, Fleur McDonald, supporting families at risk with charity
Country crime author Fleur McDonald has channeled her considerable energy and resources to create a charity that provides assistance to families at risk of domestic violence.
Since her earliest memories, rural author Fleur McDonald has been obsessed with crime. When she wasn't riding bikes or hanging out the local pool in Orroroo where her family ran a fuel depot in South Australia's mid-north, she'd be tucked up with an Enid Blyton novel, devouring the adventures of The Secret Seven or The Famous Five. During school holidays, she'd jump in the cab of her father's triple-tanker trucks and accompany him on fuel deliveries across the remotest parts of central Australia including Coober Pedy, Marla Bore, Innamincka and Leigh Creek. As they passed through vast swathes of arid central Australia, in her head she'd be  solving mysteries and crimes with Julian, Dick, Anne and George on their holidays literally at the other end of the world in England's West Country.
"I was always writing my own mysteries as a kid, and then I progressed to lovesick teenage poetry, for which I must admit I had no shortage of material," Fleur recalls. "My parents gave me a writing course when I finished school, but rebellion was my middle name and I really wanted to go farming. Being a writer was never really on my radar, as most of the authors I was reading were dead, so it didn't seem like a great career prospect."
So farming it was, following agribusiness studies at Geelong's Marcus Oldham College, jillarooing first in South Australia's south-east and then moving to a sheep and crop farm 100 kilometres west of Esperance on Western Australia's south coast. There, in rapid succession, she met, fell in love and married a young farmer. On their wedding day, they signed the final papers on their first property, a 2000-acre (809-hectare) farm to the east of Esperance.
"Whatever his faults, my husband was a wonderful farmer," Fleur recalls. "We were determined to become big farmers and we were prepared to work very hard to achieve that."
For the first years of their married life they lived in a demountable hut, with no power or flushing toilet. They did make improvements, but Fleur has vivid memories of plugging the holes in the floor with steel wool so snakes couldn't get in.
"When our kids, Rochelle and Hayden were born in 2000 and 2001, they came home to that demountable," Fleur says. "It was challenging, particularly as it became apparent fairly early on that both of them had learning difficulties and accessing any form of therapy involved a 200-km round trip to town. Both the children were non-verbal – Hayden didn't talk till he was seven or eight and Rochelle was probably five – so a speech pathologist gave me a book about Makaton and we used to sign to communicate."
Hayden was eventually diagnosed with autism and Rochelle with a neurological disorder called dyspraxia, which meant she had difficulty planning and sequencing the movements necessary to perform a skill. Their treatment, which only added to Fleur's workload on farm and at home, involved several trips a year to see specialists in Perth.
"Because I wasn't brought up in WA, I had no idea of my way around in Perth," she says. "It was a seven-hour drive, so by the time we got to the city, the kids would be pretty ratty. GPS didn't exist back then, so I'd put sticky notes on the steering wheel to navigate my way in. Before I set out, I'd wrap up little presents like a lucky dip with lots of paper and tape, to keep them occupied and quiet while I was driving into town. At strategic intervals, I'd throw the packages to them in the back seat until we made it to the hotel."
It was partly as a response to Hayden's needs, that Fleur started writing short stories that captured and held his attention. "I couldn't find books that he could relate to, so I wrote them for him," she says. "I wrote about calves and working dogs and farm animals because that's what he wanted to listen to."
Coincidentally, a friend gave her a copy of Tasmanian rural literature queen Rachael Treasure's first novel, The Jillaroo, and Fleur was inspired to exercise her itchy fingers on the keyboard. "I feel like I come from a long line of storytellers and it was just a matter of time before it came out in me," she says. "I'm not much into romance, because if you know anything about running a farm, you'll know it's not very romantic. But I do know about living in the country and I've always loved crime, so that's the direction I took. In between running the farm during the day and getting up to the kids, who woke frequently during the night, I just grabbed whatever moments presented themselves, whether it was in the middle of the night between feeds or while shifting sheep in the paddock. Once I started writing, I found it a great escape from the stresses of farm life. You can't make it rain during a drought, but you can kill off a character if you're writing a book."
Then she heard about Allen & Unwin's Friday Pitch in which unpublished authors are invited to submit a synopsis and a first chapter. Long story short, Fleur threw her draft into the ring and shortly after, was offered a contract to complete Red Dust, which was published in 2009 and made her the highest selling debut author of the year. These days, she is a publishing legend, with more than 600,000 books sold and a huge following both here and overseas. When Australian Country caught up with her, she had just launched her 16th novel, The Shearer's Wife, and was in the process of editing the 17th, due for release in April this year. Although each novel stands alone, they usually feature Dave Burrows, whose career has progressed with each book from country cop to stock squad to a detective whose work takes him to crime scenes in remote parts of the outback. "I do have a detective friend in Perth, and we catch up every couple of months," Fleur says. "His name is also Dave, and while there are similarities in their work and he likes to think he inspired my character, the fact is I'd created him before I met the real-life Dave. In retrospect, if I'd known Dave Burrows was going to become a cult figure, I'd have given him a different name."
As her writing career was taking off, Fleur and her husband decided to call it quits with their marriage. These days, she lives in Esperance, and share farms with a couple of friends on another property out of town. She is fiercely proud of her kids, who have made great achievements. Hayden works as a car detailer and holds a restricted pilot's licence while Rochelle loves farm work and only came home from a solo overseas working holiday due to the COVID-19 pandemic.
Fleur's work is imbued with her deep knowledge of living in a remote rural community. She writes with an understanding of living in a place where no stranger passes unnoted and even where cars are parked can be imbued with a significance most city dwellers couldn't comprehend. She's extended this empathy beyond her books to develop a not-for-profit organisation called DVAssist, which provides information on local services for people experiencing family and domestic violence in country Australia.
"The need for a service that addresses the particular needs of country people became apparent when I started talking to rural women as an author promoting my books," she explains. "I already knew from my experience getting help for my kids that country families face extra difficulties accessing services, because often they don't exist, or are minimal. These problems are exacerbated when it comes to family violence. The lack of anonymity is a big issue. Everyone knows if you go to the police station, or to see a counsellor. Then there's the issue of guns. They are part of the tool kit on farm, just the same as an air compressor or a wire strainer, people carry them so they can put down animals compassionately."
With DVassist, Fleur aimed to build a comprehensive list of services families in need can access, with everything from counselling to crisis accommodation listed town by town.
"I started compiling the resources list with all the services in Albany and Esperance on a website," Fleur says. "They include phone numbers and websites people can access from the safety of their own home. I tried to address the particular circumstances of country people. For instance, the graphics on the website are all low-res, so no matter how dodgy the internet connection, people can use the site."
Fleur candidly admits that without the proceeds from her books, she wouldn't have been able to afford the $50,000 she invested to get DVassist up and running. "We were lucky to get a sizeable grant from the federal Department of Health and there are now 16 towns on the website," she says. "The goal is to take it nationwide, but it's grown beyond me now. I remain involved as the vice-chair of the board, but we have an executive officer now and my role is more publicising the organisation rather than actual leg work. I'm just grateful that my writing career has given me the chance to do something that will have real impact on rural lives."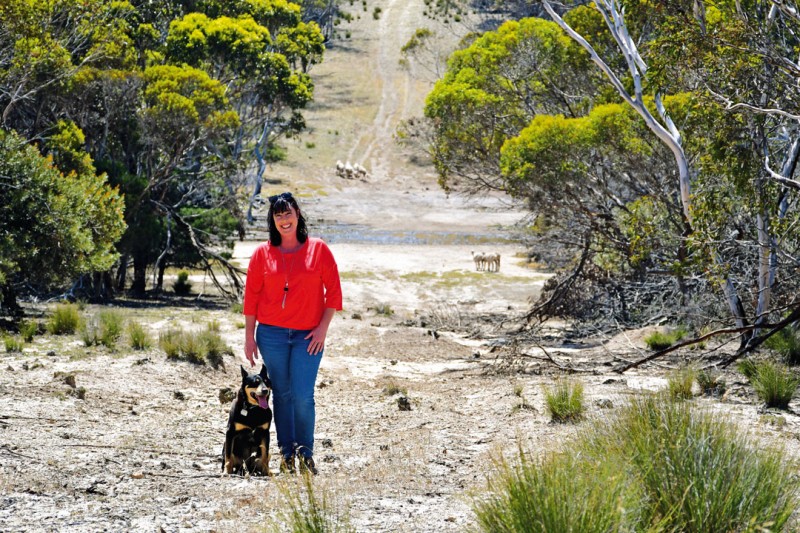 The Shearer's Wife, Allen & Unwin, $29.99.
For more information on DVassist, go to dvassist.org.au or call 1800 080 083.
Words by Kirsty McKenzie
Photography by Sonya Hennessy