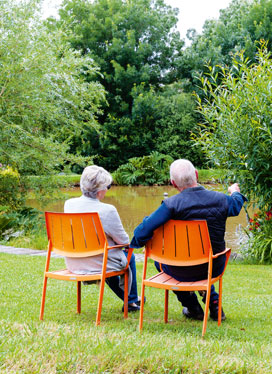 Les and Elaine Musgrave: A Relationship Grown in the Garden
With his passion for plants and her talent for painting, Les and Elaine Musgrave have developed a blossoming creative collaboration.
By Meryl Hancock, photography Ken Brass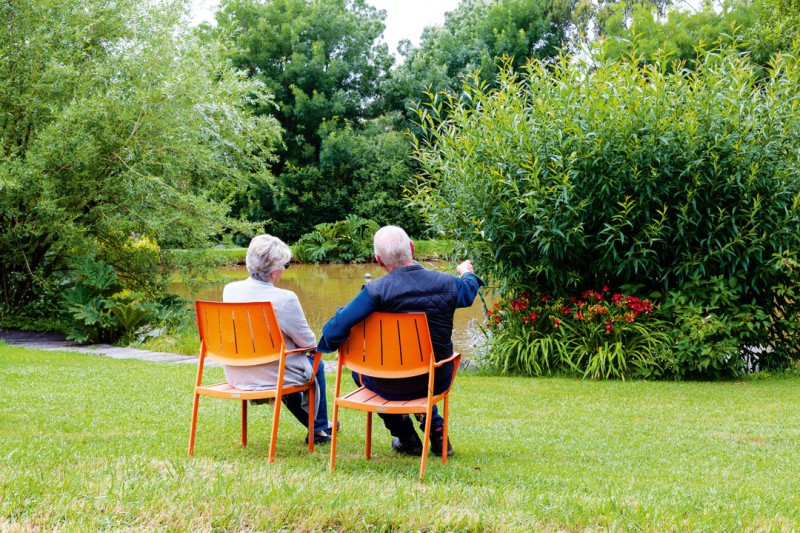 Away from city madness in a pocket of the Southern Highlands known as Wildes Meadow, sits a five-acre (two-hectare) patch of idyllic cultivation. Botanical artist Elaine Musgrave and her horticulturist husband Les purchased The Kaya more than 12 years ago and have imprinted their lives on the gently rolling landscape. Les spends his days working in the extensive gardens while Elaine retreats to her studio, a converted stable with a cut-out glimpse of the world beyond her fine brushes, textured parchment and watercolour palette. It's an ideal symbiosis, his passion supplies the specimens that fuel her craft and purpose.
Their pathways intertwined in 1969 on a ship bound for England, while on separate backpacking adventures. Les already had his horticulture ticket, while Elaine was a floral art illustrator for John Sands greeting cards. Her choice to study art was never in question given her matriarchal lineage. Her mother, painter and sculptor Esme Bell, was hung four times in the Archibald Prize, and her grandmother and aunt were also established artists. She explains that she wasn't aware of the botanical art genre, and only discovered her niche by marrying a horticulturist. "My family were not gardeners but Les took me around gardens such as Kew while we were in London, and I became more and more aware of the plants and their detail," she says.
Each morning she races the 100 metres to her garden studio, as there's often an exciting plant or seed pod waiting for her attention. With the radio for company, her day at her easel is free from interruptions, having trained Les to be responsible for his own refreshments. "Here in Australia there are so many exotic species available," she says. "My biggest challenge is how to realistically reproduce the colour and texture presented to me by each specimen." Such complex and intricate artwork can take weeks to complete, but the value of Elaine's artistry is acknowledged by international acclaim. Finished paintings line the studio walls creating a sophisticated gallery vibe and Elaine warmly welcomes interest. A latest obsession is tiny hazelnuts that she handles gently with purposeful intent.
By contrast, Les is a self-confessed foliage man, "I could easily live without flowers," he says. "I don't want a pretty, cottage garden that doesn't have anything to offer when it finishes flowering." Instead, his focus is structure offered by hedges and sculptural species such as New Zealand flaxes. The parterre garden is a delightful tribute with its soft grey-greens, burgundies and silvers encased in a precise perimeter of Teucrium hedge. Formally a rose garden, Les gave away 200 roses during the parterre transformation and covered the arches in Norway maples that shift seasonally in colour and texture. Summer's plum-tinted leaves strip to bare sticks in winter, an intentional aesthetic that ensures the garden has something of interest to offer all year round. Terracotta pots crammed with variegated foliage flank the red granite walkways and artfully placed urns highlight blank spaces.
He grins as he says he works eight days a week, and uses sunlight, abundant rainfall and soil drainage as design parameters. He also propagates plants for the Regional Southern Highlands Botanical Garden Association and employs sustainable practices by mulching waste and minimising the use of pesticides. "I love every minute of it," he says. "It gives me the chance to express myself, enjoy nature and constantly experiment with new ideas." He swaps plants with other gardeners and peruses garden centres and wholesalers for that unique, must-have specimen. "My inspiration comes from visiting gardens, looking at magazines and from travelling overseas," he adds. "I still dream about the layout and proportions of a brilliant garden we visited in Sri Lanka last year." With time, he has learnt to research the upside and downside of a species before selecting it. One of his favourites is the Rengarenga lily (Arthropodium cirratum) that he has repeated in consecutive garden beds to lead the eye beyond the proximate.
There is no shortage of spectacles to focus on. The two man-made dams mirror the depth of plantings and offer a calming stillness. Twelve garden seats that Les and Elaine have rarely sat on are strewn throughout the grounds, and sculptures of emu, fish, small children and large, concrete spheres are positioned to please passers-by. Renowned gardening guru Shirley Stackhouse, who had just curated a double page spread of spherical garden sculptures was quoted as saying, "Les, if I'd realised how impressive your balls were, I would've featured them in The Australian Women's Weekly".
From the softly mossed stonewalls to the striking blue hydrangeas and sweeping green and gold foliage, there's a sense of nurture and nourishment everywhere you look. Elaine sums it up: "Apart from my family, I'm proud of what the two of us have achieved and that people get so much pleasure from it."