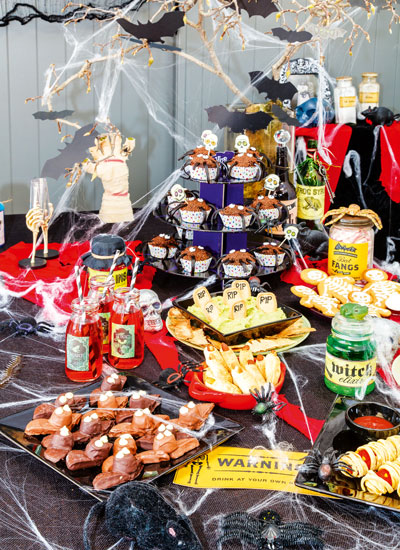 The tradition of honouring the souls of the dead with feasting and antics has enjoyed a renaissance all round the world. Celebrate on October 31st with a collaboration of ghoulish tricks and treats.
Click here for more creative corner and setting the scene ideas.
Photography Ken Brass
Styling Sandra Hinton

The tombstones for our dip were made by cutting out round-edged rectangles of basic savoury biscuit dough and piping RIP on them with Vegemite … or you could use black icing on a sweet biscuit. We also created bat crackers by cutting pita bread with a bat cookie cutter and baking it in the oven until crispy.


The tradition of serving food to placate the the departed spirits and their masked impersonators dates from the Celtic day of the dead, and is perpetuated on the Christian All Saints or All Hallows Day. So All Hallows Eve became Hallow Evening, which in turn became Halloween. Chocolate cupcakes decorated with chocolate icing and sprinkles, white mint eyes and licorice legs become spiders for the party table.

Our bat biscuits began life by dipping marshmallows in melted chocolate and securing them to wings made by cutting round chocolate biscuits in half. White Choc Bit eyes completed the scary specimens.

We downloaded scary labels for the drink bottles from the internet and printed them out on white paper, which was then given a light watercolour wash. When the labels dried we glued them to the bottles.

Gingerbread skeletons and meringue bones add to the ghoulish goodie array.

Worm jellies.

Severed fingers began life as puff pastry rolled into logs, adorned with unskinned almonds for fingernails. Mark the wrinkles and knuckles by lightly pressing with a sharp knife and bake in a moderate oven until lightly browned and cooked through.