The Perfect Australian Experience In Sydney
Sydney's Royal Botanic Gardens offers a smorgasbord of opportunities to learn more about Aboriginal heritage, culture and connection to country.
They say it's a dull day when you don't learn something new. Spend a fraction of it on one of Sydney's Royal Botanic Garden's Aboriginal-guided tours and you'll come away with enough new knowledge about the world's oldest living culture to fill a whole chapter with fascinating facts, if not an entire book. Visitors to the Garden on the shores of Sydney Harbour can choose from a raft of options including cultural tours and bush food experiences.
As Renee Cawthorne, manager of first nations education, engagement, science, education and conservation for the Garden explains, the cultural tours aim to raise awareness of the Aboriginal connection to country for both local and overseas visitors. As a Wiradjuri woman with a Bachelor of Science, Renee is a fount of knowledge about native plants growing in the Garden and their many uses. "Tour participants meet at the gift shop and then we take them through the Cadi Jam Ora garden, which is where many bush tucker plants grow," she explains. "It's also the site of the first farm established by convicts after the First Fleet arrived, so it's a good place to start a conversation about the impact the invasion had on the Cadigal people, the traditional custodians of the Sydney city area, and their long connection to the land."
Renee adds that the damage to the environment in which Aboriginal people have lived sustainably for tens of thousands of years can still be seen today. "For example, there's a fungus that was imported on the Norfolk Island pines the Europeans brought with them that is still killing native plants," she says. "Tour participants learn about the many uses First Nations people had for their plants. The Lomandra longifolia or spiny-head mat rush, for example, was not just a great plant for weaving baskets, as Aboriginal people chewed on the stalk as a food and ground the seeds to make Johnny cakes. As well as talking about the culinary, medicinal and traditional uses of plants, we also cover traditional tools and equipment for hunting and how they were made."
The cultural tour is also the place to learn the differences between hunting and returning boomerangs. The former, by the way, is intended to injure animals to be captured for food, while the latter disturbs birds, which Aboriginal people could then catch with nets. "For obvious reasons, kids also learn to throw with a returning boomerang," Renee adds. "To make the right kind of boomerang you have to be highly skilled and have a deep understanding of not just aerodynamics, but also the right timbers to use. I guess the most important takeaway from the experience is demonstrating to visitors that Aboriginal people were not hunter gatherers. We had sophisticated knowledge of farm practices and lived successfully off the land for generations."
While the cultural tours conclude with tea and scones with lilly pilly or quandong jam, Shared Knowledge's food tours emphasise the wonderful ways native ingredients can be incorporated into more contemporary dishes. The organisation is directed by Drew Roberts, and offers regular morning teas and lunches in the splendid colonial setting of Victoria Lodge. Drew's maternal ancestry means he's an Arawkal Bundjalung man from the Northern Rivers of NSW, but he grew up on Cadigal land, studied law and worked as a reconciliation and cultural competency consultant to business and government before creating Shared Knowledge to build a bridge between First Nations and non-Aboriginal people through food.
"In traditional culture you don't own knowledge," he explains. "When you gain knowledge you have a responsibility to pass it on. That's why our logo looks like ripples. It's our job to be the drop that creates that ripple effect and spreads information to the non-Aboriginal community."
In Drew's case, the best way to communicate that knowledge is through food. "There are many different ways of learning," he says. "My mother and aunties taught me to communicate through the belly. Other people teach via art, or song or dance, but mine is by sharing a meal. Sometimes you have to taste or smell or see something for it to resonate."
Before each event, Drew takes his guests on a 20- to 30-minute walk through the Garden and once again, the common theme is incredible diversity of uses of each plant. "We call the wattle the mother tree," he explains. "As it progresses through the nine seasons of the Aboriginal year, it tells us what to eat, where to go to hunt, when to practise ceremony and pay respect. When the first flowers bloom, it's time to eat oysters, on the second flush is a good time to get pippies, and the third flush means you can catch river fish and they will no longer taste muddy. But the wattle is not just a calendar reminding us when things are in season, you can also use ground wattleseed to impart, depending on the degree of roasting, chocolate or caramel flavours to food. Plus you can roll up the leaves for use as soap. It doesn't just froth and clean, it's also antibacterial, so I didn't need Clearasil when I was a teenager."
Lemon myrtle is another multi-purpose plant lending its intense fragrance and flavour to everything from a Thai-stlye fish curry to biscuits, cakes and iced tea. "It's also got disinfecting, deodorising and sanitising properties," Drew says. "It's like bush NapiSan. And depending on how long and how many times you boil it in water, it can be used as medicine for indigestion, water retention and even to help sleep. Then you can put it in a squirt bottle and it will serve as an insect repellent. Like so many plants, it will feed you, clean you, and keep you safe on country."
During morning tea, guests will sample a broad bush-to-plate taste spectrum via cinnamon myrtle scrolls, wattleseed brownies, lemon myrtle melting moments, lomandra bites, macadamia nut cookies and maybe Davidson plum cookies filled with dianella butter cream. The piercing blue of this berry from a hardy grass plant also infuses gin to make a delicious drink for cocktail parties. Drew's also experimenting with a sloe gin made with Davidson plums, a lemon myrtle Long Island iced tea and a wattleseed espresso martini. For lunches and dinners, Shared Knowledge takes the menu to the next level with dishes including kangaroo and bush tomato meat balls with Port Jackson fig glaze, tea-tree smoked eel with wattleseed glaze, grilled lobster with lemon myrtle-infused oil and a finger lime reduction sauce. Drew adds wilted warrigal greens are the perfect foil for the citrusy seafood. "Warrigal is a like spinach, but even more powerful," he says. "It contains more iron, potassium and vitamin C than kale, so it really is a superfood. I also use it for spanokopita-style pastries. I just love showing people how amazing bush flavours are and from the response we get, I know that non-Aboriginal guests are excited when they see it on the plate. It really is a case of using food holistically. It helps build identity and respect for my people and it's wonderful to help others share that experience of our culture."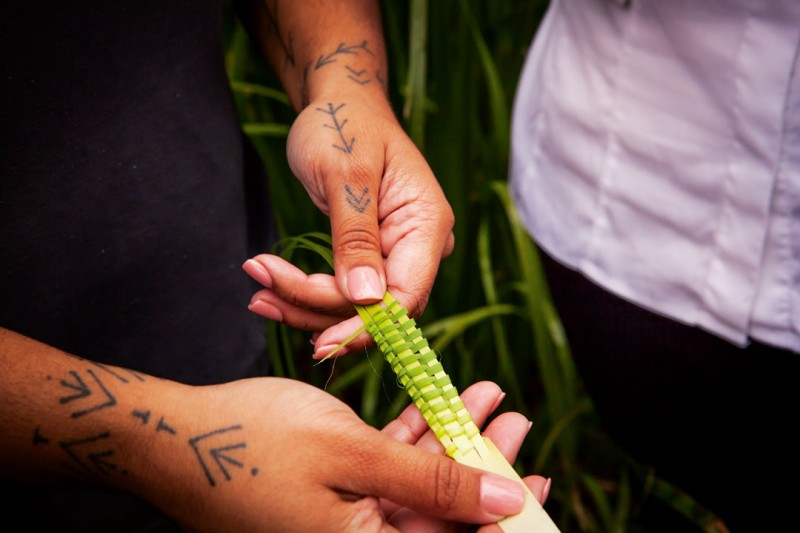 For more information, visit sharedknowledge.com.au or rbgsyd.nsw.gov.au.
Words by Kirsty McKenzie