Angus and Sandie Wilson have created a kaleidoscope of colour in their home and garden near Goondiwindi on the Queensland/NSW border. 
By Kirsty McKenzie, photography Ken Brass
From her earliest memories, Sandie Wilson was a relentless creative. She doodled in the margins of her school books, sketched on any available scrap of blank paper and loved nothing better than cutting up curtains from her mother's ragbag to make her own clothes. She studied art and home economics at boarding school in Rockhampton in central Queensland and went on to become a nurse where she kept herself busy in her off-duty hours by sewing for friends.
When she met Angus Wilson, a young Goondiwindi farmer, and they married 11 months later, she even made her own wedding dress. As the Wilsons welcomed their four children into the world, Sandie channelled her considerable energies into keeping them active with creative pursuits, often in the outdoors in the lush garden that surrounds the homestead at Nungwai. The couple has lived on the property a few kilometres from Goondiwindi since they moved to Angus's childhood home as newlyweds nearly 30 years ago. The name references the local Aboriginal word for "deep waterhole", and acknowledges the fact that Brigalow Creek, which runs past the bottom of the garden, retains water even in the middle of the biggest drought. The garden free ranges from Angus and Sandie's 1905 homestead across to the farm's original cottage, where Angus's parents used to live and where now Sandie's parents now reside.
It's a cool oasis in the often harsh Goondiwindi climate and a tribute to the green thumbs of the past and present custodians. Not to mention their considerable creative talents. Angus's mother was a gifted sculptor and her pieces are dotted throughout the garden, along with Sandie's contributions and some of Angus's smaller works. He specialises in largescale installations, many of which line the road into the farm and are displayed at various points around Goondiwindi.
There's a pool in the garden, though Sandie says their children, Bianca, Dodie, Paris and Callum, much prefer kayaking and swimming in the creek, playing on rope swings, floating on giant lily pads and swinging on a flying fox across to the other bank. The garden also features an alley known as the Triffids' Way, which was one of Angus's early forays into metalwork. Another peaceful corner is a garden of remembrance created by the family to honour Paris and an American exchange student, Cameron, who lost their lives in a devastating watersports accident in 2011.
When Australian Country visited, Sandie was busy completing hundreds of ceramic flowers to be shipped to friends and relatives all over the world in commemoration of the 10th anniversary of the tragedy. "I've always had to be doing something with my hands," she says. "Art is a wonderful way to express all kinds of emotions."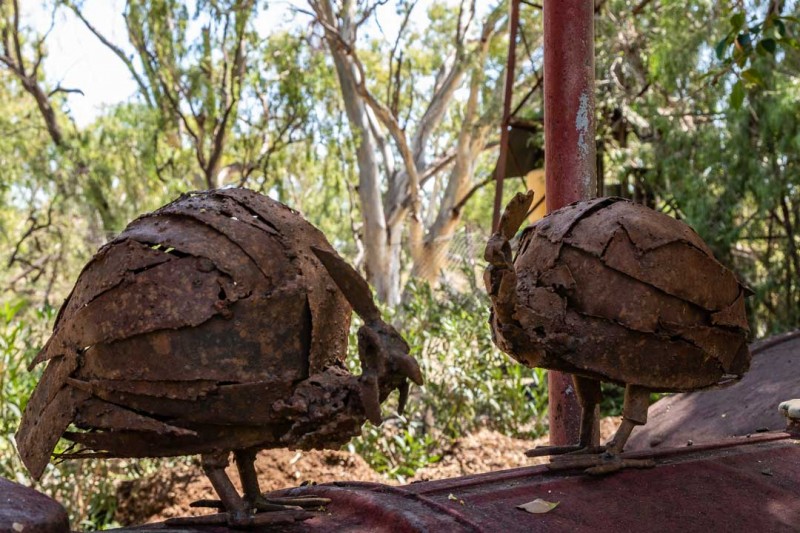 The Wilsons are also stalwarts of Goondiwindi's cultural community. Angus is the committee chair for the annual Lanescape, a public art event that brings people from far and wide each October and they are also active supporters of the Aspects Art Show, which coincides with the Goondiwindi Show during the long weekend in late April or early May. In their "spare" time the whole family competes in triathalons. Goondiwindi is home to an extreme event called the Festival of Hell, which combines a two-kilometre swim in the muddy waters of the Macintyre River, with an 80-km bike ride and 20- km run, all played out in the often fierce heat of  February. Most mornings Angus and Sandie are up before dawn, training for this and other endurance events all over the state. Angus and Sandie also love to travel and their home is filled with rugs, cushions and souvenirs from trips to India, Turkey, Pakistan and Mexico vying for attention alongside their own, and the children's artworks.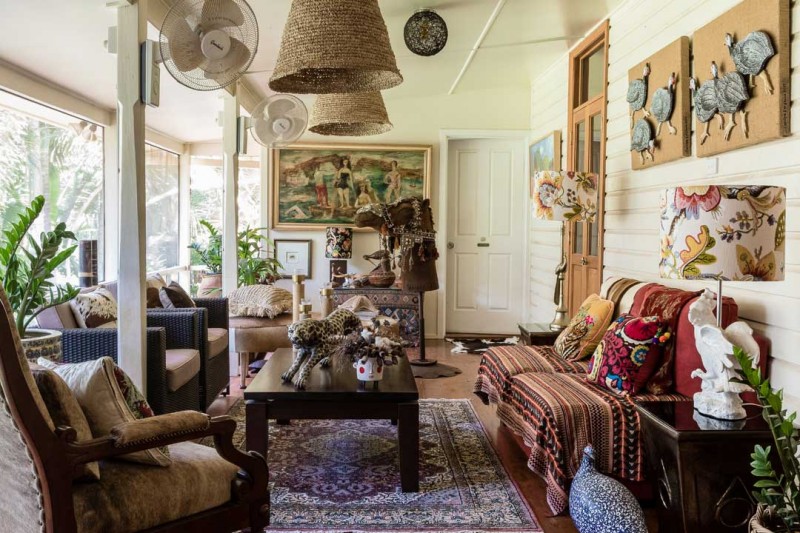 "With all we have going on, I can't be a slave to the house or garden," Sandie says. "With triathalon,  Lanescape, Aspects, our sculpture and an annual sculpture workshop we host in the shearing shed, there's no time to be deadheading roses. So I'm more into foliage than flowers. Whatever survives floods and drought is what gets planted and where I can't grow lawn, I put sculpture. However, this is a wonderful place to share time with family and friends. It seems that the more we create, the more joy we get out of it." AC.